Support NRA American Rifleman
DONATE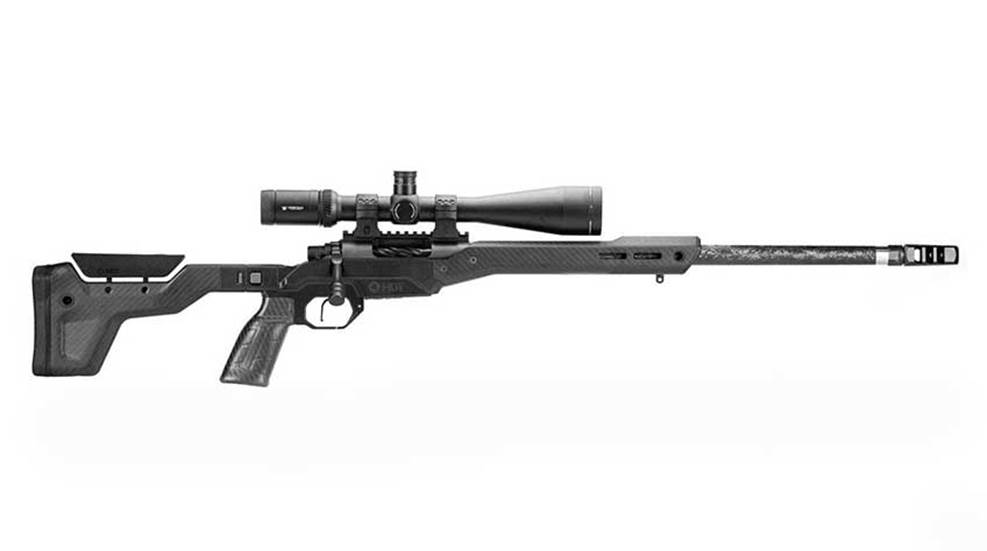 Even though the innovative chassis systems designed by
Modular Driven Technologies
have seen use in hunting fields as well as rifle ranges, most of the company's products have been oriented toward tactical and competition shooters. Now, MDT has its HNT26 chassis, which has been designed specifically for hunting applications.
Each MDT HNT26 rifle chassis includes many of the features you'd expect a chassis design to offer. There's a V-block bedding system, as well as customizable adjustments for length-of-pull and comb height. You'll also see a thumb shelf that promotes a straight, consistent pull to the rear, as well as AICS-pattern magazine compatibility.
However, there are some elements of the MDT HNT26 chassis that make it an attractive option for the field, starting with the weight. This chassis system, thanks to its magnesium-alloy base, weighs in at a scant 26 ozs., and that includes every element of the system, including the base, stock, fore-end and grip. MDT also made an effort to streamline the design as much as possible, so there aren't any snag points that'll grab branches and brush as you're moving through the woods.
As part of the weight-saving measures that have gone into this chassis design, the HNT26 features a foam-filled carbon-fiber buttstock that also works to soften recoil. The magazine release latch has also been redesigned to offer a sleek, low profile that won't snag on your surroundings or your gear while also remaining easy to access. The chassis system also has an optional folding mechanism, so you can reduce the overall length for easy carrying and storage inside a pack.
You'll also find an option for ARCA attachment that's integrated into the carbon-fiber fore-end, which is the first time this has ever been found on a chassis system. The HNT26 has also been designed to work with MDT's Polymer SA three-round magazine that sits flush inside the magazine well.
The MDT HNT26 chassis is available to fit short- and long-action models of the Remington 700, Savage 110 and Tikka T3. Suggested retail pricing on the chassis system is $1,299.95. For more information, visit
mdttac.com
.