Support NRA American Rifleman
DONATE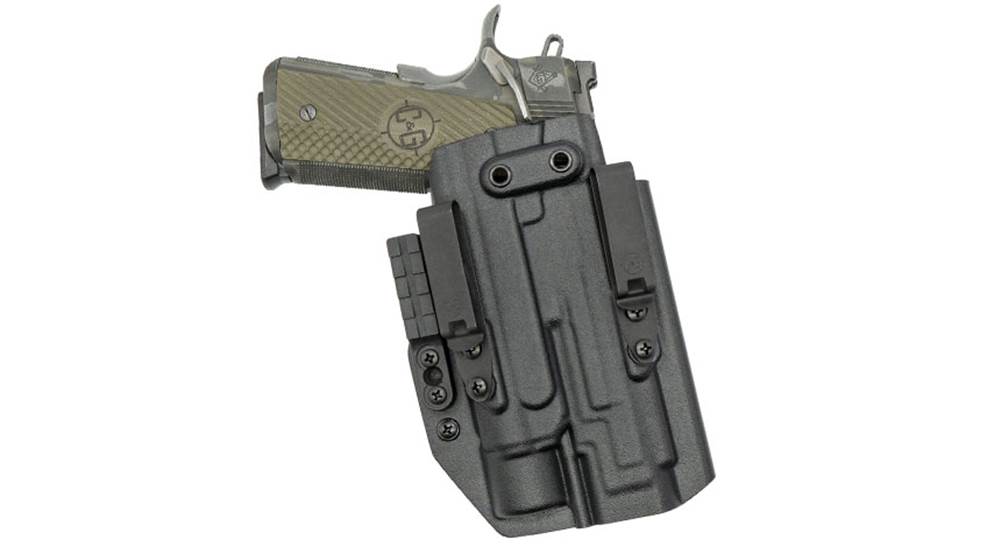 C&G Holsters is providing U.S.-made Kydex products through proprietary molds and CNC milling that ensure a proper fit, even with unique arrangements such as a 4.5" M1911 with a rail-mounted light and slide-mounted red-dot sighting system.
With a full custom shop at the company's disposal, order upgrades and customization are commonplace at C&G Holsters. Off the shelf, the company's Alpha Upgrade (AU) package is a worthwhile addition to a well-designed holster for today's operator and home defender. The AU, a $20 upcharge, includes polymer Darkwing and Discreet Carry Concept metal clips to ensure a low profile and secure fit, respectively, when tucked inside the waste band.
The 1911 TLR1/HL IWB Tactical Kydex Holster come standard for either 5" or 4.25" M1911-style pistols with the capacity to serve Streamlight TLR-1 and TLR-1 HL lights. Additionally, C&G Holsters provides sufficient clearance to accommodate any of today's red-dot sighting systems.
An open bottom clears a threaded barrel or compensator, and a tall sight channel accommodates suppressor-height sights. Retention is solid, locking the pistol in with an audible and tactile "click." The Alpha Upgrade 1911 TLR1/HL holster retails for $95. To learn more, please visit candgholsters.com.