It was the early summer of 2020 under lockdown, and I was perusing the internet and found myself locked in on a unique combination of stock and chassis that I had never seen before. I wanted to learn everything I could about these new chassis designs from WOOX, but at that time, the units were still on pre-order. I finally got my hands on them, and here's what happened.

A few weeks later I received samples for product testing, a Wildman, Exactus and Furiosa customized to my preferences of color, action inlet and magazine type. With three wildly different stock/chassis styles at my fingertips, I knew I had to find a focal point early on so that I don't run short of breath through my fingertips while typing out the pertinent details.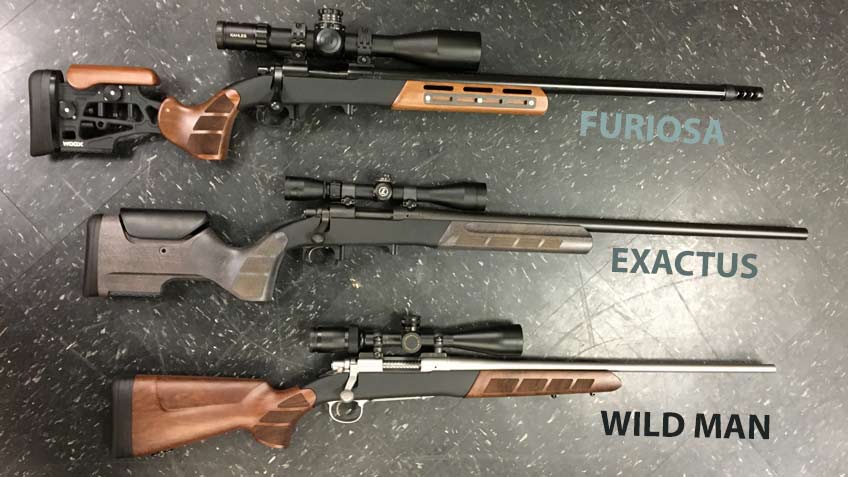 At the time I was receiving these precision rifle stocks by WOOX, Virginia's hunting season was coming into full swing, so it was the perfect time for field testing. Even though I'd done it many times before, I knew I didn't want to lug an ultra-heavy precision rifle around the hills of Appalachia in search of whitetail and black bear, so the Furiosa was out. The Exactus would have worked, too, but the design is best suited for targets and varmint shooting.
So it was the Wild Man and I, and the whitetail rut was looming. I went to work quickly, borrowing a Remington 700 from a custom carbon-fiber stock. The barrel was thin, and the previous setup in carbon was finicky to shoot. I hoped the Wild Man to prove Remington's handiwork and vice-versa. The pairing seem to create a compact and versatile package perfectly qualified for the deer woods.
The Little Things

Upon first receipt of the WOOX Wild Man and others, I couldn't help but notice that these folks thought about every facet of the user experience, from website to product design and packaging. After further peeling back the layers of the WOOX experience, I discovered a WOOX-branded foam insert. Once lifted away (church bells, choir and pigeons flapping in the background) the Wild Man was there, a contrasting gunstock with matte-black aluminum and satin-finished walnut. Included inside the custom-fit foam were hex wrenches, screws and plastic spacers, along with a reference guide printed on box top's interior and a user manual nested within the foam.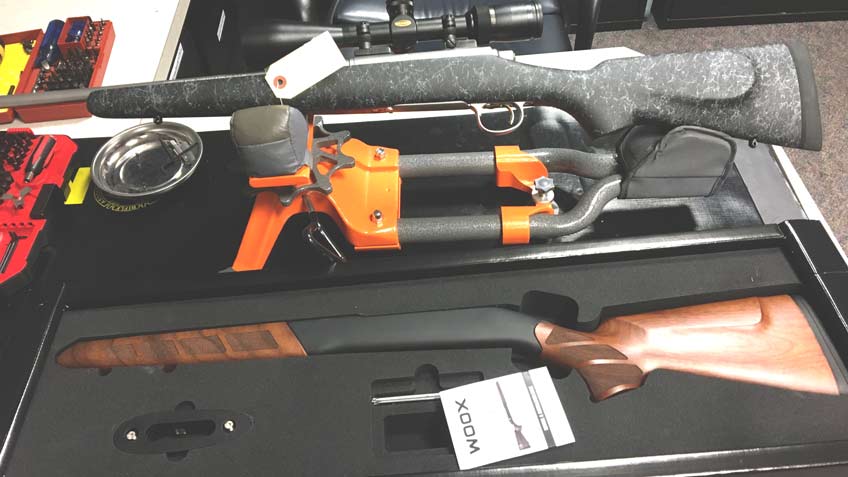 Smartly, companies like WOOX have noted shortcomings in other options and designed products that better serve the "average" consumer. But how does a fledgling company such as WOOX come out of seemingly nowhere and offer such experiences?
Let's start by noting the Italian roots that spread out from the Mediterranean Sea across the Atlantic to North Carolina. These roots originate at the
Minelli Group
, not to be confused with the shotgun and rifle manufacturer Benelli. The Minelli Group has a reputation for woodcrafting that dates back to 1937. What began as a local logging endeavor led by Francesco Minelli and his sons led to the establishment of an artisan workshop.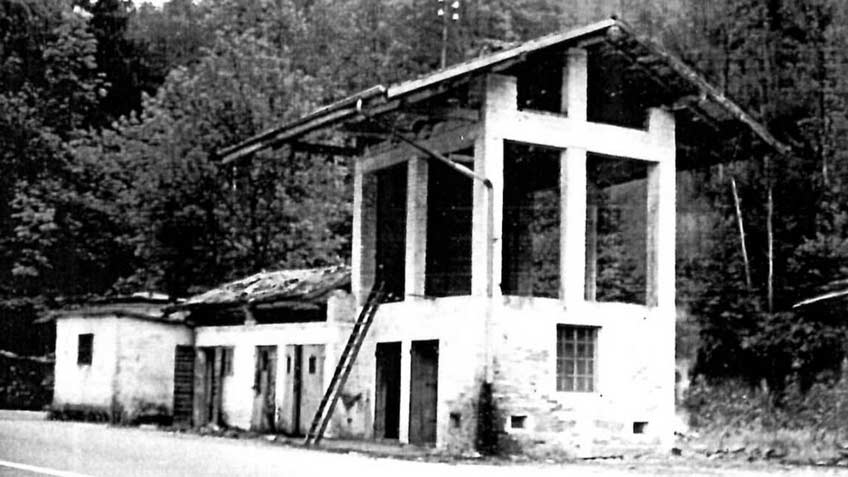 Fast forward to 2015 and the formation of Minelli USA, the Minelli Group's stateside house. This global move opened new doorways while helping to reduce the company's carbon footprint. After five years stateside, a "wild child" of the company was born in 2020. Enter WOOX.
WOOX Wild Man Precision Stock

Plain and simple, the Wild Man is a gunstock that serves the purpose of providing an interface between a barreled action and operator. The gunstock that WOOX created with its Wild Man is far from plain, simple and traditional; it is hybrid design built of machined aluminum and sculpted wood. It is wildly universal, too, whether you are a southpaw wanting a cheekpiece on the "right" side, or you've got a barreled action with an extra-fat barrel or enjoy the feel of a palm swell on both sides of the wrist, the Wild Man provides. Any DIYer concerned with upgrading their rifle's stock to the Wild Man Precision Stock can rest assured that WOOX has them covered with a simple-to-install gunstock that commands a fair price.
The Wild Man Precision Stock weighs almost 3.5 lbs. and measures 30.5". These measurements include the aluminum chassis, walnut buttstock and fore-end, as well as accessories such as sling studs up front, push-button sling swivel at the rear and a recoil pad with spacers. At the Wild Man's core is a machined-aluminum chassis, a foundation for the stock's walnut pieces and attachment point for your barreled action.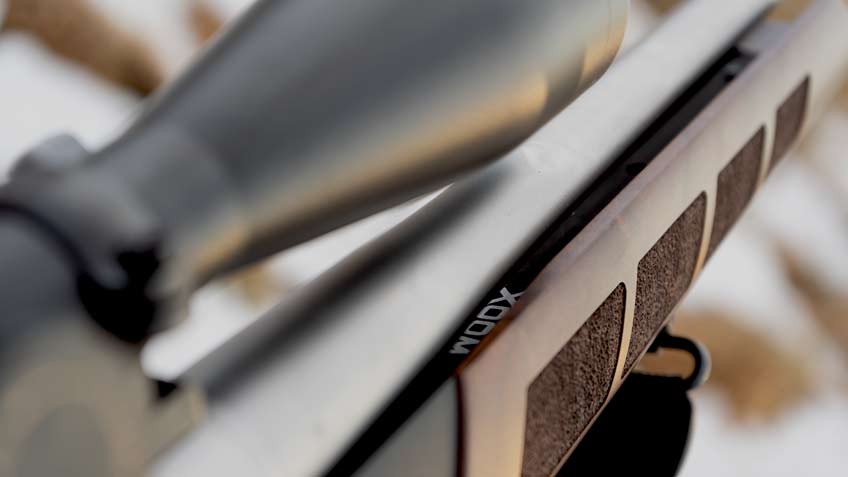 Woox incorporates four panels of texturing along each side of the fore-end and three panels on each side of the wrist. At first blush, the styling appears radical and contemporary. In fact, these panels are configured in such a way that improves operator purchase over traditional styles I've sampled. The walnut finish is subdued with a matte appearance that blends well with the matte-black aluminum midsection. Transitioning from aluminum to wood along the tang are serrations to help reinforce a thumb-up style hand position.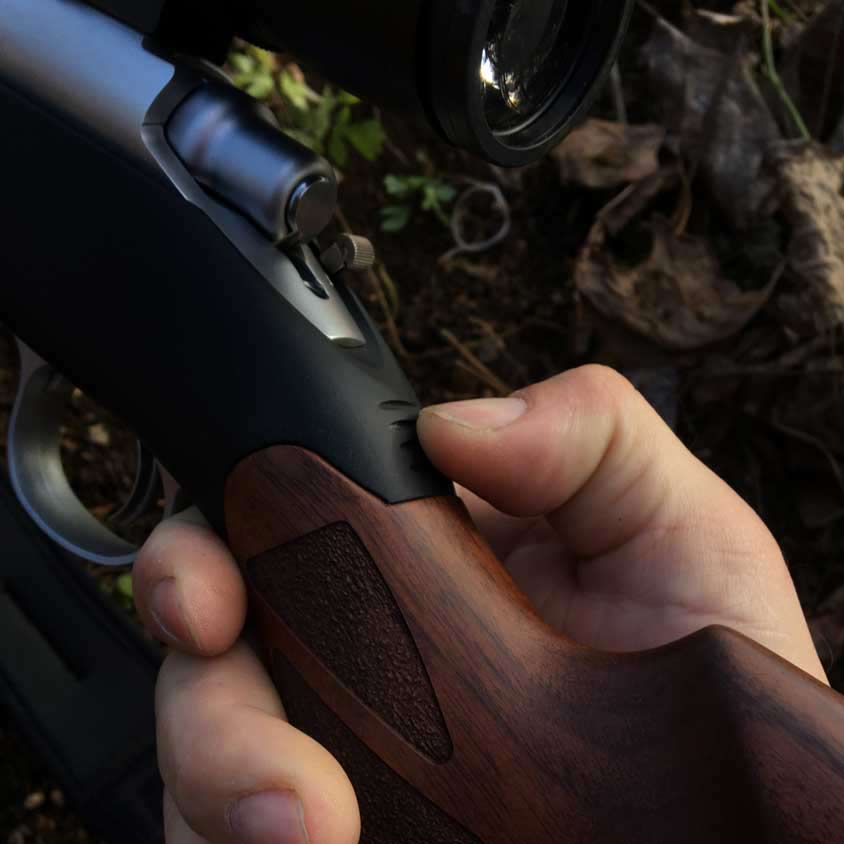 An aluminum support arm runs the length of the walnut fore-end to provide support and attachment. A single screw located centrally within the V-shaped tip of the fore-end helps secure the wood in place. Additionally, the two sling studs universally provide wood-to-aluminum attachment and permit use accessories such as a bipod and sling. The barrel channel is wide and deep, which further bolsters the Wild Man to accommodate myriad barrel profiles in use today.

Assembly, Use and Final Thoughts

I have a tendency of diving into projects head-first, which often times results with me backpedaling to the owner's manual. In the case of the Wild Man, setup was ultra-simple and the user manual, well, it now resides in a stack of many others like it. The lightweight Remington 700 I went with for this project fit precisely. There was little movement fore and aft before screwing everything together. The slight motion had me cautious, so rather than bolting it all together and torquing, I made sure to catch a few screw threads before setting the action rearward with pressure while snugging and then torquing to 65 in-lbs.
This is when I noticed that the torque wrench peaked quickly, so fast that I concerned myself about missing something along the way; I removed the screws and reinstalled twice more. The results repeated. There was zero binding noticed between the stock and receiver, and the surfaces appeared to be machined true to Remington's receiver. The threads were clean and free of defects. Everything fit perfectly, and it was at this point that I acquired even more faith in WOOX and its ability to precisely engineer a robust foundation.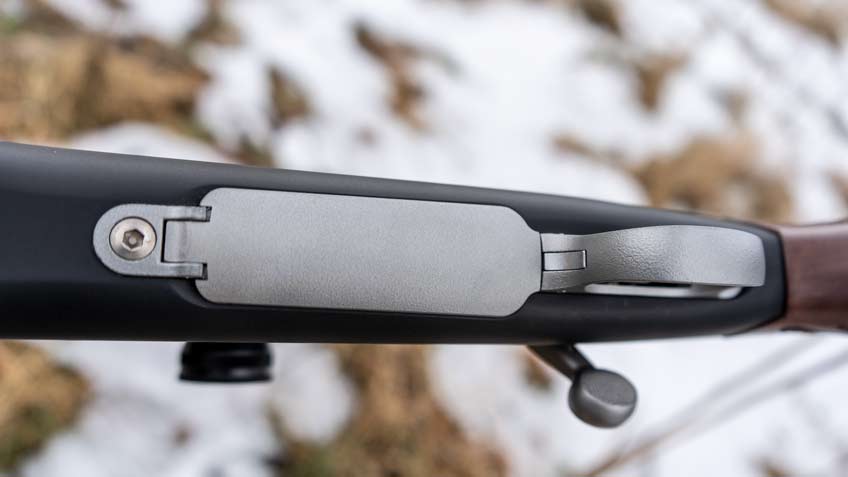 The combination of Wild Man and lightweight Remington came together as anticipated—officially qualified for the deer woods. The structure of the walnut wood supplied for the buttstock and fore-end contain nice figure with fairly straight grain, a sought-after feature, especially for use with heavy-recoiling guns. Like most stock makers, WOOX supplies a rubber pad that caps the buttstock and length-of-pull spacers. I found this unit to be reminiscent of a shotgun-stye pad that is squishy and smooth, not hard and tacky, which is a boon to heavily clothed hunters mounting a rifle at quick-moving game.
On the bench, the Wild Man excelled, proving the barreled action and stock's capability as a pair. The pairing further enumerated how finicky light rifles with lightweight stocks can be to shoot. The rigid construction of the WOOX mini chassis and its precise inletting are welcome features to anyone looking for increased performance. The Wild Man's bilateral cheekpiece helped with maintaining head position. Though I would prefer an adjustable cheek riser to better fit my odd shape, we can't have it all.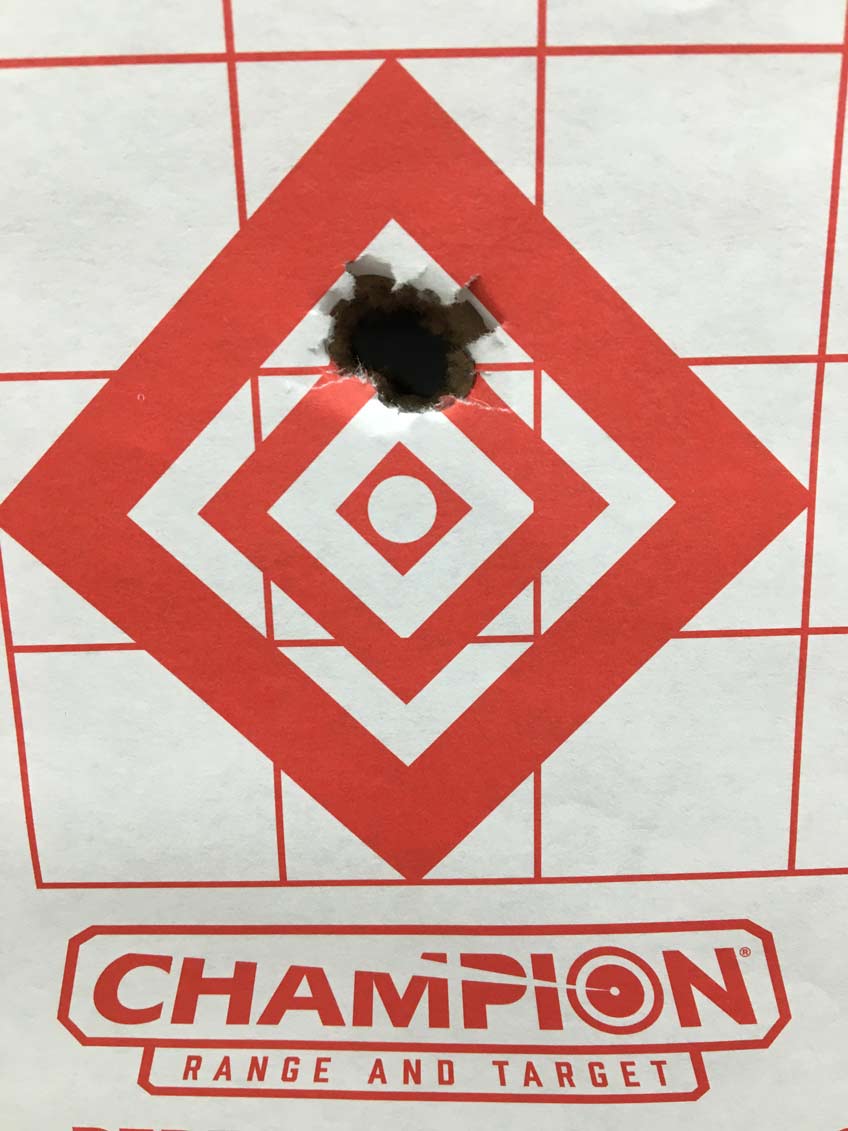 After traversing the boulders and brambles of Appalachia chasing targets with the Wild Man between my hands, I found improved accuracy, balance and consistency out of an already-proven barreled action. I also noticed myself using the Wild Man setup more often than not during that hunting season. While at the target range, I made new acquaintances because of the Wild Man with me. More questions were asked about "that gun on the rack" from my friends at hunting camp and around the office.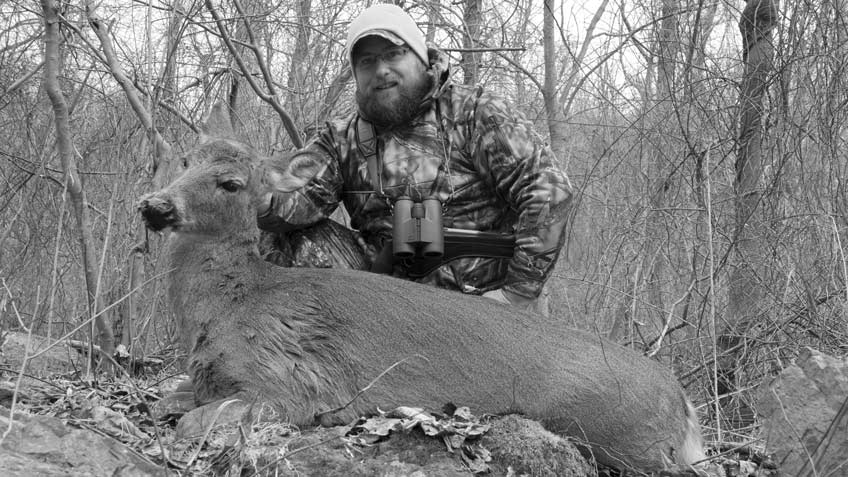 PROS
:
Easy To Install
Contemporary Styling
Aluminum Mini Chassis
Customizable Furniture
Fit and Finish
Overall Dimensions
Accuracy Enhancing
Centralized Balance
Raised Left and Right Cheekpiece
Dual Sling Studs
Texturing Panels
Rear Push-Button Sling Swivel
Left and Right Palm Swell
Consistent Action Inletting
Quick to Shoulder
CONS
:
Wood Dents Easily
Aluminum Finish Holds Dirt
Narrow Rear Sling Swivel
To learn more about WOOX and its other products, please visit
wooxstore.com.