Top: Pawn Manager Angel Wallace displays the stack of NRA memberships generated through the Taurus promotion, along with a Taurus PT 1911 and Judge Public Defender.
On the surface, it would appear that Larry's Pistol and Pawn shop in northern Alabama deals strictly in Taurus pistols. While Larry's indeed sells many other top brands of firearms, the fact that more than 1,000 new Taurus guns flew off the shelves between August 21 and Sept. 26, 2015, is a testament that the store is also selling the future of the Second Amendment.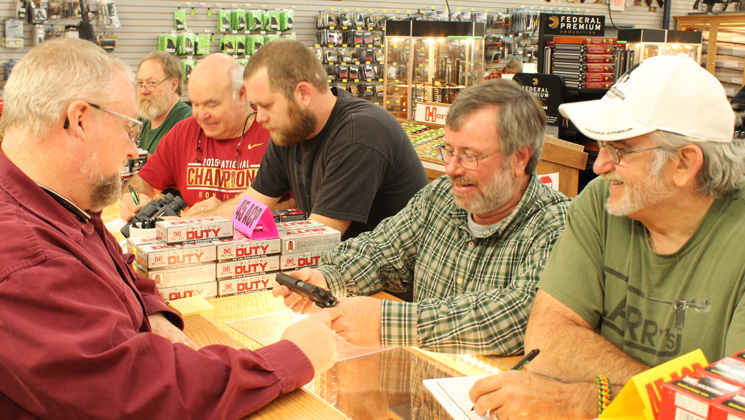 You see, with each Taurus pistol sold, the buyer walks away with a free one-year NRA membership. "A good number of buyers were prompted to buy Taurus handguns because of the free NRA memberships," said store owner Larry Barnett, who overheard many of the buyers admit that they had always intended to join NRA, but now they had another good reason.
Among the most popular of the Taurus guns sold during the 30-day event were the Millennium G2 semi-automatics, .45-410 Judge revolvers, Model 85 revolvers and Model 738 .380 semi-automatics—guns that tend to be popular with new shooters, first-time buyers, and those looking for affordable concealed-carry pistols.
Barnett is as passionate about defending the Second Amendment as he is on following through on his beliefs. In operation for more than 40 years with hopes of seeing at least 40 more, the wave of attacks on gun ownership has brought out the fighter in Barnett. So he decided to send support to those at the frontlines of the Second Amendment fight, the National Rifle Association.
"The NRA is a major force in the support of the Second Amendment that never muffles its voice or pulls back when the fights gets tough," Barnett said. "The NRA protects that thin line that gives Second Amendment rights a functioning place in an atmosphere where some folks actively want it repealed."
Barnett added that recruiting new members is an important element in the protection of Americans' basic Right to Keep and Bear Arms, so shortly after a Huntsville Friends of NRA meeting in August, with the support of more than 400 Friends of NRA, Larry teamed up with Taurus USA to generate as many new NRA memberships as possible.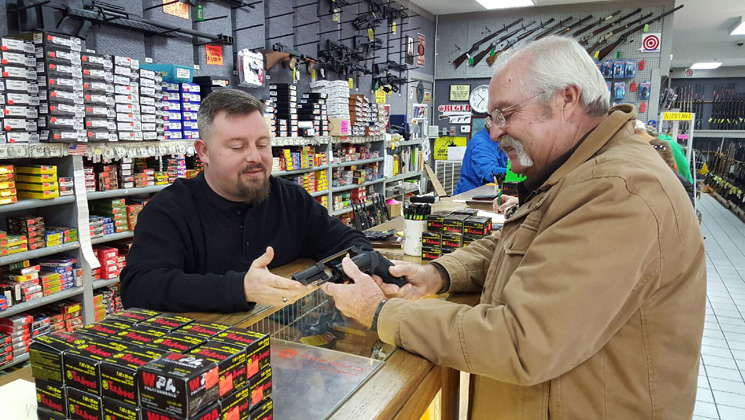 "The NRA is on the leading edge of protecting our rights and freedoms under the Second Amendment," said Taurus Director of Marketing Tim Brandt. "Without their tireless efforts, all of our customers who use our firearms to protect themselves and their families everyday would be limited in their ability to do so."
Taurus will continue to offer a free NRA membership with the purchase of a Taurus firearm throughout 2016. "We feel very strongly about this program," said Brandt.
Larry's Pistol and Pawn is a two-store operation, with its original Huntsville-based shop a staple in the community since 1973. Customers come again and again to buy, sell and trade new or used firearms, firearm accessories and ammunition. Patrons also never forget to use the "Ammo Dump," the pawn shop's first-class indoor shooting facility within the Huntsville location. A second store recently opened in neighboring Madison. For more, visit Larry's Pistol and Pawn. For more on Taurus firearms, visit taurususa.com.