Support NRA American Rifleman
DONATE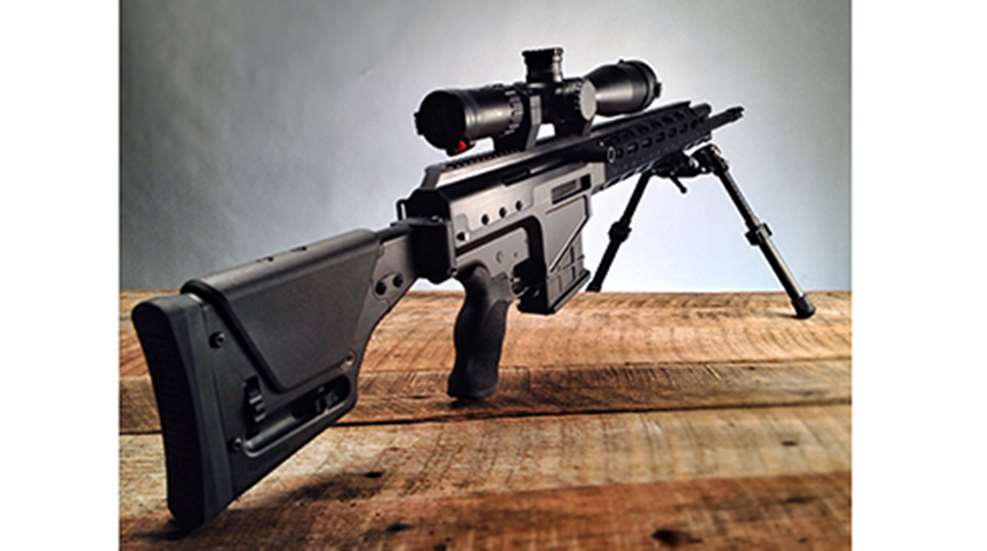 Bill Alexander is surely onto something with his newest firearm. Dubbed "Ulfberht" (oolf-bairt for those who can't begin to pronounce it), the gun is named after a 1000+ year old Viking sword whose construction puzzles the minds of modern geniuses. Tough shoes to fill Bill, but I think you have it under control.
A few months ago, Bill and his comrades at Alexander Arms came to NRA headquarters to show off their pet project and, of course, for a little trigger time on our range. After countless rounds of earth-quaking .338 Lapua Mag., I looked around at the group of men and couldn't help but notice these radiant yet mischievous grins cast toward the Ulfberht-myself included.
All of the pleasure wasn't attributed to just the shooting; take down and examining the  internal components set my excitement levels beyond the ceiling. Here's what I observed: stainless steel construction; a detachable mag; ample rail length; adjustable gas system; and large beefy parts-heck, the extractors looked like 16 penny nail pullers. I imagine this gun is able to take a beating and keep on running, much like the original Ulfberht.
I was a bit upset to see the Ulfberht depart NRA following the visit with Alexander Arms, until the other day when another arrived and my mischievous radiant grin reappeared. Apparently it is back for photography for the July issue of Shooting Illustrated. So check newsstands this summer to get closer up to the Ulfberht, or visit ShootingIllustrated.com.