Eminently reliable and a mainstay of both gun-toting professionals and armed citizens alike, Glock semi-automatic pistols enjoy unparalleled aftermarket support in the form of a vast array of replacement parts, accessories and components designed to enhance and personalize the platform. Of all the parts and add-ons available, though, probably the most common Glock upgrade remains the replacement of the pistol's factory sights. Sure, some people like the plastic fixtures which present the shooter with a ball-in-basket sight picture. Many, though, view the stock sights as little more than a front sight placeholder and a rear dovetail protector—in other words, a less-than-ideal sighting solution.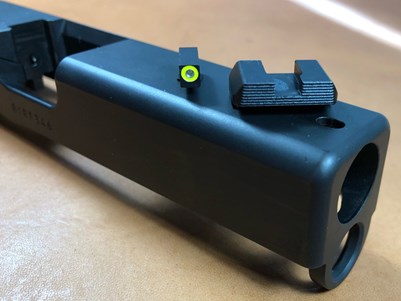 For those in the latter camp, this brings us back to robust aftermarket and the myriad replacement sights available. Whether your preference is for a fiber-optic arrangement, tritium-powered night sights, a target-style setup or any of a number of less-traditional sighting options, chances are you can find it for a Glock. Readers and viewers of "Lock, Stock & Barrel" will be familiar with my preference for a bold front sight with a plain black rear, and tritium inserts for low-light capability. So, unsurprisingly, when recently setting up a Gen4 Glock 19, I ordered sights in exactly this pattern—the Glock Protector sights from Ameriglo. These sights pair a bold yellow/green luminescent front dot with a square-notch rear. The front sight also has a tritium vial which glows in low-light, and the rear sight is horizontally serrated to reduce glare, and also features a ledge-style face to facilitate one-handed slide manipulations. As with all of Ameriglo's offerings, the sight bodies are made of steel for excellent durability—especially compared to the plastic units that came on the gun originally.
I've had plenty of practice replacing pistol sights during the last few years, and have become quite proficient with a sight pusher for moving dovetail-mounted units. The Glock front sight, however, is an interesting arrangement wherein the slide has an oval cutout to accept the front sight post. The sight is secured to the slide by a small screw which engages a threaded port on its underside. Sounds simple enough, right? The catch is that the screw features a thin, flat, hexagonal head, and requires a special Glock-specific driver. Further, there is very little room to work between the front sight screw and the front, or muzzle-end, of the slide. I have actually seen "Glock-drivers" that could, indeed, interface with the hexagonal sight screw, but were too large in body diameter to actually work within the confines of the Glock's slide.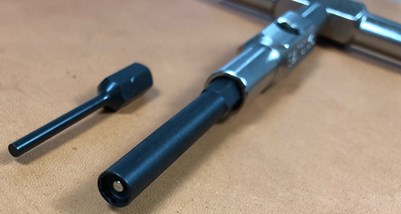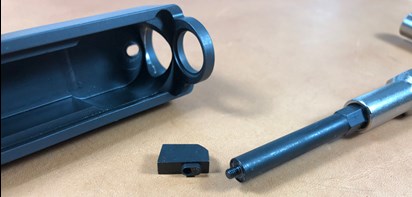 Thankfully, there are a number of very good, and properly sized, Glock sight tools available to shooters. One recent addition, the 3/16 Front Sight Tool from Fix It Sticks, really caught my eye because I already keep a set of the portable 1/4" hex-bit drivers in my range bag. Fix It Sticks may have gotten its start in the bicycling community, but the company's offerings are also a natural fit for the shooting sports, particularly because of their ease of transport, their use of magnets—which prevent small screws and springs from falling astray—and their selection of small torque limiters which are ideal for correctly tightening optics mounts and stock screws.
Available as part of the Fix It Sticks Glock Tool Set, the 3/16 Front Sight Tool is a 1/4" hex bit with a driver head designed to interface with standard Glock-style front sight screws, and it is perfectly sized to fit around the screw's head, yet within the slide. The steel-bodied driver also features an integrated magnet to keep ahold of the small sight screw. Also included in the kit is a 3/32" metal pin punch, which is perfect for driving out the trigger, trigger housing and locking block pins of a fourth generation Glock. These frame-mounted pins must be removed in order to access the guts of the pistol for the purpose of maintenance, or to change out triggers, transfer bars and connectors—other commonly encountered aftermarket components.
Using the Front Sight Tool from Fix It Sticks, installing the Ameriglo Protector sights was a breeze, and the Glock-specific bits have since been added to my range bag's tool kit.