by
posted on July 24, 2013
Support NRA American Rifleman
DONATE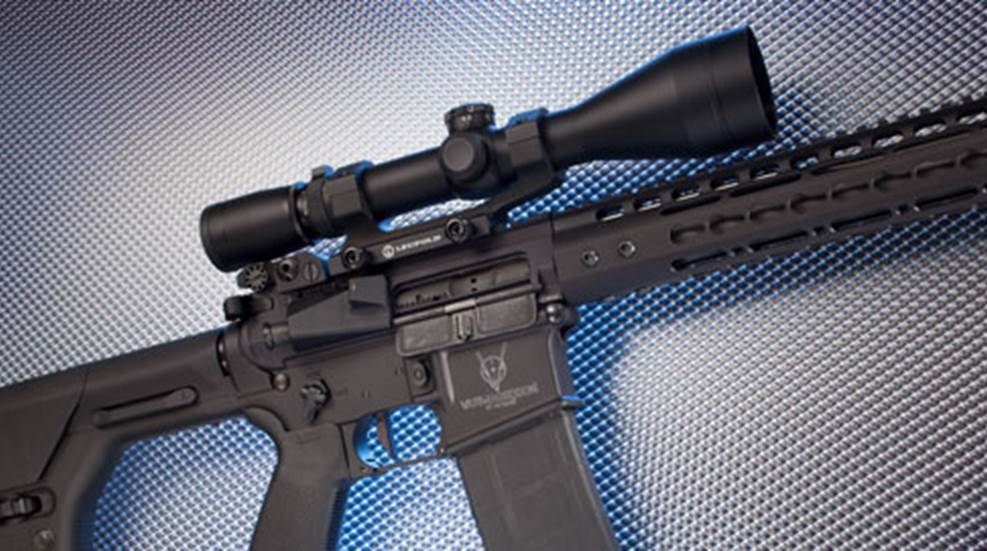 Premium bullet and ammunition maker Nosler has teamed up with rifle manufacturer Noveske to produce the Varmageddon-a custom-designed AR available as a stand-alone rifle or as a package complete with signature Leupold scope. The latter is evaluated here.
The direct-gas-impingement, semi-automatic, magazine-fed Varmageddon has a variety of precision features. For example, the 18-inch, stainless-steel Noveske barrel has a 1:8-inch twist rate, which provides greater stability to a wide range of bullet weights. It features a bead-blasted matte finish and is chambered in 5.56x45 mm NATO with extended M4-style feed ramps at the rear of its extension.
The gas system is intermediate in length, with a gas tube that is 1.5-inch shorter than a standard-length gas tube. The low-profile gas block has been pinned onto the medium contour barrel. The front of the barrel has standard 1/2-inch×28 threads for installation of a muzzle break, flash hider or sound suppressor and includes a standard thread protector. Additionally, the 13½-inch Noveske NSR handguard ensures the barrel is free-floating for shot-to-shot consistency, thereby resulting in improved accuracy.
The thin and ultra-light NSR has an uninterrupted, full-length M1913 Picatinny rail on top, and the KeyMod Modular Direct Attachment System-jointly developed by Noveske and VLTOR-provides an easy and secure interface for installing additional rail sections on the handguard. It is secured to the upper receiver with a steel barrel nut.
The Modular Upper Receiver (MUR), is manufactured by VLTOR from a 7075 aircraft-grade aluminum forging and has noticeably thicker sidewalls that create a more stable and rigid platform for improved accuracy and durability. It also features an anti-rotation handguard interface.
The Noveske forged lower receiver features a mil-spec buffer tube and standard AR controls with the exception of the Noveske Short Throw Safety (STS) selector, which affords a 60 degree rotation from the safe to fire position rather than the standard 90-degree rotation of a conventional AR. It features stainless-steel construction with ambidextrous Magpul polymer SSG levers for smooth operation and user comfort.
Internally, the Nosler Varmageddon features a bolt carrier that provides greater weight for more secure lockup. The bolt has been shot-peened and magnetic-particle-inspected. The former provides compressive stress to the bolt surface, increasing metal fatigue resistance. Magnetic particle (MP) testing uses a magnetic field to detect any imperfections in the surface or subsurface of the part.
As befitting a precision rifle, the Varmageddon also features a precision trigger, in this case the Geissele Super Dynamic-Enhanced. The blade of the two-stage unit has a flat surface that provides outstanding feel and a crisp 4-pound pull with zero creep or overtravel. The BCM GUNFIGHTER charging handle makes one-handed operation of the action a simple affair and provides convenient and easy access to the charging handle with a mounted optic. Aluminum folding backup iron sights from Troy Industries are standard.
Instead of the standard grip, Nosler has added the Magpul MOE version that features better ergonomics, improved comfort and internal storage space for spare parts or batteries. The Magpul PRS (Precision Rifle/Sniper) stock is also a distinct upgrade that befits a true varmint rifle. The rifle-length stock does not collapse but does feature machined aluminum adjustment knobs that solidly maintain position under recoil and can extend length of pull by 1 inch and raise the comb height by up to ¾ inch.
The complete rifle package tested here also includes a signature Leupold VX3 LR Varmageddon branded 4.5-14x50 mm scope with a pre-calibrated Custom Dial System (CDS) matched to Nosler's Varmageddon .223 Rem. 55-grain flat-base soft-point ammunition.
On the range the Varmageddon rifle package performed as expected with no malfunctions and, despite its almost 10-pound unloaded weight, it was well balanced and handled easily. In testing for accuracy at 100 yards from a sandbag rest the rifle showed its sub-m.o.a. potential with a variety of premium ammunition.
Fit and finish of the rifle were outstanding, and custom logos abound including the Varmageddon branding on the Leupold scope and on the right side of the lower receiver. Many extras, such as a soft-sided rifle case, a Harris bipod, 20- and 30-round Magpul PMAGs and 40 rounds of Varmageddon .223 Rem 55-grain Tipped ammunition, are included in the package.
For more than half a century Nosler has been perfecting bullets and ammunition designed for extreme accuracy and terminal ballistics. The Varmageddon represents the next step and establishes a perfect collaboration that delivers excellent out-of-the-box performance.
Manufacturer: Nosler, Inc.; (800) 285-3701; varmageddon.com
Caliber: 5.56x45 mm NATO (.223 Rem.)
Action Type: direct-gas-impingement, semi-automatic center-fire rifle
Receiver: 7075 aircraft-grade aluminum
Barrel: 18" stainless steel
Rifling: three-groove, 1:8" RH twist
Magazine: 20- and 30-round detachable box
Sights: M1913 Picatinny Rail, MBUIS rear/front, Leupold VX3 Scope
Trigger: two-stage; 4-lb., 1.2-oz. pull
Stock: black polymer Magpul: length of pull, 131⁄2"; drop at heel, 13⁄4"; drop at comb, 13⁄4"
Overall Length: 36.25"
Weight: 9 lbs. 14.2 ozs.
Accessories: extra magazine, bipod, case, sling, manual, two boxes ammunition
Suggested Retail Price: $2,295 (rifle only); $3,195 (as tested)