by
posted on September 1, 2009
Support NRA American Rifleman
DONATE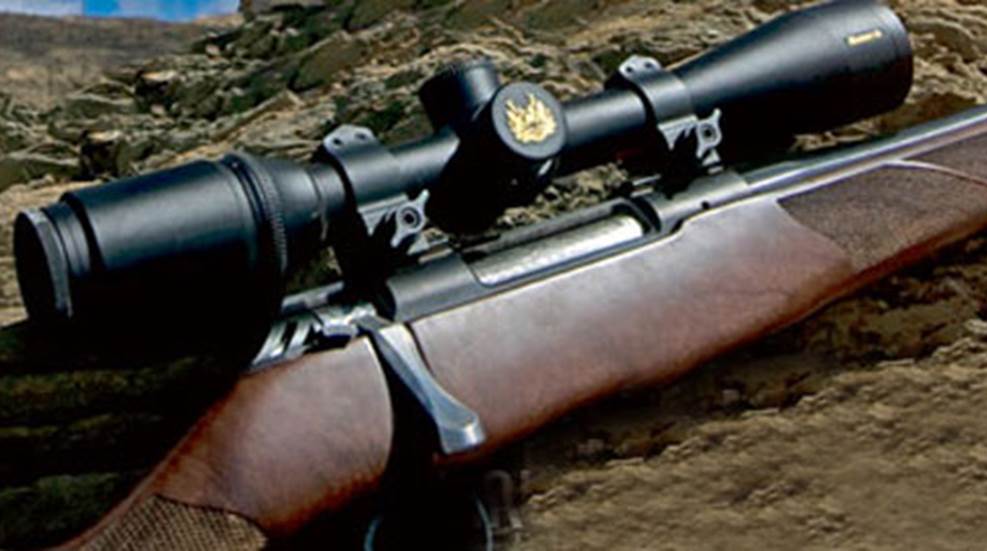 The optics market, like many segments of industry, is one of trends. When one company establishes a better reticle, surface coating or finish, rest assured that other companies will be quick to copy or develop their own versions. A current trend in riflescopes is increased range of magnification, as advancements in erector systems enable greater range of zoom in 30 mm and 1-inch tubes, without an obscene increase in weight or bulk. Among the companies capitalizing on this technology is Nikon with its new Monarch series riflescopes.
Instead of the 3X zoom of the older variant, the new Monarch features a 4X zoom system, which delivers much greater magnification ranges, on the same 1-inch tube. For example, with a 3X system, common ranges were 2.5-7, 3-9 and 4-12. However, on a 4X system, those ranges swell to 2.5-10, 3-12 and 4-16. In essence, it creates riflescopes much more capable than previous models of being able to do everything.
Our test model, a 4-16x42 mm SF (side focus), was evaluated extensively both afield and on the range. Mounted to a Thompson/Center Icon in .30 T/C, we field tested the new Monarch on safari in Africa. On the range, we tested mechanical adjustments and repeatability. After international travel, hundreds of miles in open-top safari vehicles, three sighting sessions on two different rifles, seven one-shot kills, and hundreds of rounds sent downrange, we felt confident in the ruggedness and quality of Nikon's new Monarch.
When redesigning the Monarch line, Nikon engineers sought to deliver riflescopes appropriate for any type of hunting, regardless of caliber or environs. To make it more appealing to American shooters, Nikon stuck with a 1-inch main-body tube, machined from aircraft-grade aluminum, making it light and durable. The tube is shorter overall than previous models without sacrificing the available space for mounting rings. As a bonus, the end of the objective bell on all new Monarch models is threaded to accept a sun shade, which comes standard on the 5-20x44 mm and 6-24x50 mm versions.
The heart of the new Monarch line is the company's proprietary lead-and-arsenic-free Eco Glass lenses and Ultra ClearCoat anti-reflective multicoatings. Together, Nikon claims, these enhancements deliver 99.5 percent light transmission per glass surface, which translates to 95 percent total light transmission. Nikon says all scopes in the Monarch line are waterproof, fogproof and shockproof, and after taking one around the world and back, we see no reason to doubt that claim.
Another key feature, of course, is the 4X zoom range, which allows 4 inches of eye relief throughout the power range. The ocular bell's rear-facing magnification indicators on the zoom control and quick-focus eyepiece make the new design inherently user friendly.
Also new is an interchangeable turret system that enables switching out turret knobs and caps, depending on user preference. There, we found the click adjustments distinct in both sound and feel as the turret turned and settled into place. Our test model featured 1/4-m.o.a. adjustments, while two models in the line, the 5-20x44 SF and 6-24x50 SF, utilize 1/8-m.o.a. adjustments.
All models with magnifications exceeding 10X also feature a locking side focus knob on the left side of the adjustment turret adjustable from 50 yards to infinity. When used afield, we appreciated the ability to make quick parallax adjustments during certain hunting scenarios, as well as the locking mechanism-there was no worry about losing the setting despite banging the optic in the back of open-top trucks and while hiking through the rugged Namibian hill country.
Monarch riflescopes are available with Nikon's Bullet Drop Compensating (BDC) reticle, a trajectory-compensating design that is calibrated for quick acquisition with various aiming points for specific yardages. When set at the highest magnification, 16X on our 4-16x42 mm SF model, descending "ballistic circles" below the crosshairs on the vertical stadia subtend 2 inches at 100 yards, and each represents a specific yardage and corresponding hold. On standard calibers, users sight-in the rifle at 100 yards, which in turn yields 200, 300, 400 and 500 yards on descending circles, respectively. For magnum calibers, the BDC should be zeroed at 200 yards, with descending circles representing 300, 400, 500 and 600 yards.
In practice, however, this is merely a starting point with the BDC. After sighting-in the rifle at the appropriate distance, points of impact should be confirmed after shooting each ballistic circle as point of hold for its respective distance. Most loads are likely to be within those points of hold when using the scope at the maximum zoom setting. However, users should also shoot at each zoom setting to see how point of impact changes within each ballistic circle at each distance.
The point, which cannot be made too emphatically, is that sportsmen must confirm how their loads correspond to the BDC aiming points prior to hunting in order to take full advantage of the system. We recommend extensive range sessions and the formulation of a ballistic chart to be carried afield or adhered to the scope or stock. And if you do your homework, and know where the bullet is hitting with the ballistic circles at all ranges and magnifications, then you will have a powerful ally in the field.
For those who prefer more conventional reticles, the Monarch line is available with Mildot or crosshair variants. Monarch riflescopes are available in the following models: 2.5-10x42 mm, 2.5-10x50 mm, 3-12x42 mm SF, 4-16x42 mm SF, 5-20x44 mm SF and 6-24x50 mm SF. Suggested retail prices range from $410 to $650.
Ultimately, we found the new Monarch's zoom control fluid and smooth, while the hand-turned elevation and windage adjustments were solid and positive. We found the scope durable during field tests in extremely inhospitable conditions, riding and hiking through rough country, where fine-grit sand did nothing to impede operation of either the zoom or parallax adjustment mechanisms.
During low-light hunting, we were satisfied with the scope's light transmission, and during benchwork we found adjustment to be precise and repeatable. In short, we feel the Nikon Monarch delivers considerable performance for the money-rewarding the user with high-end form and function at a mid-level price.
Importer: Nikon Sport Optics; (800) 645-6687; Nikonhunting.com
Model: Monarch
Magnification And Objective: 4-16X 42 mm
Tube Diameter: 1"
Finish: matte-black anodized aluminum
Field of View: 25.2 (4X) to 6.3 ft. (16X) at 100 yds.
Eye Relief: 4" to 3.7"
Exit Pupil: 2.6 mm
Click Value: 1/4 m.o.a.
Maximum Internal Adjustment: 40 m.o.a. windage and elevation
Reticle: Ballistic Drop Compensating
Length: 13 1/2"
Weight: 18 ozs.
Accessories: sun shades
Options: interchangeable turret system
Suggested Retail Price: $450