Support NRA American Rifleman
DONATE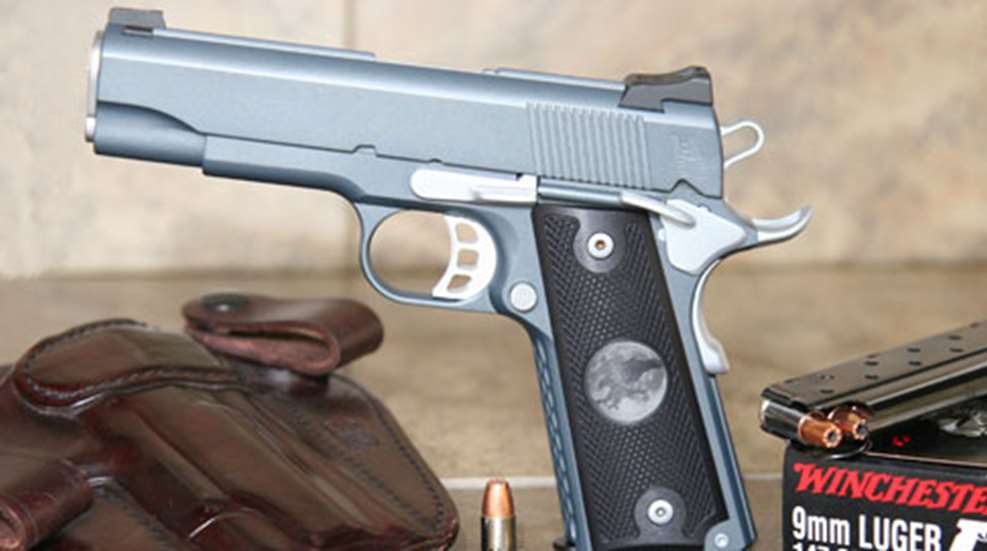 Some time ago, Nighthawk Custom, the upstart firearm company in Berryville, Ark., got the idea to create a Commander-sized M1911 designed specifically for women. With right-to-carry prevalent in many states, women are a growing but often neglected portion of the handgun market.
The company decided to make a particularly attractive pistol in 9 mm Luger that would also have practical appeal to women. This offers the twin virtues of a narrow gripframe and relatively mild felt recoil. Nighthawk Custom dubbed the pistol the Lady Hawk and introduced it at the 2008 SHOT Show with great expectation.
Nighthawk was right in believing that women would want a gun that was beautiful, comfortable in the hand and pleasant to shoot. What the company hadn't quite grasped was that men also want a gun like that.
Female and male customers flocked to the Lady Hawk, placing orders with the latter requesting that the model name be left off. The company complied and now the Lady Hawk name is affixed to the gun only by request. I received one of these unmarked guns to test.
Well, it is pretty; no getting around that. The Lady Hawk is the most aesthetically pleasing production pistol I have seen. Its Titanium Blue slide and frame are beautifully accented by hard chrome controls. It is further enhanced with black AlumaGrips. The Lady Hawk is available in an array of other Perma Kote finishes, including Black, Sniper Gray, Green, Desert Tan, Hard Chrome and Diamond Black. But it's not just the color scheme that makes it so appealing; it is so finely finished that it has an air of elegance to it that is rather remarkable.
The Lady Hawk dispenses with traditional checkering, unless it is requested. Instead, you'll find a handsome and effective scalloping pattern on the front- and backstraps. The rear of the slide is serrated as is the top of the slide to break up reflected glare.
With the exception of the front sight, the pistol is devoid of sharp edges. It is thoroughly dehorned, but not slippery. The scalloping, rear cocking serrations, serrated trigger face, thumb safety and hammer spur and the Alumagrips all contribute to a secure hold and sure manipulation of the controls. The AlumaGrips were a revelation. They weren't coarse, abrasive or cold, as I'd suspected they would be. The checkering does not have raised points. It is flat and comfortable, yet secure. The fine detail and anodizing also make them as visually attractive as you could want.
The Lady Hawk is one of those guns you know is going to be a shooter before you ever fire a shot. You can tell simply by disassembling it. There is no play or slop. It is tight, but not ridiculously so. It is just precise. Things come apart and go together as they should, but you can't be sloppy. You have to hold components at the exact angle and apply pressure in the precise direction. It's not difficult, but it demands more attention than most factory produced M1911s.
The only area where the Lady Hawk is noticeably smaller than a standard .45 ACP M1911 is in the the grip frame. One of the advantages of the 9 mm Luger chambering is that the smaller cartridges can be accommodated by a smaller grip frame, meaning shooters with smaller hands get better purchase on the gun and maintain better control when shooting. While I'm able to shoot even double-stack .45's with comfort and control, the slim grip frame was reassuringly ergonomic and fast handling. I felt better able to control the pistol in one-hand drills than with some other guns, yet the grip never felt crowded, even with a two-hand hold.
Overall shooting impressions were excellent. There are precious few handguns that can compare to a well-crafted M1911 pattern for pleasant shooting characteristics. The only complaint you'll occasionally hear is that the .45 ACP just kicks too much for some shooters. Well, imagine a beautifully made Commander-size M1911 chambered in 9 mm Luger. The Lady Hawk gives you all the ergonomics, the good handling and the trigger of a great M1911 but doesn't hammer your hand. For the recoil sensitive, it's the best of all worlds.
There were no malfunctions of any kind despite my running a variety of ammunition through the gun.
With most pistols, you look them over and say: "Well, this is OK, but I'd have liked to have seen this or that added or left off or swapped out." There is precious little of that with the Lady Hawk. Heinie Slant-Pro tritium sights are good and surprisingly precise. However, I prefer faster, more open sights like the XS Sight Systems 24/7 Big Dot Express sights on a carry gun, but that's just me.
My other complaint is that there is little advantage to making a carry gun from steel. Yes, it is more durable than aluminum alloy, but modern aluminum alloys will typically provide a lifetime of service for most shooters. And yes, being heavier, steel reduces felt recoil but recoil—within reason—is a virtual non-issue in the stress of self-defense shooting. A more important consideration is whether burdensome weight will lead you to leave the gun at home when you really need it.
The good news is that Nighthawk Custom, despite being a factory, allows customers to make numerous changes and special requests so that the gun is tricked out just as you'd like. Of course, the Lady Hawk is quite good as is.
Manufacturer: Nighthawk Custom; (877) 268-4867; www.nighthawkcustom.com
Caliber: 9 mm Luger
Action Type: Recoil-operated, center-fire semi-automatic pistol
Frame: Carbon steel
Barrel: 4.25"
Rifling: Six grooves, 1:16" LH twist
Magazine: Nine-round-capacity, detachable box
Sights: Two-dot tritium, drift-adjustable for windage
Trigger pull: 3 lbs., 6 ozs.
Overall length: 7 7/8"
Width: 1 11/32
Height: 5 5/8"
Weight: 36 ozs.
Accessories: Soft range bag, spare magazine
Suggested Retail Price: $2,895
Shooting Results (25 Yards)
9 mmCartridge Vel.at 10 ft. EnergyGroup Size In Inches
SmallestLargestAv.
Black Hills 124-gr. JHP 11373562.56 3.67 2.85
Black Hills 147-gr. FMJ 954297 2.90 3.95 3.25
Hornady 115-gr. XTP JHP 1110315 2.77 3.90 3.10
Average Extreme Spread 3.06
Measured average velocity of 10 rounds from a 4.25-inch barrel measured with an Oehler 35P chronograph. Range temperature 58 degreesF. Humidity: 30 percent. Accuracy for five consecutive five-shot groups at 25 yards from a sandbag rest. Abbreviations: FMJ (full metal jacket), JHP (jacketed hollow-point), XTP (extreme terminal performance).