by
posted on June 24, 2023
Support NRA American Rifleman
DONATE
Since its introduction in 2014, SIG Sauer has continued to refine and tune its P320 series of striker-fired pistols, with innovations like the X-Series upgrades and the metal AXG frame. For 2023, the company is rolling these previous upgrades, along with several new ones, into the P320-AXG Legion.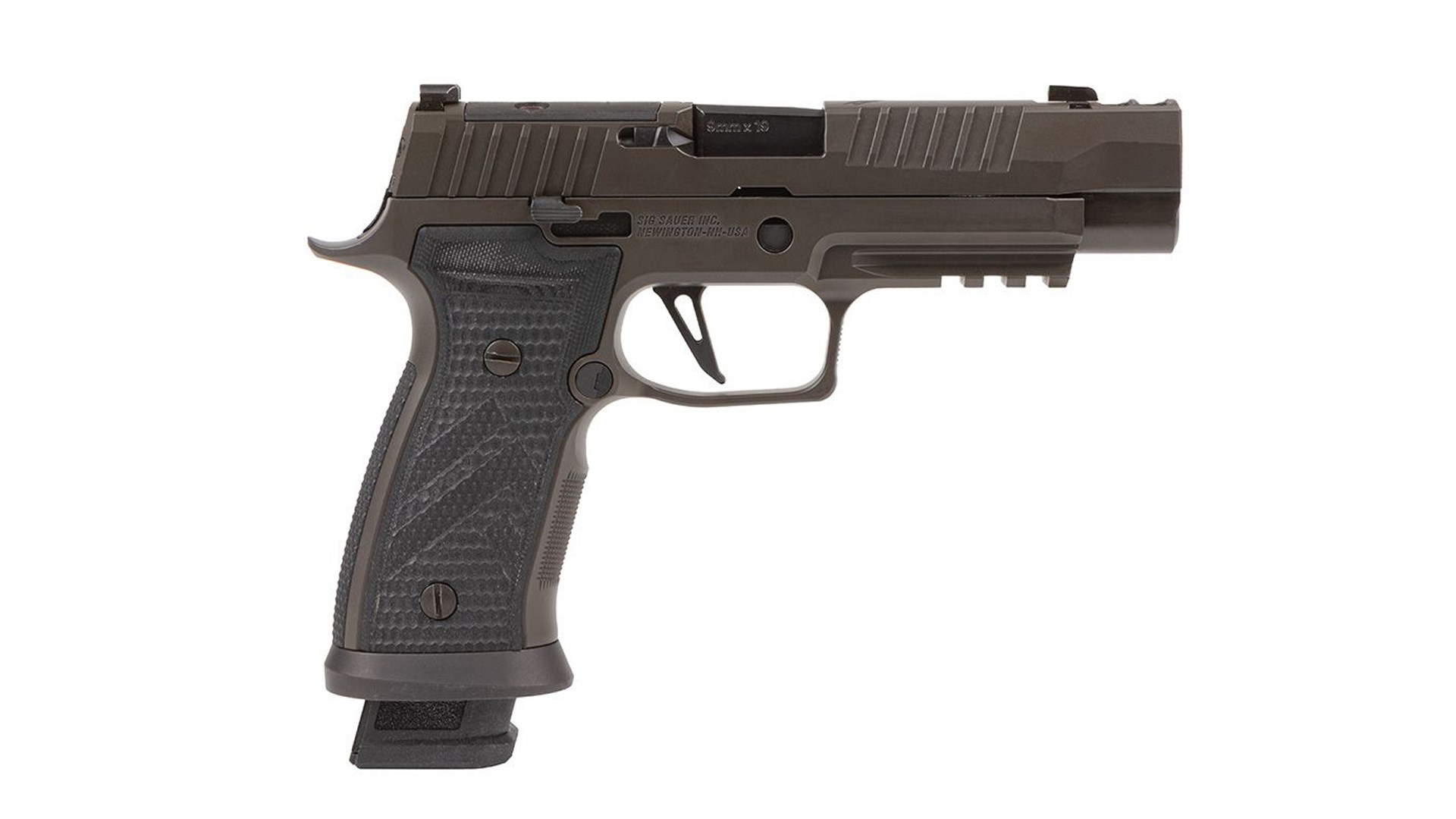 The external profile of the P320-AXG Legion is that of a full-size P320 pistol, though the model uses a compact 3.9" barrel. Photo courtesy of SIG Sauer.
The P320-AXG Legion is a full-size, 9 mm Luger X-series handgun. The metal Alloy X-Series Grip (AXG) module has an extended beavertail and undercut trigger guard. The fire control unit uses an X-series skeletonized flat-faced trigger. A removable compact magwell helps facilitate reloads. The extended magazines have a capacity of 21 rounds, and three are included with the pistol. Ten-round magazines are available where required by local law. Because the P320-AXG Legion uses a metal frame, its grip panels are separate components, in this case, Hogue G10 grips.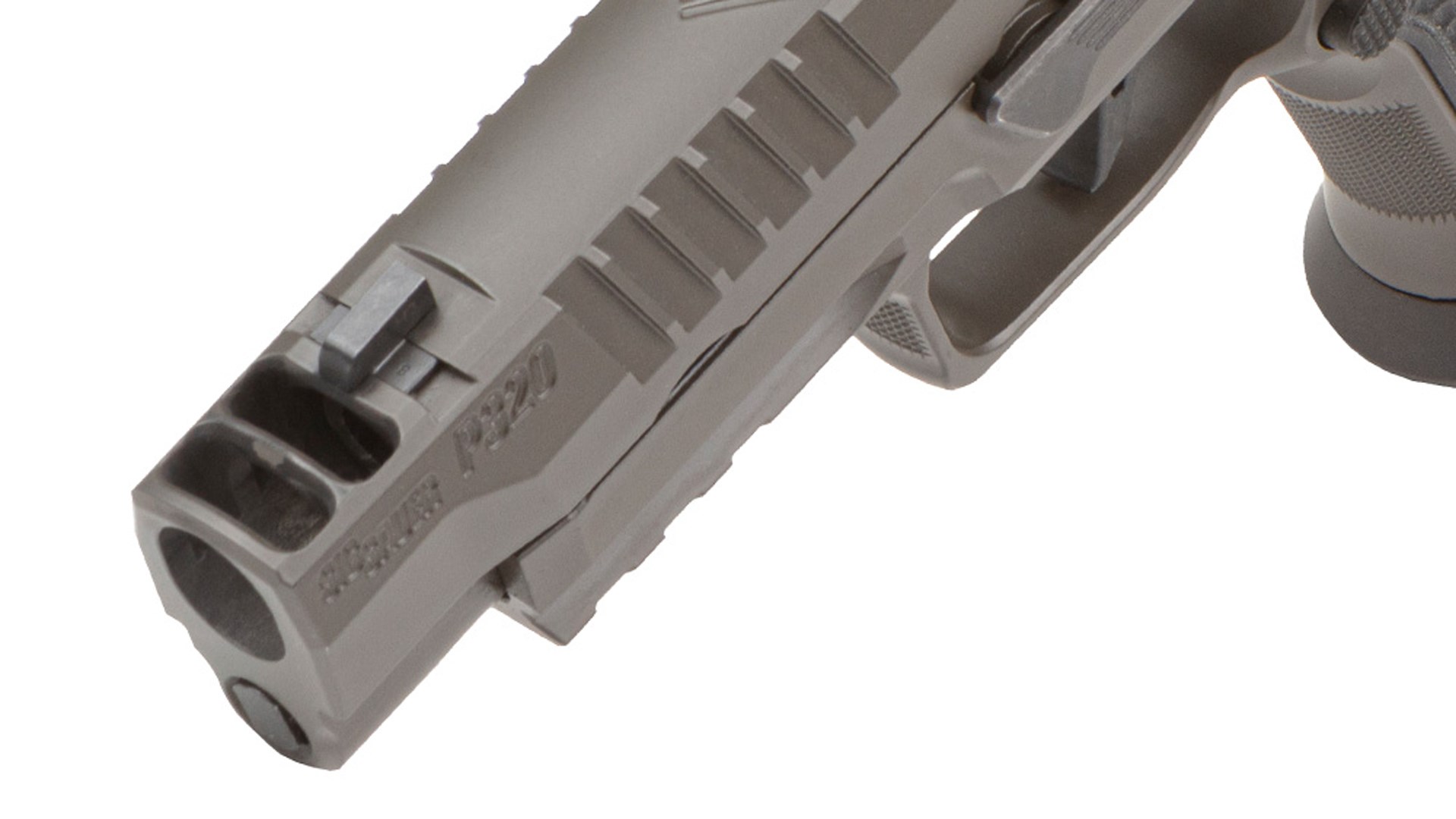 The front of the P320-AXG Legion's extended slide is machined into a "Slide Integrated Expansion Chamber." Photo courtesy of SIG Sauer.
Where the AXG Legion really stands out from other P320 models is up top. The pistol uses SIG's patent-pending "Slide Integrated Expansion Chamber," which the company claims (combined with the metal frame) reduces felt recoil by 30 percent. The slide is the full-size length that would normally accommodate a 4.7" barrel, but the actual barrel tucked inside is of the compact 3.9" length. The extra slide length is machined into an expansion chamber that has two top ports. When the pistol is fired, the escaping gases expand into this chamber and then are directed upward for a compensating effect. This unique approach renders a system that doesn't require break-in or ammo tuning for reliable function and is the same concept used on SIG's P365-XMacro Comp.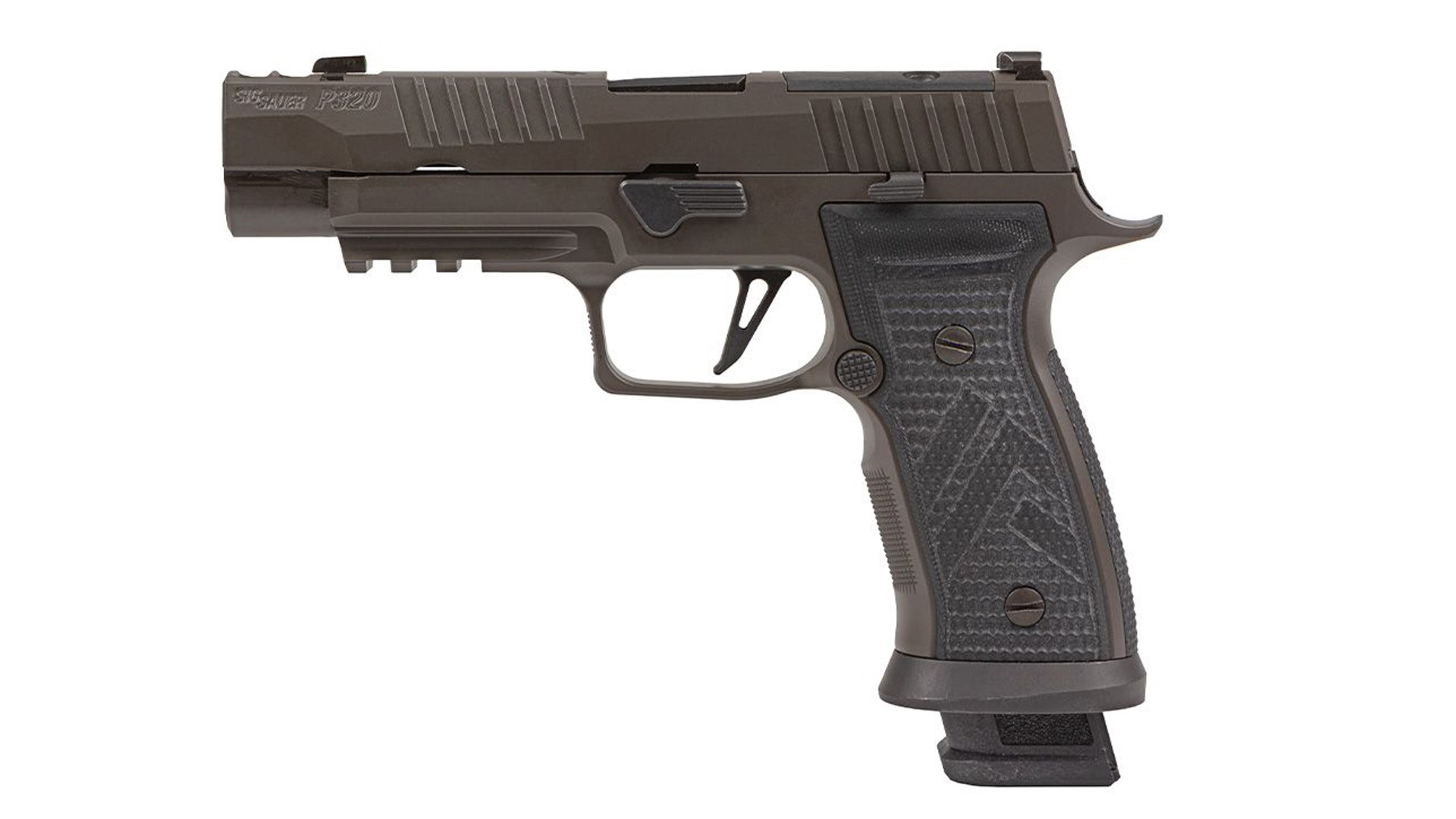 AXG models of the P320 use a metal frame and have separate grip panels. Photo courtesy of SIG Sauer.
Sights are SIG's XRay3 day/night sights that come standard on Legion pistols, that combine a three-dot system that uses a daytime florescent front dot with a tritium insert for low-light conditions and a rear sight with two tritium dots. The pistol is optics-ready and uses a SIG Romeo1Pro and Romeo2 footprint. The entire pistol is finished in SIG's "Legion Gray" Cerakote.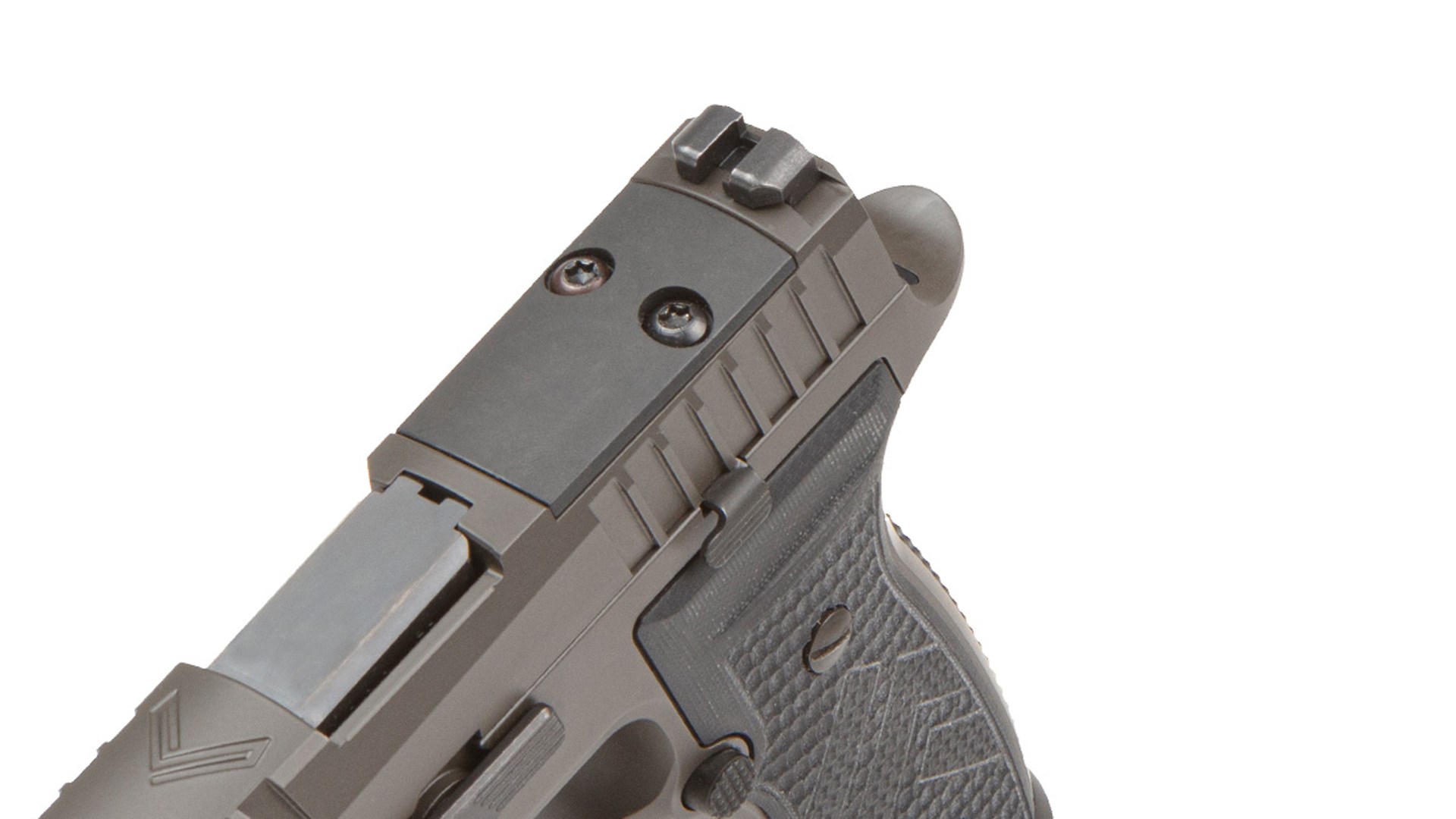 The slide on the P320-AXG Legion is optics-cut and uses a SIG Romeo1Pro and Romeo2 footprint. Photo courtesy of SIG Sauer.
The P320-AXG Legion has an overall length of 8.2", a height of 5.5" and weighs 36.1 ozs. The gun is compatible with any holster designed for the P320 full-size or X5 models. The MSRP of the SIG-Sauer P320-AXG Legion is $1,529. Those who purchase a SIG Legion firearm are able to sign up for the company's Legion program and benefits. For more information, visit sigsauer.com.