by
posted on January 12, 2023
Support NRA American Rifleman
DONATE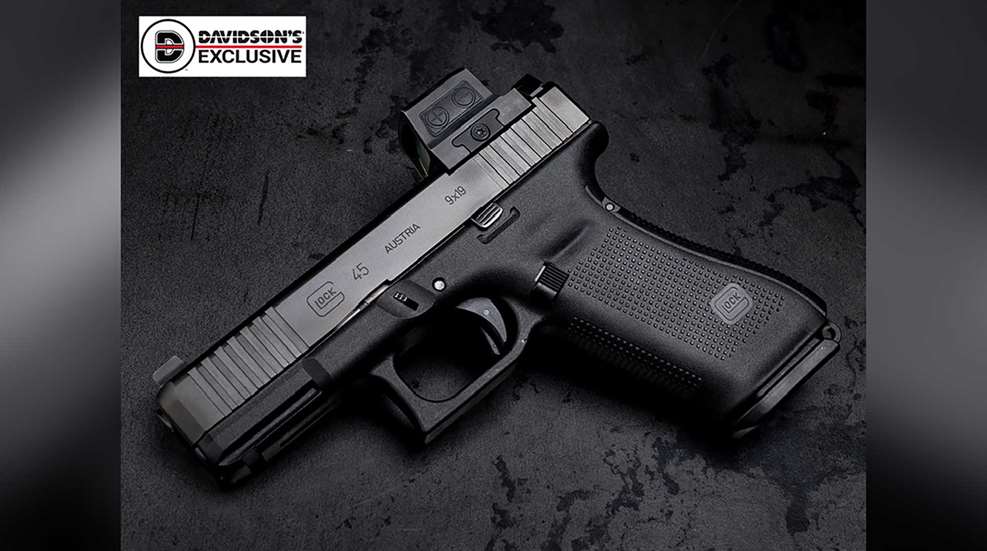 A collaboration between Davidson's, Glock, Holosun Technologies and Gunsite Academy resulted in a unique design that incorporates technology and concepts contributed by each company. The Davidson's Exclusive Gunsite Glock Service Pistol (GGSP) is built from the ground up to be a duty-ready handgun that's capable of handling any defensive task, whether in professional use or civilian circles.
"The Gunsite Glock Service Pistol is, in the Gunsite tradition, a fighting pistol," said Ken Campbell, CEO of Gunsite Academy. "It is robust, reliable, accurate and affordable. It is like the Timex watch—it just keeps running and running."
Built on the Glock 45 platform, the GGSP is a crossover design that combines a compact slide with a full-size frame. Barrel length measures  4.02", while the full-size frame accommodates a 17-round magazine. Additionally, the gun also incorporates all of Glock's Gen5 updates. One of the salient features of the GGSP is the inclusion of a milled slide, making it capable of accepting micro red-dots (MRDs). The pistol also incorporates front and rear slide serrations, as well as bilateral slide-stop levers and a single-sided magazine release.
Topping the milled slide is a Holosun HE509T-RD X2 MRD, and the optic is directly mounted to the slide instead of using an adapter plate, a feature Glock previously only provided on law-enforcement and military guns. The Holosun optic is built with a titanium housing and uses the company's Super LED technology to provide up to 50,000 hours of battery life. Other features of the MRD include a multi-reticle system, solar failsafe and shake-awake technology. Additionally, a set of suppressor-height Ameriglo sights are mounted on the slide and co-witness with the mounted optic.
Other features found on the Gunsite Glock Service Pistol include Glock's "minus connector" from the factory, which reduces trigger-pull weight to 4.5 lbs. Additionally, the pistol incorporates a rounded magazine release used by the FBI on its firearms, as well as a lanyard loop. The top face of the slide on each GGSP is engraved with Gunsite's logo and iconic raven image, and each gun will receive a unique "API" serial-number prefix, harkening back to the days of Lt. Col. Jeff Cooper's American Pistol Institute, the forerunner of today's Gunsite Academy.
This Davidson's Exclusive Gunsite Glock Service Pistol is a limited run of 1,000 guns that will be available through Davidson's Gallery of Guns, as well as the Gunsite Academy Pro Shop. The suggested retail price on the pistol is $1,275. For more information, visit galleryofguns.com.