by
posted on January 18, 2023
Support NRA American Rifleman
DONATE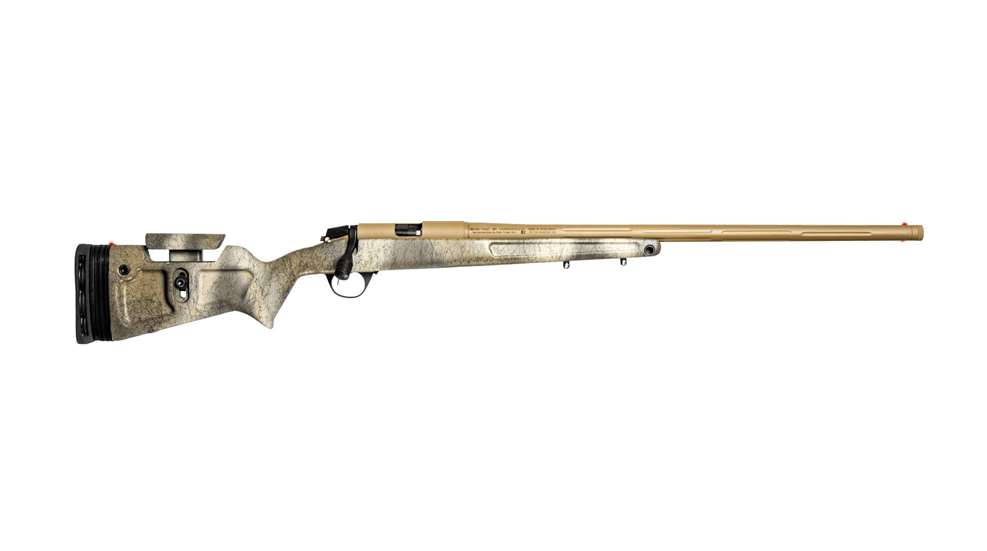 The latest to come from CVA is its Paramount Pro V2, a highly capable and top-performing line extension of Remington 700-based muzzloading rifles designed specifically for long-range use. The Paramount Pro V2 features enhancements at every corner to create a blackpowder rifle that is lighter and more versatile than its predecessors. Paramount Pro V2 rifles will be available in two calibers: .45 and .50.
Despite its trimmings, the 2023 Paramount Pro V2 does not fall short on features. Most significantly is the gun's user interface—a custom-designed Grayboe stock—that is roughly one-half pound lighter for its .45-cal. offerings and 2 ozs. trimmer in .50-cal. The gunstock is made in America and features a fully adjustable cheek rest and length-of-pull system. A 1"-thick Limbsaver Airtech recoil caps the butt for recoil mitigation. One handy addition, considering the Paramount Pro V2 is destined for long-range work, is the inclusion of a bubble level impregnated along the tang and wrist area for quick visual reference. The stock design is bilateral and houses four, flush-mounted sling cups. Additionally, two sling-swivel studs are offered along the fore-end's bottom for accessories.
What the hunting and shooting community has come to recognize about CVA is its relationship with Bergara and the company's ability to provide top-shelf steel barrels, which is of incredible value to the consumer. The Paramount Pro V2 barrel is nothing short of exemplary. The barreled action is made of stainless steel, nitride-treated and features a Cerakote top finish for additional protection and aesthetic value that blends well with the hand-painted Grayboe stock. The barreled action is also pillar bedded for repeatability.
Within the action is a self-headspacing bolt, which features twin-lug lockup and a floating head. Ignition of the muzzleloading rifle requires use of VariFlame, a unique priming conversion system that utilizes large rifle primers, which is found to improve ballistic performance, especially with max loads. The VariFlame system is also a boon to hunters facing inclement weather as the system provides a solid breech seal. Additionally, CVA provides a user-adjustable TriggerTech trigger system to help shooters squeeze the most accuracy possible out of the new and improved system.
The new-for-2023 Paramount Pro V2 comes as a high-performance muzzleloader with all the trimmings that make it a capable contender and valuable partner on long hunts in the backcountry. Of note, the Paramount Pro V2 is available with a new, Micro-Adjust Williams peep sight for classic long-range sighting. In addition, CVA provides receiver threading for optic rails and muzzle threading for the included Paramount Muzzle Brake. Package accessories include: 15 PowerBelt ELR bullets, 10 VariFlame adapters and associated tools, breech wrench, folding ramrod, cleaning rod and a Quake sling.
For more information, visit cva.com.