by
posted on April 22, 2014
Support NRA American Rifleman
DONATE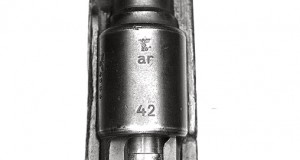 Q. Lately, I've seen a number of ads for surplus Mauser Kar. 98k carbines. Many of the firms that place these ads offer to hand-select certain receiver codes for a fee. What do these codes represent?
A. As a security measure, the German military assigned alpha-numeric factory codes to producers of military equipment, including small arms. It was hoped that these codes would reduce their vulnerability to sabotage, raids and air attack.
Factory codes for the Mauser Kar. 98k went through several changes during the design's production run. The first series is sometimes referred to as the "S prefix," wherein the manufacturer is represented by a number, and the year of production is represented by a letter. In 1936, letter suffixes was dropped and the year of manufacture was stamped into the receiver ring. Some production runs carried all four digits of the year, others just the last two. For some reason, Berlin-Suhler (BSW) was never brought into the "S prefix" system.
In 1938, the S prefix was dropped, but the numeric factory codes remained in use until 1940 when the Germans began switching over to two- and three-digit letter codes. This switch was relatively gradual; many factories did not complete this transition in markings until 1941. The letter code system stayed in use until the end of the war.
-Glenn M. Gilbert
Originally published September, 2006