American Rifleman Editor-in-Chief Mark A. Keefe IV was honored this evening with the prestigious Grits Gresham Shooting Sports Communicator Award during the National Shooting Sports Foundation's (NSSF) State of the Industry dinner, held annually during the SHOT (Shooting, Hunting and Outdoor Trade) Show.
The award, given by the Professional Outdoor Media Association (POMA) and NSSF, recognizes communicators within the firearms/shooting sports/Second Amendment arena who grasp the ideals, foster the commitment and display the talent Grits Gresham showed during his storied career.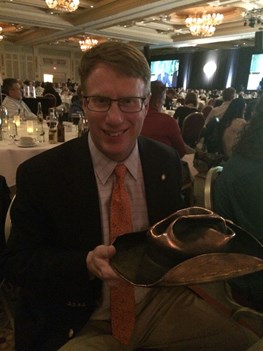 Keefe was appointed editor of American Rifleman magazine in 2000, and was promoted to editor-in-chief of American Rifleman and "American Rifleman Television" in 2003. He started out as a volunteer at the National Firearms Museum in 1989 and became a curatorial assistant there in 1990. He joined the American Rifleman staff in 1991 as an assistant technical editor before being promoted to associate technical editor in 1993. In 1995, he became managing editor. An NRA Life member, Keefe is a shooter, hunter and gun collector, specializing in British Lee-Enfield rifles.  
Grits Gresham's son, Tom Gresham, host of Gun Talk Radio and a previous recipient, presented Keefe with the award. "I couldn't be happier with the committee's selection of Mark for this award," said Gresham.  "He's a skilled communicator, but he also is a true gun geek—someone who enjoys the history, the details and the workings of both old and new firearms. I've been privileged to spend time in the field with Mark, hunting and shooting, and he is one of the most knowledgeable authorities on firearms I know. His integrity, loyalty and determination make him who he is."
NRA Publications Editorial Director John Zent said, "Mark combines a historian's appreciation for context and an engineer's grasp of technical detail with an ear for the way shooters really speak. And he can't resist making it lively and fun. By making American Rifleman—the "world's oldest firearm authority"—the best firearm media for a new century of gun owners, he's clearly earned this honor. There couldn't be a better match than Mark Keefe and millions of American Rifleman readers and fans."
In his acceptance speech, Keefe paid homage to previous recipients, and offered a poignant tribute to the man for whom the award is named. "… If you read Grits, took in his stories, laughed, and went there, wherever it was, through the words he hammered out on a typewriter, a word processor, and yes, even a computer, or watched him on TV, then you knew Grits. Not just his smile, nor his genteel demeanor, nor his larger than life, trademark hat, but his voice. And his heart. So long as his words remain in print and his grainy visage is on YouTube, what was in his heart will always come alive, upon the screen or page."
POMA and the NSSF developed the Grits Gresham Shooting Sports Communicator Award in 2005, when NSSF honored Gresham with a lifetime achievement award.