Support NRA American Rifleman
DONATE
This week, "American Rifleman Television" will take you to Herstal, Belgium, for a look at the land, sea and air "Systems"
FN builds
for military customers around the world, including
"pods"
for helicopters and the remotely-fired FN DeFNnder. But
Fabrique Nationale
makes more than just guns.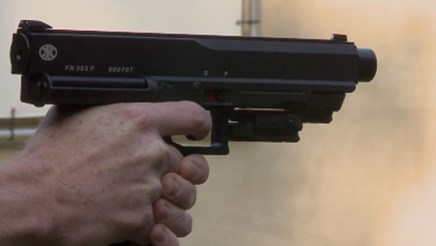 While there, FN's Shane Healey ran me through FN's Less Lethal offerings for its military and law enforcement customers, in particular the 15-shot semi-automatic FN 303 Less Lethal Launcher. Sometimes, a firearm shooting bullets is not the right tool for the job. Essentially, the compressed-air-powered FN 303 launches a fin-stabilized 18 mm projectile that weighs up to 8.5 grams. They are designed, in Shane's words, "to inflict pain." And as you can see from the accompanying video—this week's Rifleman TV "Web Exclusive"—it is very accurate, with hits coming easily from 25 to 50 meters from both the handgun version (the FN 303P run off a C02 cylinder) and the shoulder-stocked 303. They can fire a host of different rounds, ranging from simple kinetic projectiles, to marking rounds to those with irritant agents. Notice the use of the term "less" lethal"—not "non lethal." These are not toys, and the launchers and their projectiles are restricted to law enforcement and military only. 
Tune into
Outdoor Channel
on Wednesday evenings for the full episodes of American Rifleman TV.