Support NRA American Rifleman
DONATE
With the disappearance of the last custom-shop-produced Pythons made in the early 2000s, Colt, a name nearly synonymous with revolvers, found itself out of the modern double-action revolver business. More than a decade passed, but Colt found a way to resurrect old names and designs, all while improving on legacy platforms and building them with modern machinery and techniques. Watch our American Rifleman Television feature segment above to learn how they did it.
"In the back of my mind, the grand idea was to bring back the heritage of revolvers that we had at Colt, and I remember distinctly, I was in a shop in Minnesota, I passed on a Python back in the mid-'90s and was kicking myself ever since," said Paul Spitale, executive vice president of commercial business at Colt. "When I came to Colt, part of it was, 'How could we bring back the Colt revolver story?'"
Colt started by reviving the Cobra, a compact, double-action/single-action revolver chambered in .38 Spl. The design was an homage to the lightweight revolver of the same name produced by Colt in 1950, although this new design featured a stainless-steel frame instead of the aluminum frame of the original. However, the real changes were inside the gun, and much of it had to do with the new manufacturing processes used to build them.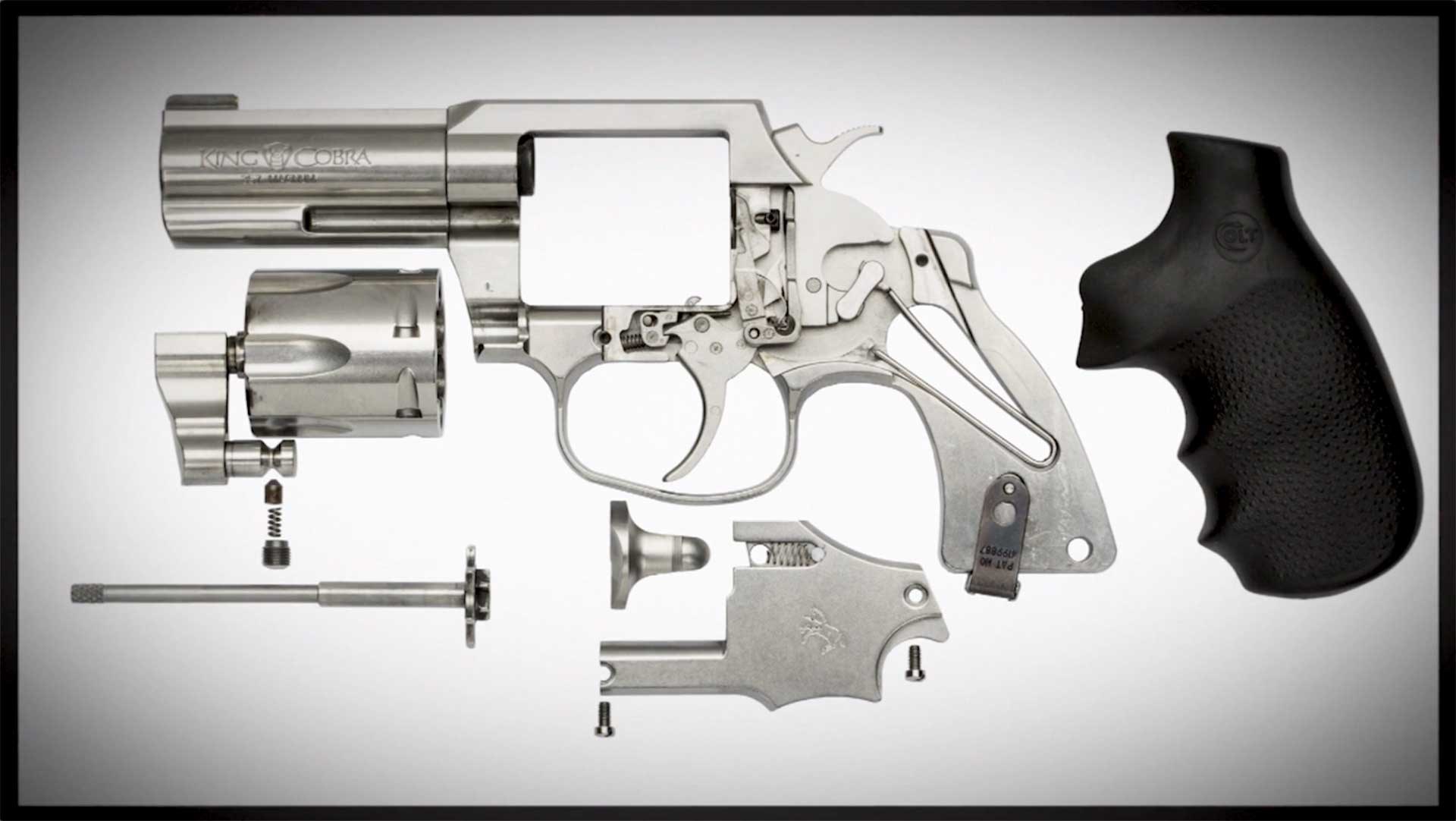 "So part of the magic of the new Colt double-action revolvers is really where the design meets modern manufacturing," said Justin Baldini, production director at Colt. "What that means is certain parts of a revolver used to be multiple pieces, the ratchet assemblies is a good example of this, now that's a single piece because we've got things like multi-axis CNC equipment that can hold much tighter tolerances. Part of that modern technology has allowed us to build a revolver that, really, is closer to what Sam Colt envisioned, which is an assembled process to build these firearms."
From the launch of the first Cobra, though, enthusiasts began to wonder whether or not Colt would extend its double-action revolver revival to the famous Python.
"I can say, whether inside this building, outside, industry experts had said, 'Paul, it would be a huge mistake to come back with the Python,'" Spitale said. "There's such a huge amount of enthusiasm, excitement, the resale market was, you know, people were buying Pythons for $3,000 to $5,000, and my thoughts were, 'That's all true, but I really knew that there was a consumer that never got to experience that legendary trigger or a trigger like that with the balance and the shootability of the Python,' so I really knew we'd be commercially successful in bringing it back if we had the right feature set."
Colt's new Python was introduced in 2020, featuring a completely redesigned internal mechanism, beefier frame, enlarged trigger guard and more, and the design was intended to improve upon the Python's of old while also eliminating any reliance on the hand-fitting required in previous models.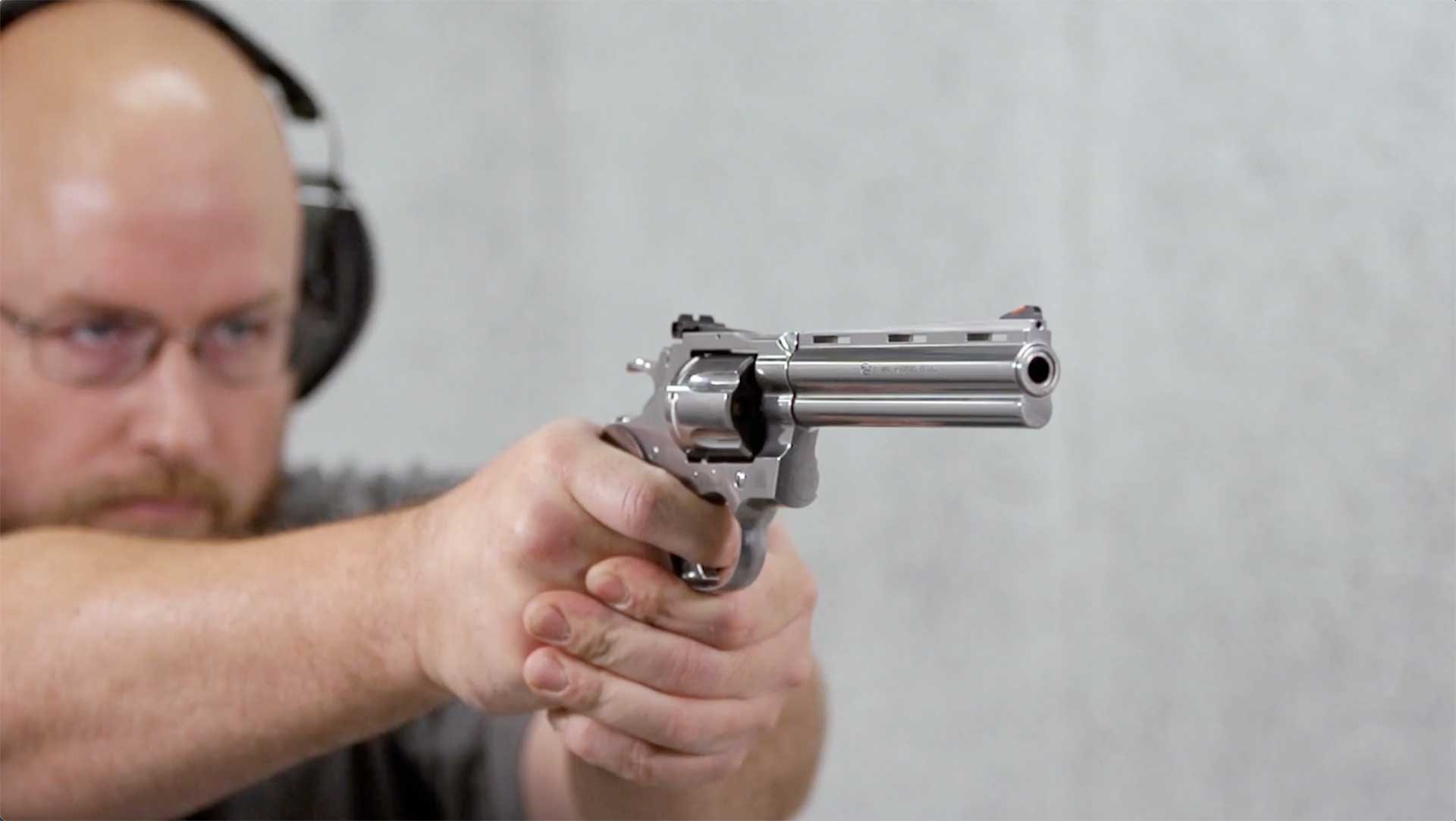 "This is not your father's or your grandfather's Python. This is a better gun. It's stronger," said Mark Redl, Team Colt shooter. "It's made with modern machining capability. The action is smoother, there's less parts in the action. The reason we could do that is because we redesigned the action, so this gun, in testing, went to 25,000 double-action cycles on a machine without any wear or breakage. I did a lot of test-fire on this gun. We shot 15,000 rounds of .357 Mag. We measured everything on it, from the forcing cone to any stretch in the frame that might happen. There was none. We were able to make this frame about 35 percent stronger than the original one."
Other double-action revolvers have emerged as part of Colt's new lineup, including the King Cobra and the .44 Mag.-chambered Anaconda, which is one of the latest additions to the collection. The Anaconda, in particular, borrows many of the innovations introduced in the revamped Python and addresses the trigger issues that plagued the first-generation models of Colt's big-bore wheelgun.
To watch complete segments of past episodes of American Rifleman TV, go to americanrifleman.org/artv. For all-new episodes of ARTV, tune in Wednesday nights to Outdoor Channel 8:30 p.m. and 11:30 p.m. EST.