Support NRA American Rifleman
DONATE
For over a century, Colt has been a well known and regarded name in the revolver market. Over the past few years, the company has revitalized its revolver lines to uphold this heritage. Last year, American Rifleman staff tested these newer production Colt wheel guns, the King Cobra, which was reintroduced in 2019. This new iteration of the King Cobra is the latest in a line of revolvers that started production at Colt in the 1980s and was discontinued twice before the latest model arrived on the scene.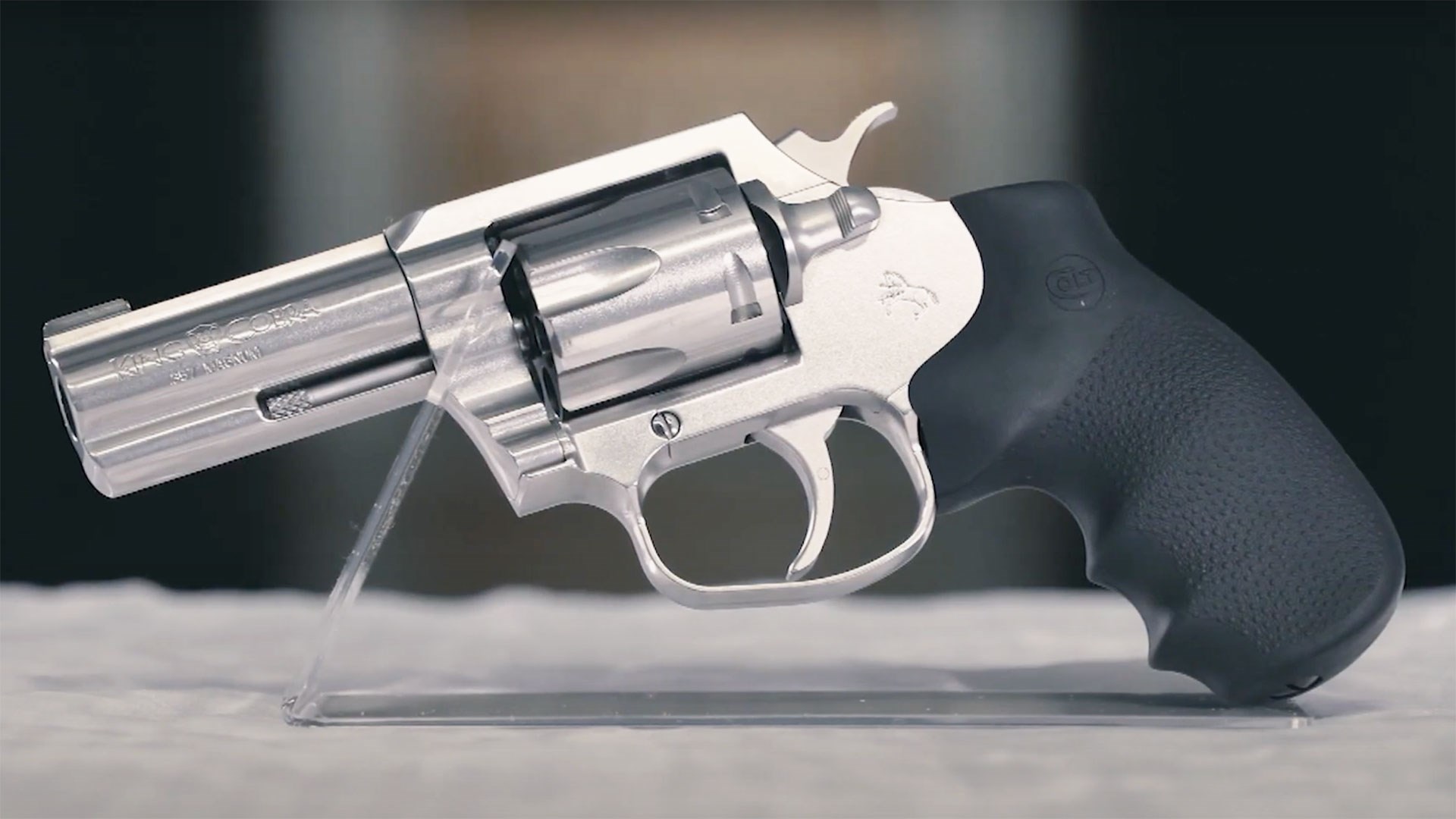 A left-side view of the Colt King Cobra revolver chambered in .357 Mag.
The King Cobra is a "V" frame revolver line chambered for the .357 Mag. cartridge, with a cylinder capacity of six rounds. The specific version reviewed here is the basic model, one of three other variations available. This basic model of the King Cobra features a 3" barrel and Hogue overmolded grip. Its barrel, frame and cylinder are made from stainless steel with brushed finish. While not exceptionally light for a revolver, Colt shaved off excess material from the King Cobra's design without compromising the ability to handle full-power .357 Mag. loads, resulting in an unloaded weight of 28 ozs.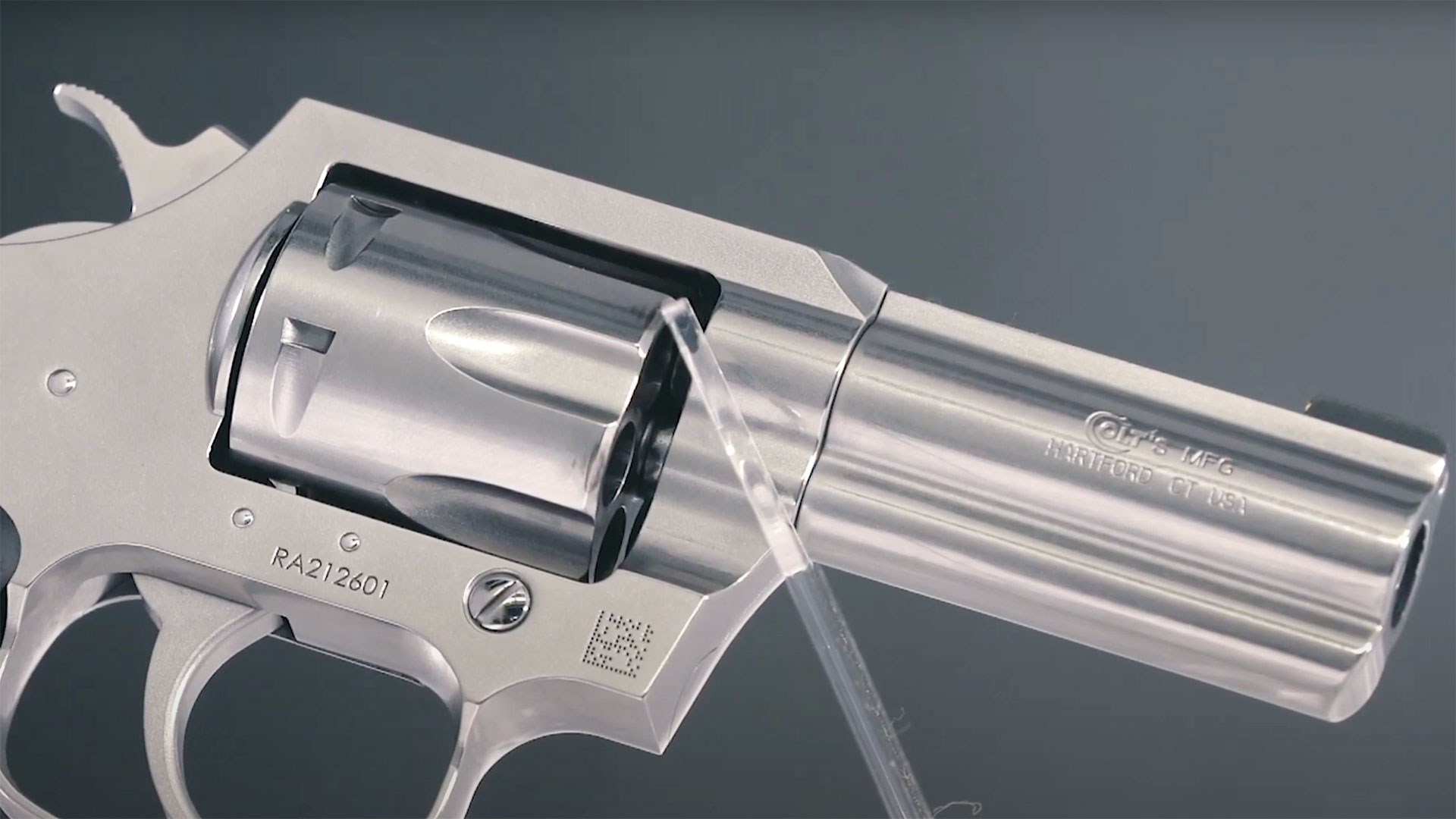 A closer view of the right side of the King Cobra's barrel, cylinder and frame.
Instead of the traditional front and rear sight sets found on older production Colt revolvers, the King Cobra features a brass-bead, front-sight post and a channel cut into the top of the frame. This channel functions as the rear sight notch, and is far less likely to cause a snag than an adjustable rear sight. The front sight's brass bead offers good visibility, and it can also be interchanged through the use of a small screw above the muzzle.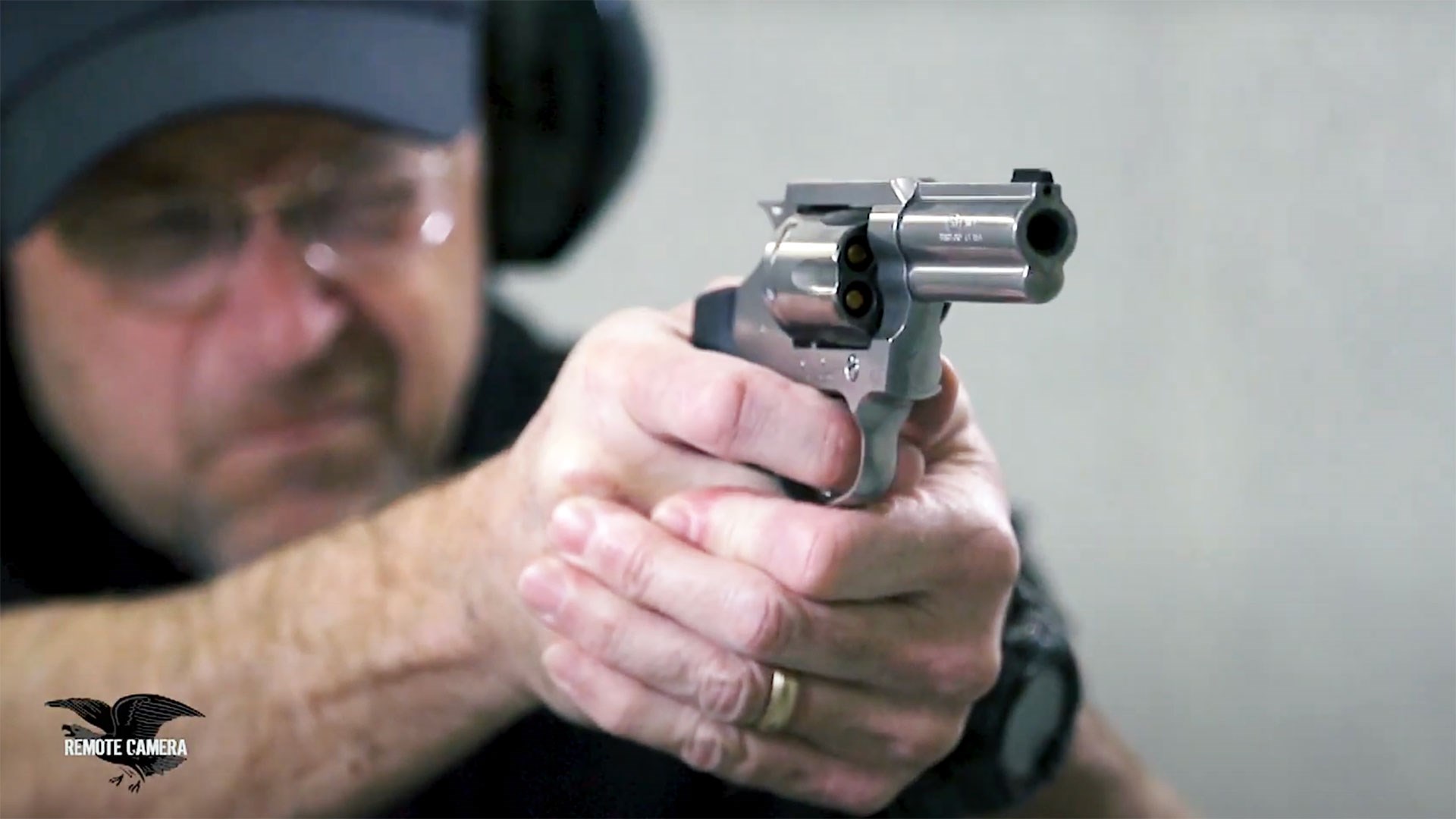 Testing the King Cobra on the range.
For controls, the King Cobra features a spurred hammer, double-action trigger and a cylinder release latch on the left side of the frame. Being a double action revolver, the trigger can function in both double-action or single-action if the hammer is manually cocked. The double-action trigger pull weight measures at 8 lbs., 12 ozs., while the single-action pull weight is 3 lbs., 4 ozs. As an added feature, the trigger guard is enlarged and extended forward to add extra space for easier use with gloved hands. The included Hogue overmolded grip is a single piece, without seam lines running down the middle, and also offers great retention with its rubberized texture.
For more information on the Colt King Cobra and the other three variations of this revolver line that are currently offered, visit colt.com.
To watch complete segments of past episodes of American Rifleman TV, go to americanrifleman.org/artv. For all-new episodes of ARTV, tune in Wednesday nights to Outdoor Channel 8:30 p.m. and 11:30 p.m. EST.