by
posted on April 3, 2014
Support NRA American Rifleman
DONATE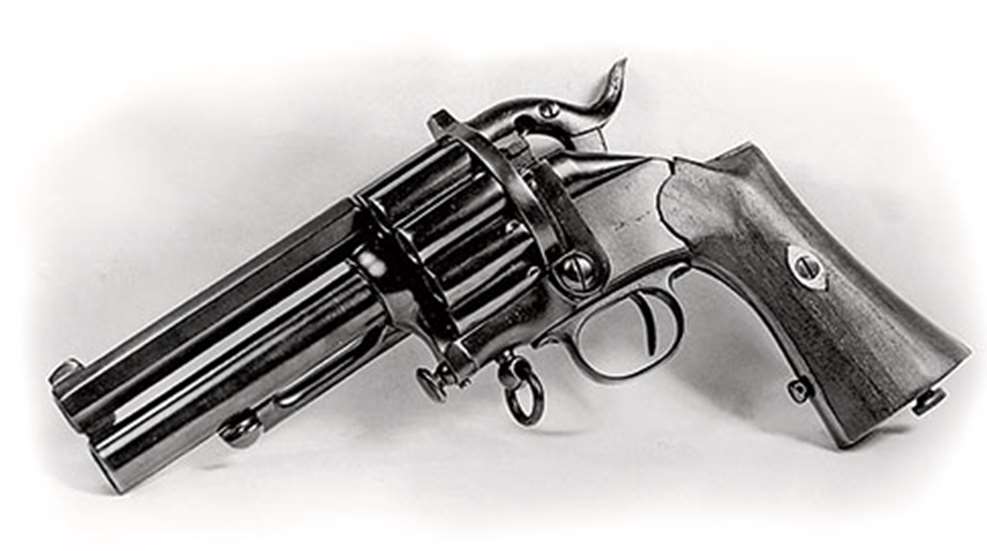 Q. I recently came into possession of a handful of old prints from the collection of a small-town commercial photographer. One photo, date-stamped September 1945, contains this unusual-looking handgun. The size of the central structure between its octagonal barrel and ejector mystifies me. It has a fixed, notch rear sight and looks to have held 10 rounds. What is this thing?
A. The revolver in your photo is a LeMat Two-Barrel or a close copy of the same general design. The odd structure under the top barrel is actually an additional barrel, designed to contain and fire a shot charge, like a shotgun. The center barrel also serves as the axis around which the revolver cylinder rotates.
The LeMat variation best known to most American arms historians is the percussion version used in limited quantities by the Confederate States during the Civil War. Also called the "grape-shot revolver," it had a nine-shot .42-cal. revolver cylinder rotating around a .63-cal. shot barrel.
LeMat revolvers were also produced for rimfire, pinfire and center-fire cartridges. The one in your photo looks like the late-production Belgian-made center-fire from the 1880s pictured in Val Forgett's book LeMat-The Man, The Gun. It's an interesting and unusual design that is eagerly sought after by collectors.
-Jim Supica
Originally published May, 2006