by
Brian C. Sheetz, Editor In Chief
posted on June 1, 2020
Support NRA American Rifleman
DONATE
Classic military and sporting rifles have earned that status through innumerable trials by fire—the result of sound engineering and high-quality construction. Most operate on straightforward design principles and consist of mechanisms that are fairly simple, as mechanical things go, and generally resistant to operator neglect and abuse.
As with any device, though, even the best firearms can occasionally fail. When they do, having the tools and spare parts on hand to get them back into service in the field could mean the difference between life and death.
Whether it's for a Mauser 98 or an AR-15, a multitool and a few spares—springs, pins and screws—won't weigh you down or take up much space in your kit. Add some Allen keys, or bits and a driver, along with a bore snake and cleaner/lubricant, and you'll be ready for most eventualities.
Assembling such a kit and remembering to include it in your pack is one thing, but to be of use during the most dire circumstances, it should really be carried on your person. Better yet, the most critical components should be attached to, or contained within, the firearm itself.
For sporting rifles, you can secure a small pouch to the sling or use the compartment incorporated into a butt cuff or cheekpad. For military rifles, take advantage of the compartments incorporated into their buttstocks or pistol grips intended for cleaning equipment. Such storage space also likely housed a so-called "combination tool" designed to expedite field-maintenance tasks for that specific firearm.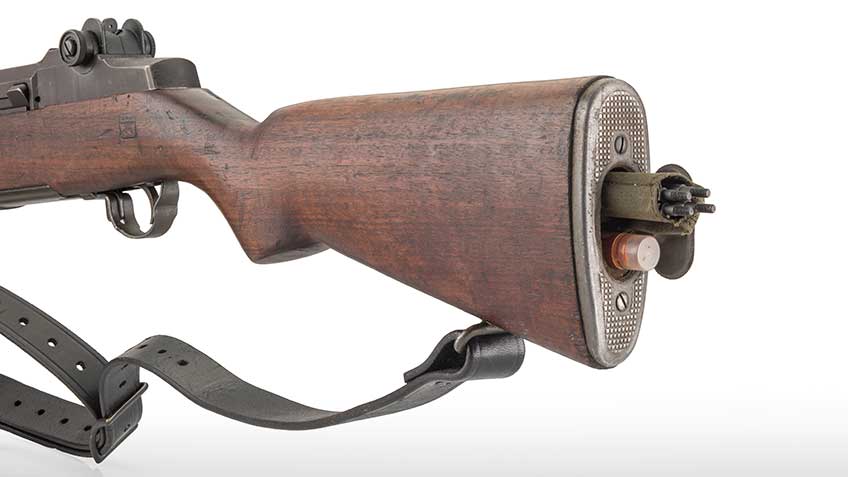 If yours is missing, you can likely find one at little cost through military surplus websites or at gunshows. Modern, commercial gun-maintenance devices offer even more versatility, such as those from
Real Avid
, which offers a range of firearm-specific multitools, and the AR-centric grip inserts such as the Short Stack from
Gerber Gear
or the Field Survivor series from
Samson Mfg
.
Commercial sporting rifles with injection-molded synthetic stocks typically have recoil pads or grip caps attached with screws that can allow access to cavities useful for the storage of spare parts. (Just make sure you have the right bit for those screws on your multitool to gain access).
Some aftermarket manufacturers offer replacement stocks, such as the X-22 Backpacker from
Magpul
for
Ruger's
market-dominant 10/22 semi-automatic rimfire, that conveniently incorporate well-designed, button-activated storage compartments designed to house small tools along with spare parts and even full magazines.
Remember, though, that the idea here is not to go overboard—spare barrels and major parts replacement are the purview of machine gunners and military armorers. Rather, think in terms of small parts that are most failure-prone and/or that perform essential functions for your particular model.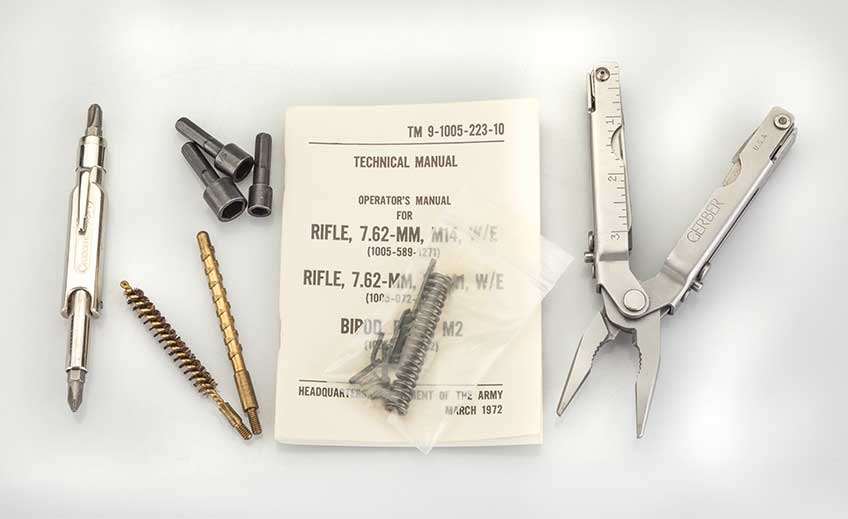 That generally means, but is not necessarily limited to: a firing pin, or striker; an extractor and extractor spring; an ejector and ejector spring; scope base and ring screws; and any other small bits whose loss would preclude the gun from being properly aimed or from performing its fundamental functions of feeding, chambering, locking, firing, unlocking, extracting, ejecting and cocking.
A few of the most basic items that should be considered to support any rifle, regardless of make, chambering, vintage or style are: a sectional cleaning rod, appropriate lubricant, Allen wrenches or a driver and bits for the action or optic-securing fasteners, a sight-adjustment tool, a carbon scraper, and a scope lens cleaner. Some might even advocate a broken shell extractor, although a rigid sectional cleaning rod will likely be sufficient.
In his excellent book, "Survival Gunsmithing" (Desert Publications, 1986),
American Rifleman
contributor J.B. Wood created a remarkable 91-page resource on the subject of keeping popular firearms running during an extended calamity. Subtitled "A Guide To Repair And Maintenance Of Many Of The Most Popular Rifles, Shotguns And Handguns," the slender volume, though somewhat dated, is nonetheless a treasure trove of expert advice from a lifelong gunsmith with vast experience repairing popular firearms and even contributing to the design of some.
Those who track down a copy will be rewarded with sage advice on maintaining the following rifles: Marlin 39A, Ruger 10/22, Winchester 94, Marlin 336, Mauser, M1A, Ruger Mini-14, AR-180, HK-91 and, of course, the AR-15. It also addresses single-shot shotguns, the Savage 24 combination gun, basic tools, has a parts source appendix and covers the following handguns: M1911, Ruger Security-Six and Standard Auto, Walther PP .22, and Smith & Wesson Revolvers.
Wood cites only a "complete" list for the Mauser-pattern rifles because, he states, "One of the reasons for the long success of the Mauser 98 action is that it's a very strong and very simple design." Given that, his list of spares for the all-time classic bolt gun is short, consisting of relatively small items that should be useful for anyone from the occasional deer hunter to the long-term prepper: striker (firing pin), extractor, ejector, combination bolt stop/ejector spring, striker spring and magazine spring." Parts for military Mausers can be sourced from companies such as
Brownells
,
Numrich
and
Sarco
.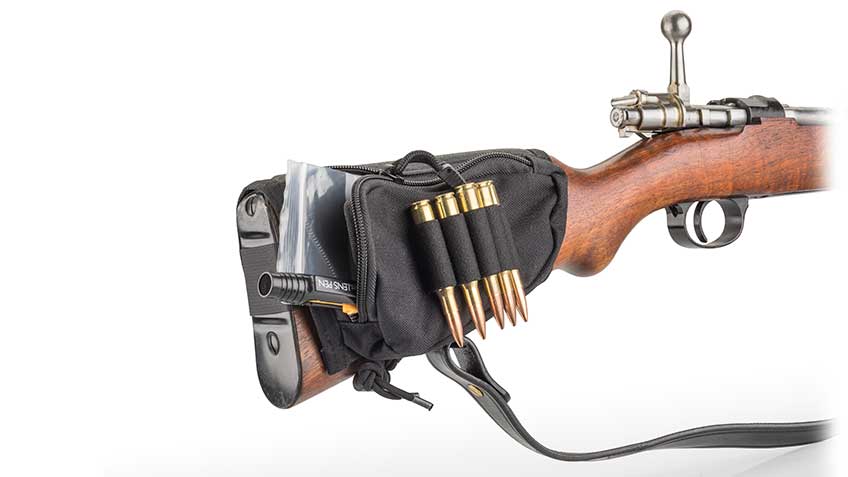 For the now-ubiquitous AR-style rifle, Wood's "comprehensive" list includes the following smaller spares (larger items have been omitted for the purposes set forth here): firing pin, firing pin retainer [pin], extractor, extractor spring, extractor plunger, extractor pin, ejector, ejector spring, bolt cam pin, hammer spring and trigger spring.
His rationale is well-stated: "The AR-15 is no more susceptible to firing pin or extractor breakage than any other gun, but these parts are on every list of spares, for obvious reasons. The firing pin retainer is not likely to break, but could be lost in emergency field takedown. The extractor spring is insurance against age-weakening, and the plunger could be lost. The same reasons apply to the inclusion of the ejector and its spring, the latter being subject to compression each time the bolt closes on a cartridge."
For my personal favorite, the
M1A
, the list will not come as a surprise to anyone familiar with the platform: firing pin, extractor, extractor spring, extractor spring plunger, ejector, ejector spring, recoil spring, gas piston, gas valve spring, gas valve spindle and valve spring pin, and operating rod spring.
A couple of other thoughts on how to simplify a particular rifle's kit are as follows: Screws with heads designed to accept Torx, Allen or traditional slotted or Philips drivers can be swapped out with equivalent sizes in one of the other styles in order to keep all the fasteners on a single rifle within the same family. (Some driver bits are double-ended with different sizes of the same style.)
For example, the scout scope mount on one of my favorite rifles, a 1952 FN Belgian Army Mauser, was made by
BrenSho
k and employs three sizes of Allen set screws that act in concert to clamp the mount onto the rifle's rear sight assembly without requiring gunsmithing or the removal of original components.
When I attached a Weaver 4X Scout Scope to it, I used traditional Weaver low rings that came with slotted-head screws on the topside. By simply swapping them out with Allen-head cap screws that just happened to take the same size wrench as one of those required for the mount, the kit was kept to three small Allen wrenches onboard in the zippered pocket of an Ammo Cheek Pad made by
Blackhawk
that laces securely to the gun's buttstock. In fact, the pocket is large enough to contain an entire spare bolt assembly, a scope lens cleaner and five extra rounds of ammuntion in a stripper clip. It also carries five individual rounds in elastic loops on the outside.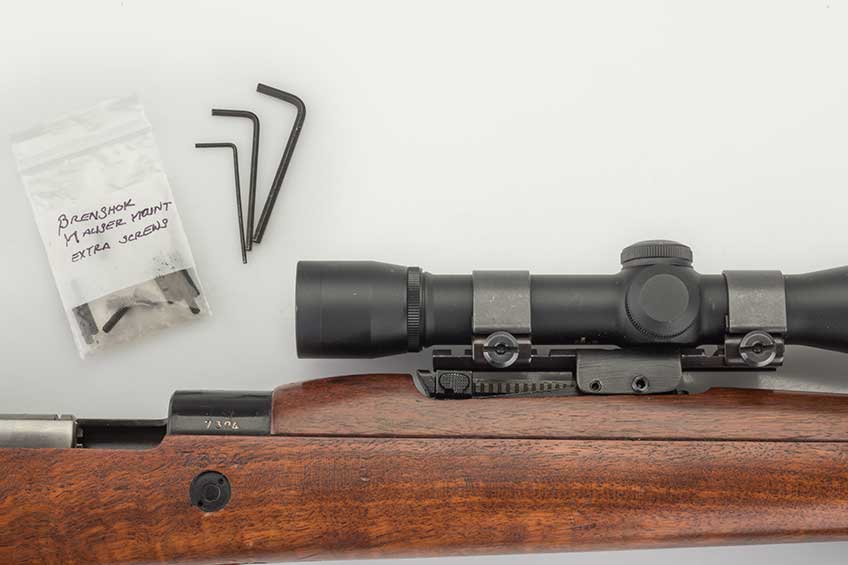 Now I can simply grab the rifle and go, knowing that it holds everything I need.
In another example of erring on the side of prudence, I changed out the action screws on a Winchester Model 70 Classic in .375 H&H Mag. from the factory-installed, modern Allen-head style to the more traditional slotted-head style in order to have a chance at separating the action from the stock, should it become necessary—reasoning that, ultimately, a pocket knife, coin or other flat piece of metal is more likely to be available than an Allen wrench.
Finally, one word in Wood's text stood out to me when thinking about this topic: insurance. It's impossible to be prepared for every firearm-malfunction eventuality. But by learning about your gun's potential failure points and laying into a handful of spare parts and tools, you can at least be ready for that moment when what should have been a "bang" instead turns out to be a "click."