Support NRA American Rifleman
DONATE
Among the most chilling images I recall in the aftermath of the 9/11 terrorist attacks were the tables full of guns. Not because I'm afraid of guns. Most of them probably wouldn't have worked anyway, having been through the man-made horror of the fall of the twin towers.
As the wreckage and debris were cleared from the site of America's worst terrorist attack, all of the individual items, all the human remains all the personal items were separated and sorted. The remains were interred with dignity and the respect they deserve. The guns were set out on tables, their serial numbers used to confirm that the officers who carried them had perished.
It is because every one of them represents the life of an American police officer and where they worked—NYPD, Port Authority Police, FBI and even  U.S. Secret Service. In all, more than 500 American police officers, who wanted to help their fellow citizens, perished at the hands of mad men.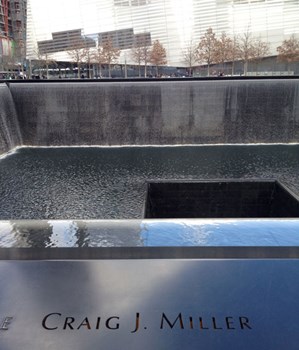 It's because every time I remember that photo I know that one of the SIG Sauers, covered in concrete dust with its frame warped by heat, belonged to Craig Miller.
Craig was the husband of American Rifleman's then-editorial assistant, Holly Miller. He was a Gulf War veteran with two Bronze Stars. He was also the father of 9-month-old twins, and stepfather to two somewhat unruly boys that adored him.
On that fateful day, September 11, 2001, Craig was doing his job. After working at the NRA range—Craig was a true gun guy and hunter—he finally got the slot he wanted as a United States Secret Service officer. He was on assignment in advance of President George W. Bush's pending visit to New York City, staying at the Marriott World Trade Center (3 World Trade Center), when the first plane hit.
Knowing Craig, he went to help. After all, he had been trained as a medic in the United States Army. And he was not a man short on bravery. But like so many other brave men that day, his life was taken by those that wreak evil upon the world.
Holly, probably the sweetest person I've ever met, never came back to work at the NRA. She set herself on the task of raising her older boys and those delightful squealing twins, both of  whom were later diagnosed with autism.
The vast majority of the sidearms recovered were issued by the various departments and agencies to which the officers belonged. You can see some of them, warped, melted, mangled, some not even recognizable as firearms, at the 9/11 Memorial Museum.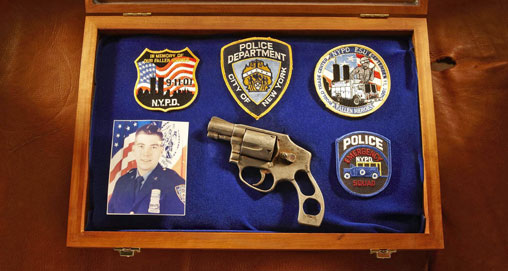 But some officers also carried their own personal backup guns. One such officer was a Special Services officer with the NYPD. His name was Walter Weaver. He died trying to free innocent Americans trapped in an elevator. His remains were not found but his Smith & Wesson J-frame, his backup gun, was. It was his family's wish all along—a family of NRA members—that his service revolver be put on display at the NRA National Firearms Museum. Every time I pass through the museum I stop at that case. Every time I take visitors through it we stop at that case and I make sure that everyone I take through knows about Walter Weaver.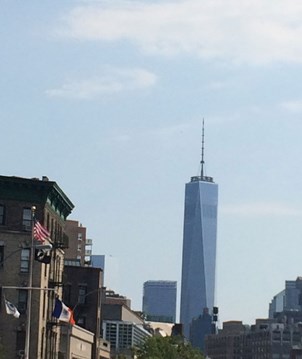 But I also remember Craig Miller. The freedoms we enjoy today are because of men like Craig Miller. Putting his life on the line on the battlefield in Kuwait and Iraq for our way of life. Then swearing to protect us when he put on his badge and swore an oath.

Here's my oath, Craig: You shall not be forgotten. Your service, sacrifice, and your life taken too early are things that Americans need to know. And while your service pistol is not on display, we can still remember you through the letters that represent your life carved into stone on the site and that your life was taken.