by
Mark A. Keefe, IV, Editorial Director
posted on September 23, 2016
Support NRA American Rifleman
DONATE
I used to be the guy. To quote Liam Neeson in "Taken": "I don't have money, but what I do have are a very particular set of skills. Skills I have acquired over a very long career." The actor might want my guns taken away even while he uses them to make millions at the box office, but it is a very good line. I used to be the guy that others could rely upon to reassemble a Ruger .22 pistol. Not long after I turned 21, I purchased a used pencil-barreled Ruger .22—after all, it is the greatest .22 pistol of all time. And I would take it apart and put back together, a lot. And it involved a lot of swearing.

I used to call it the "Keefe patented method." It involved taking the gun, holding it up, shaking it, and releasing a series of extremely colorful expletives. Once I saw that all the parts were aligned I would jam it back together before the moon's gravitational pull misaligned them. This was back in the pre-YouTube days, so I had to remember the trick. I'm pretty sure I would be banned from YouTube for the language I used. But when the parts all aligned, I could hear a choir of angels, and I knew that was my cue to shove the thing back together.

In 1991, I was hired as the most junior member of the NRA Technical Staff. I tested guns, I answered letters to the "Dope Bag," I looked stuff up, I swept the range floor, I cleaned guns, I put guns in boxes and I sent them back. Every now and then I received guns I wasn't supposed to receive. Guns we didn't ask for. Typically it was a small, greasy box that, when shaken, rattled a lot, and inside would be a note that read: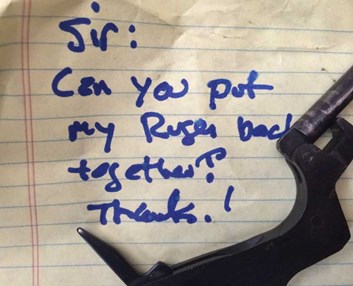 "Dear Dope Bag:
"Can you please reassemble my Ruger pistol!?"
"Thank you."
It seems there was a percentage of NRA members who thought their $20 a year entitled them to the free service of me reassembling their Ruger .22 pistols. Invariably it would be accompanied by the member's mailing label to prove that they were a member, which gave me his address. It is illegal for an FFL to just mail a guy's gun back. The problem was I would have to find an FFL in a member's area to send the gun back to him—after I put it back together. This was in the pre-Internet days, and not an easy task.
 
I remember one time a heavily taped box arrived—like a whole roll of strapping tape—and one of my bosses, Bob Hunicutt, shook it, then handed it to me, saying, "Hey, Mark Four, this one's for you." In case you hadn't noticed, I am Mark Alexander Keefe IV, commonly referred to around the office as "Mark IV."
And then word got out. I was the guy. So for a few years, I was reassembling Ruger .22s almost weekly. And humbled fellow NRA employees would turn up at my office door with a bag or a box. There are times that I wondered whether or not Ruger should just sell its .22 pistols in pieces in a paper bag, because that's how they were going to end up anyway.

And then a product changed my life. There are many names for it now but back in the day it was called Gun Scrubber. No longer did I routinely disassemble my own Ruger pistols after each trip to the range. I merrily hosed them down with Gun Scrubber then a little Rem Oil. And I stopped disassembling other people's Ruger .22s as I moved on to being managing editor and was, therefore, no longer responsible for unsolicited paper bags or boxes with Ruger .22s in them.
All was well and good for a lot of years, that is until my son's scoutmaster disassembled his Mark II. He called me and asked if I knew how to do it. I answered, yes, I did, "I need to remember the trick, but it's a pain in the …. ." No longer was I the guy. Now the guy in my office is Brian Sheetz. He seems to actually enjoy it. You can hear him in there humming like Ned Flanders as he quickly reassembles a Ruger pistol. Freak.  
There's even a guy named Dino Longuerra at Majestic Arms who has made a comfortable living off the fact that Ruger pistol owners have been so frustrated with reassembly that they send him their hard-earned money for his Speed Strip Kit.
It's like Ruger engineers didn't even care how many expletives they were causing, day in day out. It reflected a corporate callousness toward the proliferation of the "F bomb," and a willful unwillingness for decades to deal with one of the largest problems facing mankind.
What did they know and when did they know it? Actually, they've known about it for some time. The gun that created Sturm, Ruger & Co., the beloved .22 pistol designed by Bill Ruger himself and reviewed by Maj. Gen. Julian S. Hatcher in American Rifleman in 1949, has a receiver made of two steel stampings welded together. They do such a nice job, you cannot even tell. It was incredibly innovative for its day. As a matter fact, Ruger was awarded a very prestigious engineering award for this manufacturing feat decades ago. Apparently, in the pantheon of geeky engineering awards, this one is pretty high up there. It was enough to get the expletive-inducing-reassembly-process "Survivor"-like immunity for decades. Rumor has it, unsubstantiated, of course, engineers were forced to wear clown noses and kneel on bricks during new product meetings for even suggesting changing the frame manufacture method of the beloved Ruger .22.
The Ruger Mark IV happened because of a frustrated company engineer. It came about because he himself was so frustrated with reassembling his Ruger .22 pistols that he developed a fix on his own time at his shop at home. He brought it into the office one day. It really, really worked. No cursing, just press a button. Now it's called the Ruger Mark IV.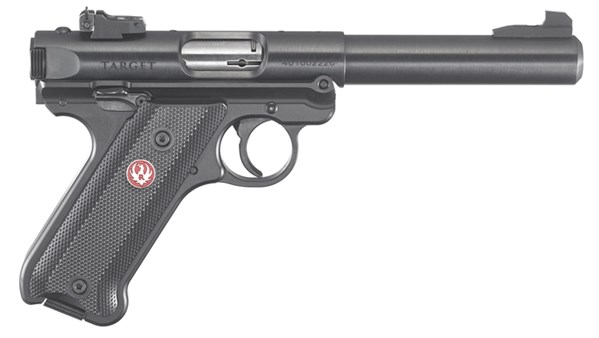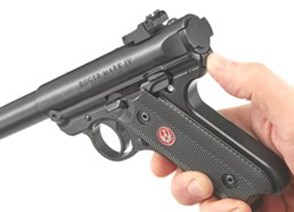 For many years Ruger .22s were made in Newport, N.H., which is where Ruger's customer service center is, too. There are likely customer service reps dedicated to reassembly of Ruger .22 pistols. Now with the Mark IV, it is my hope that Ruger retrains these stalwart employees as the number of dissembled .22s needing reassembly declines over time. Perhaps something in the mailroom?
As the editor in chief of American Rifleman, one is asked to keep secrets—including the secrets of Ruger. When the Ruger folks showed me the Mark IV's ease of reassembly, it was like a super villain had been defeated with whom I had been locked in a struggle with for most of my adult life. Indeed, it had been my Waterloo.
After I dissembled and resembled the prototype Mark IV a dozen or so times in mere seconds, with no shaking, holding the gun up to the light and no expletives, I told the assembled Ruger engineers I was very grateful that they had decided to name this improvement to humanity, this great step in the progress of human evolution, after me.

The embargo is lifted, and now you can buy one. I cannot be held responsible for empty swear jars the world over.