by
posted on March 3, 2017
Support NRA American Rifleman
DONATE
It seems several folks have their own war stories when it comes to reassembling Ruger's classic .22 pistols. My story goes something like this:
Long ago and far away, when Napster was new and cellular phones were used to make phone calls, I worked at a sporting goods store. It had a large and well-stocked handgun case and we often took in used guns on trade. One day the store received a used blued-steel Mark II in excellent condition. I had received permission from the manager to field strip and inspect the used guns during breaks and slow times in order to learn more about them. I was quite interested in giving the Mark II a look-see because I hadn't handled one before. After breaking the pistol down following the directions in the printed gunsmith reference guide we kept on hand (there were no YouTube videos in those days), I soon found I was unable to put it back together.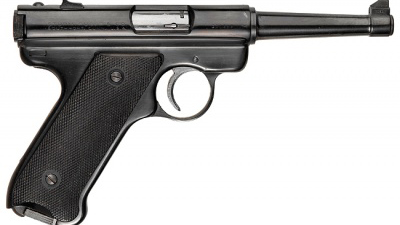 Because I had no previous experience with the Mark pistols, I thought I had somehow broken something along the way. Over the next day or so I asked a couple of my gun counter compatriots to lend me a hand. They both threw up their hands and begged off saying they had no idea how to fix a Mark II. I should have gone to our all-knowing floor manager at that point but I was afraid he would tell me I had to buy the gun with money I didn't have.
In desperation, I tried a few more times. Whether by divine intervention or pure dumb luck, all of the bits and pieces finally snapped into place. With the Mark II finally restored to its original condition, I ran it through a set of  bench checks and placed it back in the display case, never to handle it again. Despite their reputation for excellence, I steered clear of these Ruger pistols for a long time.

I overcame my reluctance to shoot these guns in 2012 when Ruger launched the Mark III 22/45 Lite. This model employs an aluminum receiver that shaves 10 ozs. off of the pistol's already reduced weight. I really enjoyed the range time I had with the 22/45 Lite but opted to return it at the conclusion of the test.
At the end of 2016, Ruger changed the game once more with the release of the new Mark IV. I watched the online videos closely as members of the Ruger team demonstrated a redesigned action that incorporates a simple to use rear-mounted takedown button that eliminates the complexities of field stripping previous models.
The first Mark IVs out the door were steel-framed models. I wanted to test one right away but I was willing to bide my time. What I wanted to test more than the Mark IV action itself was a reduced weight 22/45 Lite outfitted with these new features. Sooner than I hoped, Ruger launched the polymer-framed Mark IV 22/45 Lite and I ordered one as quickly as I could.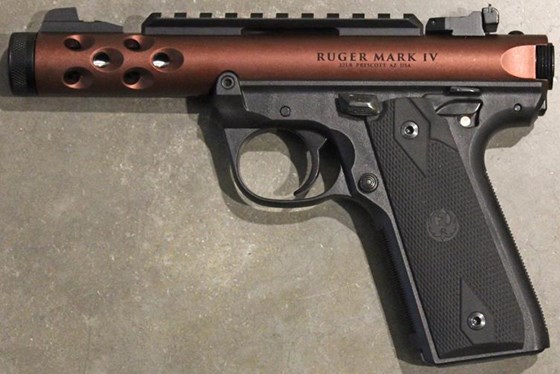 Like its predecessors, the new Mark IV 22/45 Lite is a blowback-operated semi-automatic rimfire pistol that feeds from a removable single-stack 10-round magazine. Bill Ruger's design employs a round bolt assembly that moves back and forth inside of a fixed receiver (much like a bolt-action rifle) instead of using a reciprocating slide like the majority of rimfire pistols. This design has proved to be rugged, reliable and accurate for many years.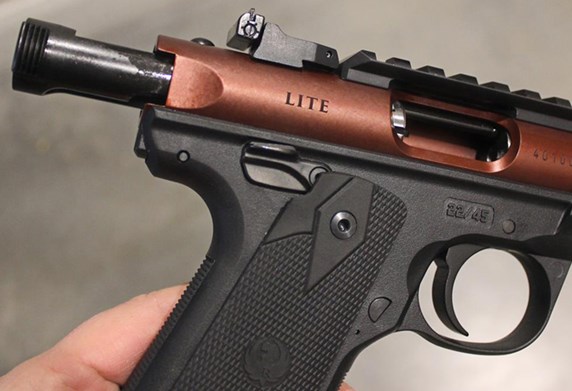 Taking its cues from previous Lite models, the 1" diameter single-piece, ventilated aluminum receiver houses a pencil-thin tensioned stainless steel barrel. The muzzle is threaded at ½"-28 TPI and fitted with a black aluminum thread protector. The metallic sight system consists of a fixed blade in front and a fully adjustable square-notch sight at the rear. This model arrives with a factory installed 4.3" long aluminum Picatinny sight rail to support magnified or red-dot optics. As of this writing, this version of the Mark IV is available with receivers in either a black or burnt bronze anodized finish.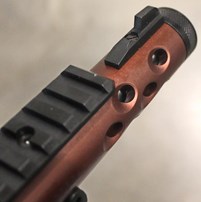 Introduced in 1992, the 22/45 pistol frame is an interesting departure from the classic frames. It's molded from lightweight glass-filled Nylon rather than steel. Instead of the angled grip frame and heel-mounted magazine release of the original, this frame's shape, size and some of its controls mimic those of a full-size Colt 1911 service pistol. The 1911 pattern features include a rounded trigger guard, a straight line textured frontstrap and a checkered backstrap.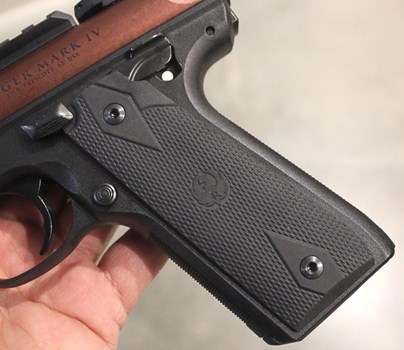 The 1911 style rubber grip panels are secured with two screws, each allowing them to be traded out with other Mark IV grip options provided by Ruger (standard 1911 grips do not have the proper cut outs to fit this pistol). The round-button magazine release, located on the left side of the frame behind the trigger guard, allows the flush-fit magazines to drop free from the grip frame. The remaining controls follow the Ruger school of thought. The deeply curved single-action trigger swings from a pin placed in the frame above it. The left mounted bolt catch rests in front of an ambidextrous thumb safety lever that swings down into the Fire position. An internal safety prevents the pistol from firing if the magazine is removed.
The Mark IV provides one of the least complicated and most easily executed tool-less take downs I've worked with on any platform thanks to the addition of a frame-mounted pivot pin at the front of the frame and the takedown button located below the bolt assembly.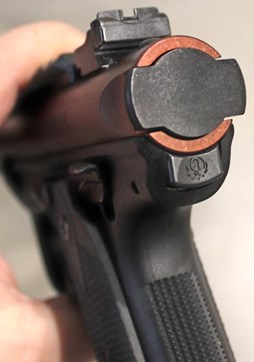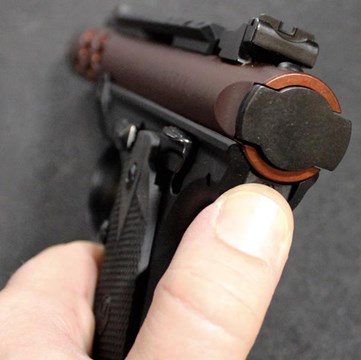 The steps for field stripping the Mark IV start with removing the magazine and verifying the pistol is completely unloaded. Place the bolt assembly in the forward (closed) position and ensure the thumb safety is pressed up into the Safe position. While grasping the grip frame, depress the takedown button. This button is connected to a steel post that extends up through a slot in the bolt and into a hole in the top of the receiver. While holding the button, use your other hand to swing the rear of the receiver up and off of the frame. The receiver will pivot on the front pivot pin. Once the receiver has cleared the takedown post, it can then be lifted off of the frame. Pull the bolt assembly out of the receiver and the pistol is ready to clean.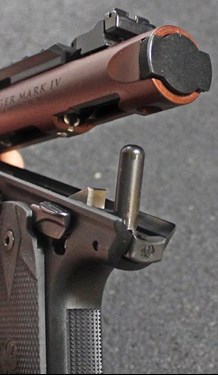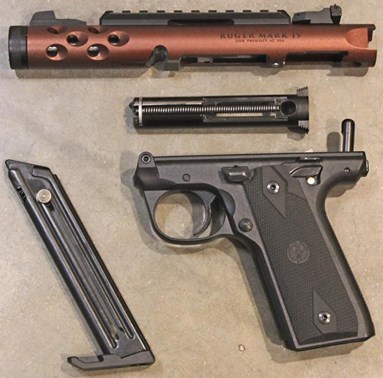 Moving at a fairly casual pace, I can field strip and reassemble this pistol in about 15 seconds. I'm sure the process could be completed even more quickly but that's fast enough for my needs.
At the shooting range the new 22/45 Lite proved to be as fun and comfortable to shoot as I hoped it would be. With an unloaded weight of exactly 25 oz., it's light enough to shoot all day without being so light that it's hard to keep the front sight on target. The pistol arrives with two magazines in the case, but I went to the ShopRuger.com website and ordered two more along with an inexpensive loader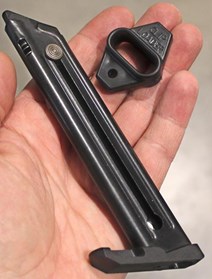 (# 12032) so that I could really wring them out thoroughly. After a single failure to feed during the first 10 rounds fired, the pistol and magazines proved to be utterly reliable with all of the ammunition tested.
The bolt stop was exceptionally stiff, making it difficult to use as a bolt release (which is not its intended purpose). Ruger recommends shooters "sling shot" the bolt, or pull it back manually and release it to close it. Since I prefer to rack the slide (or bolt in this case) to chamber a fresh round anyway, I'm not going to lose much sleep over it.
The other controls were smooth and easy to operate. If this gun were an AR-15 rifle I would describe the 4 lb. 14 oz. trigger pull as a two-stage trigger with a light take up, a clean break and no over travel because the trigger stops against the frame.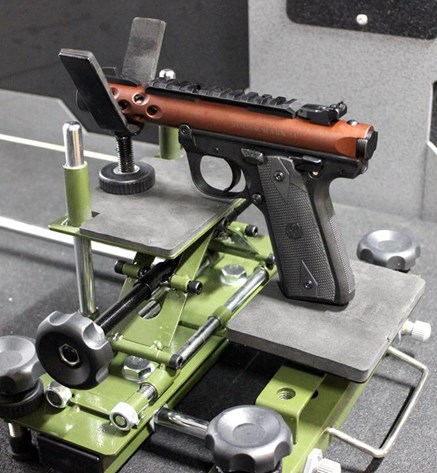 Formal accuracy testing was conducted at 25 yards using the factory iron sights and an adjustable Hyscore Rapid Fire Precision Shooting Rest (#30207). This was my first opportunity to fire Federal Premium's brand new Hunter Match 40-gr. hollow-point small-game load. In addition to the match-grade bullets, the cases are nickel plated for reliable feeding. This load produced the best single group of the test at 1.82" with an average of 1.94". Winchester's Super-X 37-gr. copper-plated hollow points turned in a best group of 1. 85" with an average of 1.98". Aguila Interceptor general-purpose 40-gr. copper-plated flat point yielded a best single group of 2.00" and an average of 2.14". 
The new Mark IV 22/45 Lite rimfire pistol smoothly blends what I think are three of the best features of the entire series: the reliability and accuracy of Bill Ruger's original design, the reduced weight of the Lite series and the very easy to use tool-less Mark IV takedown system. This is a top-notch rimfire that is well designed and properly executed. Its ease of use and accuracy make it a great choice for novice and experienced shooters alike. Because I think my whole family will enjoy this pistol, I'm going to write Ruger a check so that we can keep it.
Aftermarket accessory manufacturers are already cranking out components and upgrades for the Mark IV. Holsters made for the Mark III models will fit the Mark IV just fine. The pistol now offers a level of modularity comparable to the 10/22 rifle. Because the pistol divides so easily into an upper receiver and lower grip frame, just like AR-15 pattern rifles, I won't be at all surprised when uppers from other companies start to arrive on dealers' shelves.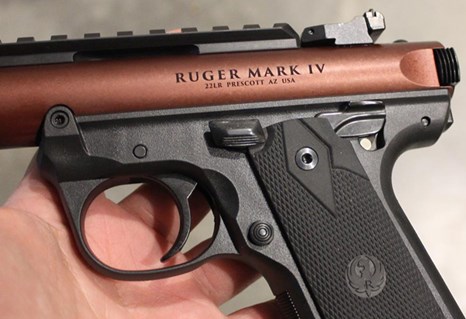 Specifications:
Manufacturer: Sturm, Ruger & Co.
Model: Mark IV 22/45 Lite
Action: Blowback-Operated Semi-Automatic Rimfire Pistol
Caliber: .22 Long Rifle
Receiver: Bronze Anodized Aluminum
Frame: Glass-Filled Nylon, Black
Grip Panels: 1911 Type Black Synthetic Rubber
Front Sight: Fixed
Rear Sight: Fully-Adjustable
Barrel: 4.40", Tensioned
Muzzle: ½"-28 TPI with Thread Protector
Overall Length: 8.40"
Height: 5.50"
Width: 1.22"
Weight:  25-oz. with Unloaded Magazine
Capacity: 10+1 Rounds
Twist: 1:16" RH
Rifle Grooves:  6
Accessories: Two Magazines, Hard Case, Owner's Manual, Lock
MSRP: $559