by
posted on September 27, 2019
Support NRA American Rifleman
DONATE
Seventy years ago, William "Bill" Batterman Ruger and partner Alexander McCormick Sturm formed Sturm, Ruger & Co., Inc. With a loan of $50,000 from Sturm's mother, the two young men set up shop in January 1949 inside a small wood frame building in Southport, Conn. Their only product was a .22 Long Rifle-chambered autoloading pistol, an original design by Ruger. Sturm, Ruger & Co. celebrates its 70th year of continuous firearm production in 2019. With facilities in four states, Ruger has produced and shipped more than 40 million firearms, with more than 4 million of them being .22s based on Ruger's original design. Most of the credit for the company's overwhelming success and longevity is due to innovative manufacturing techniques established by William B. Ruger, as well as his remarkable ability to market firearms. Bill Ruger's design was new and original. It was a semi-automatic blowback-action pistol, a quality handgun for only $37.50.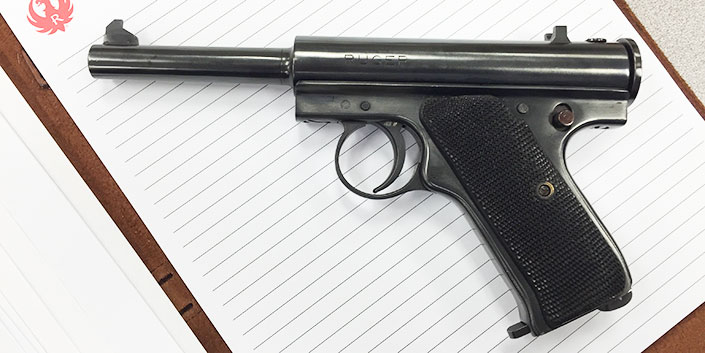 Milestones For The Ruger .22 Pistol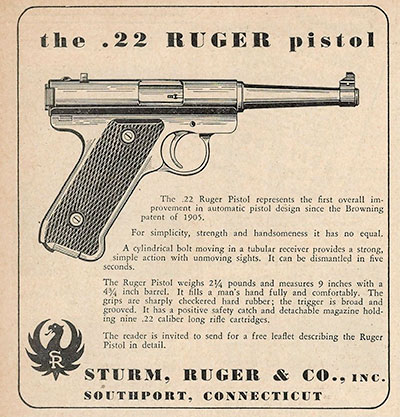 1949: With a labor force of a dozen workers, including Ruger and Sturm themselves, preparations were underway for the production of a .22 pistol. The time from January to October of 1949 was spent in intensive development of the Ruger pistol—designing parts, updating tools and fixtures, and producing a limited quantity of pistols. Sturm, a student of heraldry, designed the stock panel medallion in the image of a falcon or eagle. This bright red figure became Sturm, Ruger & Co.'s official logo and appeared in company letterheads and advertising. In addition to his involvement in every operation in the shop, Bill Ruger shared in administrative decisions.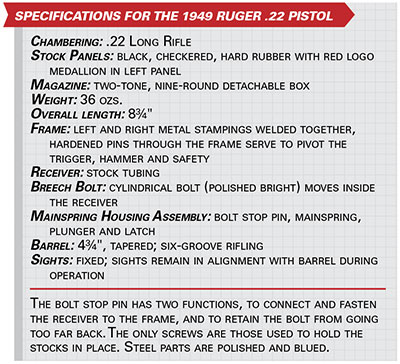 A small ad was placed in the August 1949 issue of The American Rifleman, and the Ruger pistol was a resounding success. Orders from the ads were coming in by the hundreds. Checks from sales were set aside until pistols were ready for shipment. By October, enough components had been stocked to assemble 655 pistols. In the same week, the initial $50,000 loan was paid off and 100 completed pistols were ready for shipment. The checks were deposited, and Sturm, Ruger & Co. has never had to go into debt to operate since.
The first shipment of pistols went out on Oct. 6, 1949. Shipping was via Railway Express Agency (REA). If the customer's address did not have an REA station, delivery was made by parcel post. That first year, 1,138 pistols were shipped to individual purchasers.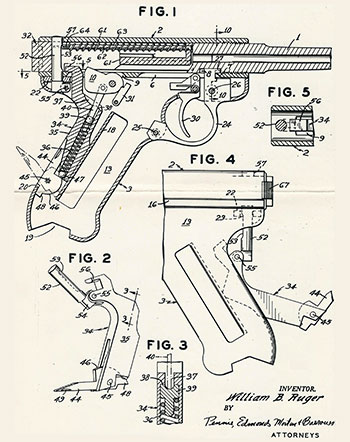 1950: As of June 27, 1950, direct orders from individual customers were no longer accepted. At this point, orders for Ruger pistols were processed through a network of distributors. A target model based on Ruger's original design was introduced in December 1950. Shipments of the Mark I Target Pistol began in January of 1951. The new Ruger Mark I came with a heavy, tapered 67⁄8" barrel, an adjustable micro rear sight and a blade front. Retail price was $57.50. The original pistol, with 4¾" barrel and fixed sights, was officially re-named "Standard Auto" at that time.
In a report from the annual meeting of stockholders (consisting of W.B. Ruger, president; A.M. Sturm, vice-president and treasurer; and Norwich R.G. Goodspeed, secretary) dated Feb. 21, 1950, Ruger stated, "More than 2,000 guns have been shipped to date representing gross sales in excess of $40,000. The Company's advertisements in The American Rifleman and other magazines has produced remarkable results with a current backlog of more than 5,000 guns on order representing a gross sales volume of more than $100,000." In a special meeting of the board of directors held June 1, 1950, Ruger declared, "Production has been increased to approximately 900 guns per month and it is hoped to exceed a rate of 1,000 per month in the next few months. At the present time the Company has a backlog of 9,000 orders on file." Ruger goes on to state, "It was voted to increase the salaries of the officers as follows: William B. Ruger at $19,000 per year and Alexander Sturm at $12,000 per year." Ruger's salary beginning in 1949 had been $6,000 annually and Sturm, $3,000 per year.
Alexander Sturm died on Nov. 13, 1951, at the age of 28. To honor his friend and partner, Ruger ordered the grip medallion changed from red to black.
Some modifications were made to the Ruger pistol during 1950 and 1951. These revisions involved alterations to improve the product and to accelerate production time. After these design changes, the Ruger .22 pistol remained virtually unchanged until 1982.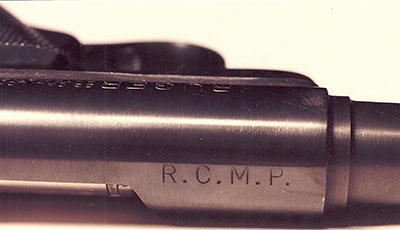 A factory muzzle brake was offered beginning in 1954 for Target Models at $6 retail. Different barrel lengths were offered on Ruger pistols in later years. Ruger landed a contract with the U.S. military in 1956, and 4,600 Mark I Target pistols were shipped to the Ordnance Dept. that year. Each was stamped "U.S." at the Ruger factory. The Royal Canadian Mounted Police purchased Ruger Mark I pistols for training and recreational shooting, and the Mounties stamped some "MP" while others were rollmarked "R.C.M.P." at the factory. Checkered, hardwood stocks were offered as an option in later years.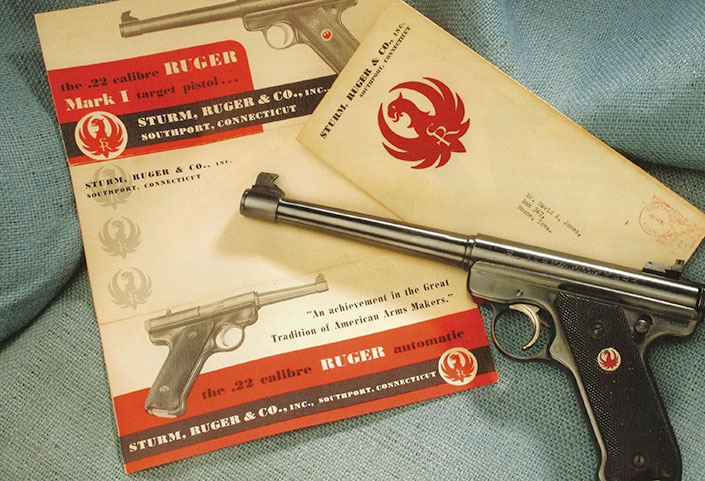 1976: All firearms produced at Ruger were rollmarked "MADE IN THE 200th YEAR OF AMERICAN LIBERTY" throughout 1976.
1978: A safety warning statement was rollmarked on every Ruger firearm produced beginning in January 1978. That safety warning information continues on Ruger firearms today.
1979: Sturm, Ruger & Co. celebrated its 30th anniversary in 1979. In the first quarter of 1979, production of the .22 semi-automatic pistol reached 1,000,000. Ruger commissioned a special engraved and gold-inlaid Standard Auto pistol to celebrate that event—the One Millionth Standard Automatic Pistol. Master engraver Ray Viramontez was commissioned for the engraving and gold inlays. It was donated to the International Shooter Development Fund, where it was sold at auction for $27,200 to Penguin Industries. Penguin donated it to the NRA National Firearms Museum, where it remains today.
1981: Five thousand Signature Standard Auto pistols were manufactured in 1981, marking the first Ruger pistol made in stainless steel. After 33 years of continuous production the Standard and Mark I series was discontinued. Shipped Dec. 22, 1981, Ruger Standard Auto Serial No. 17-80344 was the last pistol produced in the original Standard and Mark I series.
1982: Ruger introduced a new, modified version of its original .22 pistol in 1982, the Mark II. The major difference in the profile of the new pistol was the scallops machined in the rear sides of the receiver. This allowed the shooter a more positive grasp of the bolt, and the visual effect gave the pistol a fresh, modern look. Also, with the safety engaged and the sear locked, it was now possible to manually operate the bolt to clear the chamber. A bolt hold-open, with the release button above the left stock panel, was also added. The new magazine had a 10-round capacity. Standard and target models were available in both stainless and blued steel.
The U.S. military purchased several thousand Ruger Mark II, "U.S."-stamped training pistols in 1984. The Department of the Navy contracted with Ruger for several hundred stainless KMK-512B pistols in 1987. These blackened, stainless Mark IIs were designed for the Navy Seals.
1991: All manufacturing at the Southport, Conn., plant ceased on July 19, 1991. The last Ruger .22 pistol assembled at Southport was Serial No. 217-61259 in July 1991. Ruger .22 pistols with a higher serial number were produced at Ruger's Prescott, Ariz., factory.
1992: With the increasing acceptance of plastics in pistol frames, Ruger employed designer Jim McGarry, who, before joining Ruger's team, was an engineer specializing in the design of medical instruments. Bill Ruger and McGarry collaborated on a plan to integrate Ruger's original pistol with a polymer frame. Ruger introduced the 22/45 in April 1992. The grip frame is lightweight, injection-molded Zytel, designed to emulate the angle and feel of the M1911. Stock panels were integrated into the frame. The magazine release button is on the left side of the frame. Standard and Target models were offered in stainless and blued steel.
1999: To commemorate Ruger's first 50 years of production, Ruger offered a 50th Anniversary Mark II pistol throughout 1999, the MK-50. The MK-50 is a Standard model with a 4¾" barrel. The receiver is the same outline as the 1949 model (no scallops). A special anniversary logo was created to mark Ruger's 50th year, and that crest was rollmarked on the receiver of each MK-50 pistol. Stock medallions were again red.
2002: William Batterman Ruger, Sr., co-founder and chairman emeritus of Sturm, Ruger & Co., died at his home on Saturday, July 6, 2002, at the age of 86.
2004: From 1982 to 2004, more than 3 million Ruger Mark II pistols were produced and sold. In 2004, Ruger introduced the Mark III, available in both Standard and Target models, and a visible loaded-chamber indicator was added. The magazine release was moved from the bottom of the frame to behind the trigger guard. All Mark IIIs with adjustable sights were now drilled and tapped for a scope base, which came packaged with the pistols. New safety features included a magazine disconnector and an internal safety lock. The Mark III LITE, produced with an aluminum upper and a polymer frame, was added to the Ruger catalog in 2012.
2016: During the previous 67 years, Bill Ruger's .22 pistol had evolved from an economically priced plinker into one of the finest semi-automatic rimfire handguns made. Major enhancements were incorporated when production of the Ruger Mark IV began in late 2016 (April 2017, p. 50). The Mark IV offered simple, one-button takedown. A recessed button in the back of the frame allows the barrel receiver to tilt up and off the grip frame, (no tools required). The original two-piece, stamped and welded grip frame was replaced by a one-piece, machined aluminum or stainless steel or polymer grip frame. The small safety button was replaced by bilateral, paddle-shaped safeties, which locked the sear in the safe position when applied. A left-side magazine release button allowed the magazine to drop free for faster reloading. The Mark IV is available in a variety of barrel, sight and grip configurations.
2018: The Ruger Mark IV received an NRA Publications "Golden Bullseye Award" as selected by American Rifleman's editors, being named "Handgun of the Year" for 2018.
Seventy years ago, Sturm, Ruger & Co. began production of a .22 pistol designed by company cofounder Bill Ruger. After seven decades of continuous production, Bill Ruger may no longer be with us, but his .22 pistol lives on.