by
posted on February 22, 2021
Support NRA American Rifleman
DONATE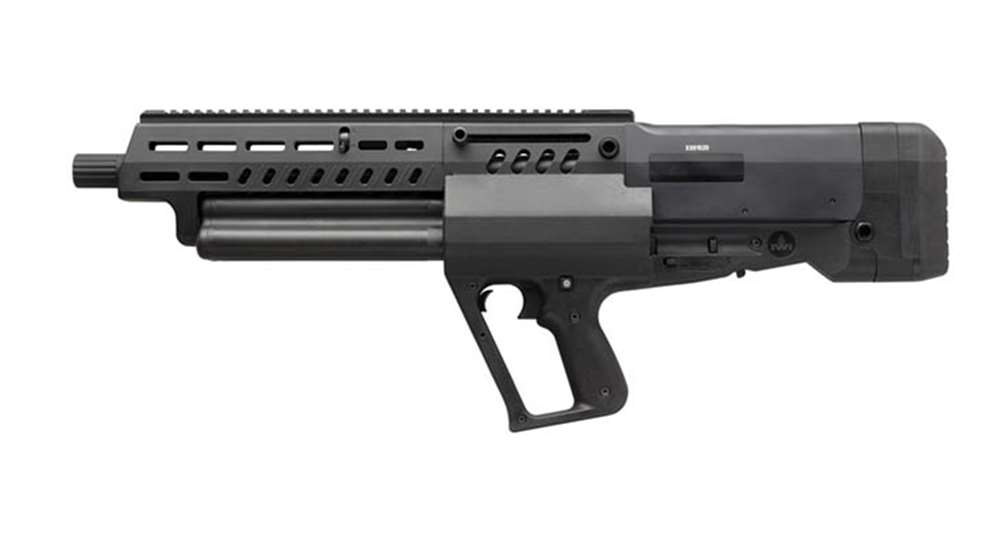 The virtues of a shotgun for home defense are long and well-documented by the experts assembled here at American Rifleman. Woven in the litany of praise, however, is a recurring warning that many traditional semi-automatic models are long enough to be cumbersome under high stress, particularly when ushering loved ones into a safe room with unpracticed hands.

The IWI US Tavor TS12's bullpup design reduces the probability of hanging up on a curtain, furniture or door, if the unthinkable happens before law enforcement arrives. Overall length is 28.34", roughly a foot shorter than many others with identical-in-length 18.5" barrels. Yet, the TS12 chambers attack-stopping 12-ga. loads with the ability to carry 12 or 15 shotshells. The virtues didn't go unnoticed during a tumultuous 2020, and FFLs using the services of GunBroker.com ranked it their year's No. 1 selling semi-auto shotgun.

American Rifleman provided early glimpse of the shotgun in January 2018. "The Tavor TS12 is our first entry into the home-defense shotgun market, and we held off until we had something unique and desirable that held the same characteristic quality and performance of the entire Tavor line," said Casey Flack, CEO of IWI US, when it was introduced. It's also a refreshing footnote that, three years ago, MSRP was $1,399. It remains the same, even in today's seller's market.

The semi-auto shotgun uses a short-stroke piston system of operation, with a two-position gas regulator to ensure reliability, whether the owner goes with 2 3/4" or 3" 12 gauge. The gun can use either. Each of the three magazines can hold 5 or 4 shotshells, depending on length, and when ammunition is exhausted in one of the tubes, simply rotate to another. If needed the gun automatically chambers another round.

Feeding and unloading can be done from either side. The black stock is constructed from reinforced polymer and features MLOK-compatible rails, a full-length Picatinny atop and there are four sling-attachment points. The barrel is compatible with Beretta/Benelli choke tubes.

The TS12 weighs 8 lbs. empty, is 10.23" tall—measured from the bottom of its pistol grip to the top of its Picatinny—and employs a cross-bolt safety. American Rifleman's video review during the 2018 SHOT Show provides even more details on this innovative and extremely popular shotgun.