by
posted on July 19, 2010
Support NRA American Rifleman
DONATE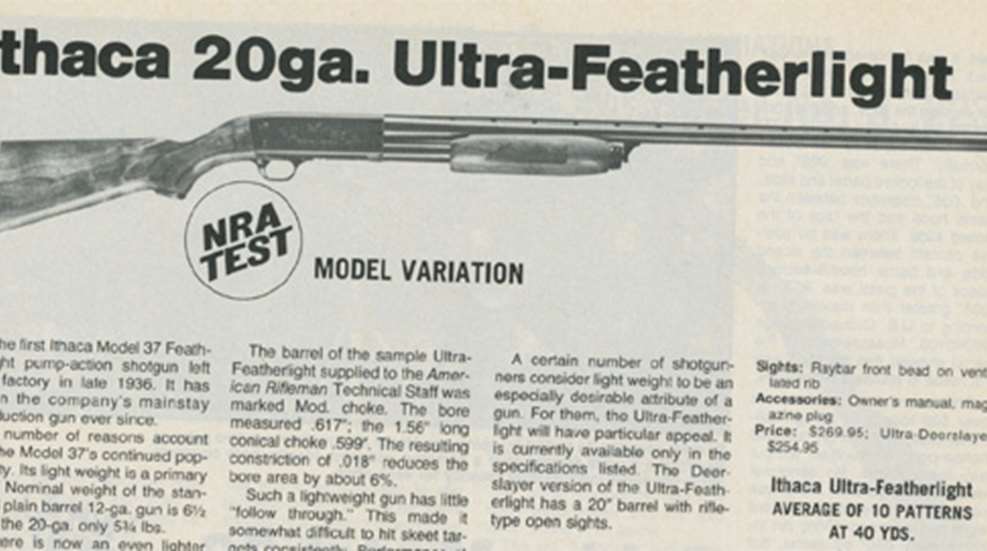 September, 1978
The first Ithaca Model 37 Featherlight pump-action shotgun left the factory in late 1936. It has been the company's mainstay production gun ever since.
A number of reasons account for the Model 37's continued popularity. Its light weight is a primary one. Nominal weight of the standard plain barrel 12-ga. gun is 6 ½ lbs.; the 20-ga. only 5 ¾ lbs.
There is now an even lighter version called the Ultra-Featherlight. In 20-ga. with a 25" ventilated rib barrel, its nominal weight is only 5 lbs. Ithaca bills it as the lightest pump shotgun in the world.
The weight reduction results primarily from the use of aluminum for the receiver and trigger plate. Opportunities to reduce weight in the stock are also taken. The butt of the brown rubber recoil pad is only 1 ½" wide and 4 5/16" long. The Side-Bell designed grip cap is a distinguishing feature. A gold color towering grouse against a red background is seen through the clear plastic center of the cap.
The barrel of the sample Ultra-Featherlight supplied to the American Rifleman Technical Staff was marked Mod. choke. The bore measured .617"' the 1.56" long conical choke .599". The resulting constriction of .018" reduces the bore area by about 6%.
Such a lightweight gun has little "follow through." This made it somewhat difficult to hit skeet targets consistently. Performance at skeet was also handicapped by the 8 ¼ lb. trigger pull and the gun's tendency to shoot low. Felt recoil, while appreciably greater than 20-ga. guns weighing 1 lb. more, was not oppressive even with 2 ¾" magnum loads. The large diameter fore-end enables much of the recoil to be taken up by the forward hand. This helps substantially reduce recoil taken by the shoulder. In more than 300 rounds only one malfunction was experienced. A shell dropped from the magazine to the ground instead of being fed into the chamber when the action was worked.
A certain number of shotgunners consider light weight to be an especially desirable attribute of a gun. For them, the Ultra-Featherlight will have particular appeal. It is currently available only in the specifications listed. The Deerslayer version of the Ultra-Featherlight has a 20" barrel with rifle-type open sights.