posted on September 26, 2012
Support NRA American Rifleman
DONATE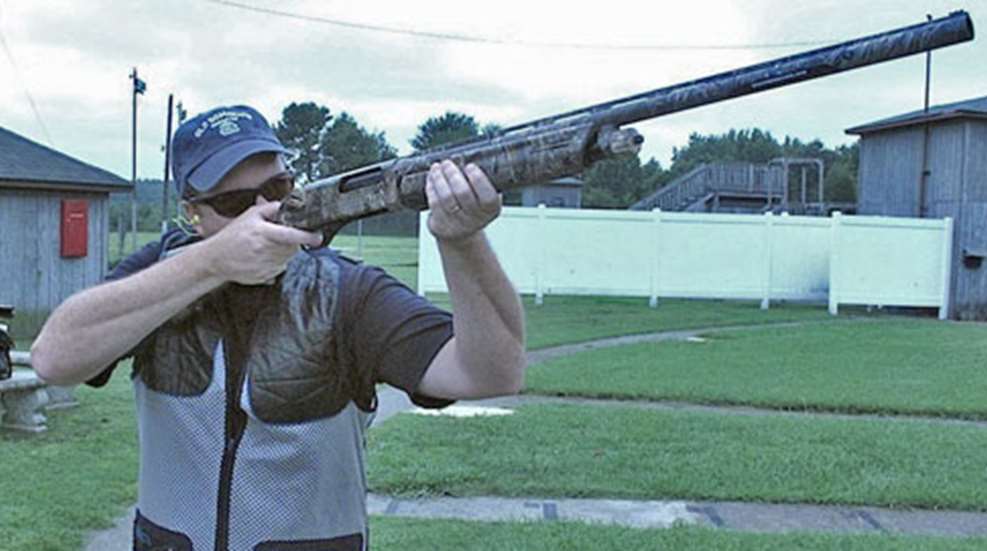 9/26/2012
Pump guns have always been a traditional firearm choice for withstanding the mud, ice and water common to hunting from duck blinds, layout boats and goose pits as they are less likely to jam or misfeed than semi-autos when they get coated with freezing water or lined with grit. Historically, this has certainly been the case. However, with modern advances in semi-auto shotgun technology, concerns over action reliability have been reduced, as both guns are more than capable of performing admirably on ducks and geese in most conditions.
Of course, with those advances in semi-auto operating systems have also come much higher prices, with top-performing models running upwards of $1,500. Therein lies the pump gun's ultimate advantage over its rapid-fire counterpart—price. Pump-action shotguns are certainly not without their own technological improvements, as evidenced in Winchester's latest duck-specific offering in the SXP Waterfowl, yet still cost the hunter as much as two-thirds less. That is a true advantage indeed.
The SXP Goes to the Birds
2012 seemed to be the year of the waterfowler where new shotgun model introductions were concerned, and the addition of a 3 1/2-inch chambering for the SXP Waterfowl certainly made it a more versatile offering for duck and goose hunters. Dipped in Mossy Oak Duck Blind camo, the shotgun is chambered to accommodate everything from 2 3/4-inch to 3 1/2-inch shells—an excellent range when shooting the heavy loads preferred by goose hunters, as well as the lighter ones that are more than effective on doves and clays.
Other key features include a strong rotary bolt for a solid lockup; black chrome protection, which protects surfaces better than traditional blueing; a hard-chrome chamber and bore for reduced wear when using steel, bismuth or tungsten loads; a single-pin, drop-out trigger group for easy removal and cleaning; and Winchester's Inflex recoil pad, which minimizes the increased kick many pump-guns do indeed deliver over their semi-auto cousins.
The .742-inch back-bored barrel is designed to provide the optimal balance between limiting escaping gasses that hamper velocity and avoiding excess pattern compression, which causes pellets to bounce off one another, deform and create ragged patterns. The SXP also has a cross-bolt safety at the front of the trigger guard instead of the rear, where it is more commonly located. In this position, a hunter can keep a finger on the safety, and when it is time to shoot, simply depress the button and allow the finger to naturally slide rearward to the trigger for firing.
The SXP comes with Invector Plus choke tubes in full, modified and improved cylinder constriction, and aiming is aided by a bright TruGlo Long Bead fiber-optic sight. The inertia-driven bolt and dual-guide action bars allow for fast, smooth cycling—reportedly at a rate of three shots in under half a second for the practiced.
The Range and Field
Given that it was still nearly two months until the first resident goose season, my testing of the SXP took place on a skeet range where I could mimic a number of target presentations typical of waterfowling. The SXP performed superbly.
Pumping and firing more than 100 rounds of mixed light and heavy loads, including Winchester Ammunition's Blind Side, the action was indeed smooth. Where the bigger kicking shells were concerned, the recoil was quite manageable against the Inflex recoil pad, even with light clothing. Throw the distraction of live targets and the additional clothes often worn in most waterfowling situations and the shooter shouldn't feel a thing.
Users more familiar with the quick shooting capability of a semi-auto will find that with just a little practice, they'll be able to pump this gun just as fast—and with even fewer concerns about jamming or misfeeds.
Also, the shotgun is light. At a mere 7 pounds, it felt good in my hands and swung cleanly and easily through the air, the combination of a raised vent rib and the TruGlo front fiber-optic sight making target acquisition and tracking fast and easy. The head and eyes aligned naturally with the dimensions of the sighting plain. I will hit the field in the coming weeks where I expect to give the SXP Waterfowl a full workout on a mixed bag of doves and resident geese and having tried this gun on clays, as well as checked its deadly patterns against a few wide-sheeted targets, I will head into this season with as much confidence as I can ever remember.
Manufacturer: Winchester Repeating Arms; (801) 876-3440; Winchesterguns.com
Mechanism Type: pump-action shotgun
Gauge: 12
Chambering: 2 ¾-inch – 3 ½-inch
Overall Length: 46 ½"- 49"
Barrel Length: 26"-28"
Length of Pull: 13 3/4"
Drop at Comb: 1 5/8"
Drop at Heel: 2"
Weight: 6 lbs., 12 ozs. – 7 lbs.
Magazine Capacity: 2 with Three-Shot Adapter in place, 4 without
Sights: TruGlo Long Bead Fiber-Optic front sight
Stock: synthetic, dipped in Mossy Oak Duck Blind camo
Accessories: Invector Plus Choke Tubes (F, M, IC), Three-Shot Adapter with Speed Plug
Suggested Retail Price: $579.99