Support NRA American Rifleman
DONATE
The American Civil War split our great nation as has not been seen before or since. The war pitted American against American, brother against brother. More American soldiers died during the Civil war than in both World Wars, Korea and Vietnam combined. The North was the great industrial complex of the country while the southern economy was based on agriculture. The South had few large iron producers and very little industry that could readily be converted to war production. The Confederate government was forced to rely on the ingenuity of their craftsmen and imports from other countries, primarily England.  


By the mid 1850s, brothers Francis and Ferdinand Cook, English immigrants and entrepreneurs, had settled in New Orleans. With the secession of Louisiana, the pair set out to prove that "rifles could be made here as well as in Yankee land or in Europe." By June of 1861, the Cook brothers had set up an armory at Canal and Common Streets, employing 27 hands with the capability of turning out 10 rifles per week. The firm of Cook & Brother produced rifles, musketoons and cavalry carbines for the Confederacy, all based on the English Enfield pattern of Longarms. Bayonets were also made for the rifles. With the fall of New Orleans in April of 1862, the brothers were forced to move their machinery to a new location. They settled on Athens, Ga., where production commenced by late 1862 or early 1863. The majority of Cook firearms known today were made in Athens with a total produced in both locations of just a few thousand.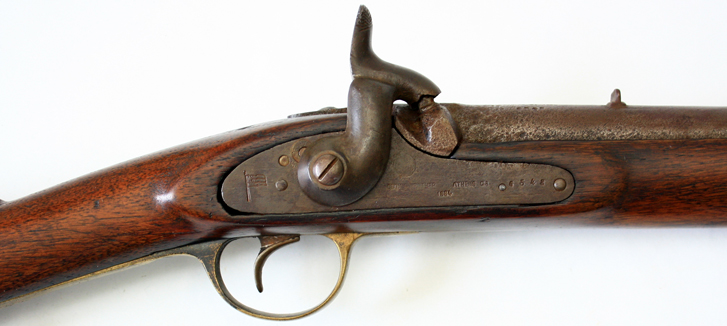 Shown here is cavalry carbine serial number 6548. It is an 1864 Athens, Ga., produced gun conforming to the P1856 Enfield carbine pattern. The Cook firearms are the most well-marked guns that were manufactured in the Confederacy and, because of this, are highly sought after. The lock plate is stamped with a Confederate first national flag behind the hammer, and "Cook & Brother Athens GA / 1864 / 6548" forward of the hammer. The barrel is also stamped similarly. Most Cook longarms will also have the serial number stamped on the lock screws, barrel tang screw, barrel bands and nose cap. The vast majority are 58 cal. One interesting fact is that the wrought iron used to make the barrels was heated and twisted for added strength, a practice commonly used by other southern gun makers. The twist is highly evident in the barrel of serial number 6548.





The Cook & Brother firearms are one of the great rarities of collecting southern-made Civil War weapons. The values of these guns vary greatly and the New Orleans produced guns will usually bring a premium. Condition also plays a big part as with any collectible. A lower-grade Cook may sell for $20,000 or less while a fine condition New Orleans made rifle can fetch well over $30,000. The carbines are highly sought after and will usually garner a premium. This example based on condition, all matching numbered parts and rarity is valued at $26,000 to 28,000.

Gun: Pattern 1856 Enfield Type Cavalry Carbine
Manufacturer: Cook & Brother, Athens, GA
Date of Mfg: 1864
Caliber: .58
Condition: NRA very good (antique gun standards)
Value: $26,000 to $28,000