by
posted on August 24, 2021
Support NRA American Rifleman
DONATE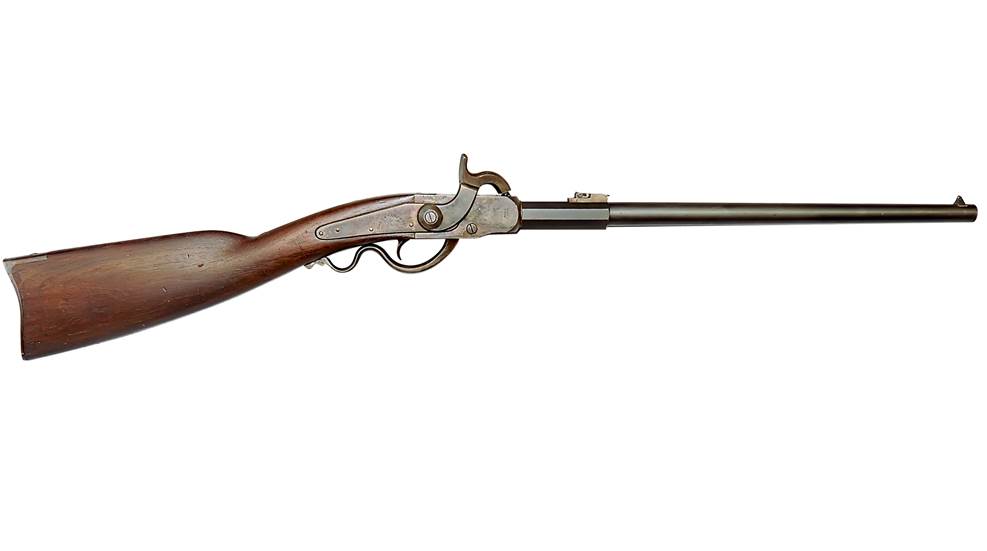 Because of timing, improvements in technology and no lack of inventive spirit, the American Civil War saw an array of armaments the variety and novelty of which were unsurpassed in earlier conflicts.
Small arms were singularly affected. While many types of systems were not unusual by any means in the early 1860s, the sophistication of their improved versions outstripped most previous efforts.
A broad spectrum of rifles and carbines that could be rapidly and easily loaded from the breech was manifestly evident. The works of such pioneers as Christian Sharps, Ambrose Burnside and Edward Maynard were particularly noteworthy. But there were many others—some good, some not so good—that, because of wartime emergency, were able to gain the attention of desperate ordnance officials.
One of the more unusual-looking examples of lesser-known Civil War breechloaders was the Gwyn & Campbell. This brainchild of Henry Gross of Ohio, a variant of earlier dropping-block designs, was interesting in that it had no fore-stock—the tapered barrel jutting directly from the midpoint of a rectangular receiver gives the gun the vague appearance of a mechanical narwhal.

Originally produced by Cosmopolitan Arms Co., whose principals were Edward Gwyn and Abner C. Campbell, this single-shot .52-cal. firearm (nicknamed the "Grapevine Carbine" because of its sinuously shaped loading lever), was given an initial boost when it was requested by the governor of Illinois to arm some of the state's mounted troops—including members of Col. Benjamin Grierson's 6th Illinois Cavalry who carried Cosmopolitans on their daring raid in rebel territory in April and May of 1863.
Refinements were made to the arm, and the company restructured in 1863. The new carbine, while resembling its predecessor, employed a different breechblock-linking mechanism and had cosmetic changes to the hammer and lever.
Production of the Gwyn & Campbell Carbine or "Union Rifle," as it was now called, totaled some 8,200 guns divided between two versions—the Type I and Type II, which themselves were produced in subvariants involving such things as different lever styles, upgraded lever-latching systems and modified sights.
The Gwyn & Campbell chambered paper or linen combustible cartridges and fired .52-cal. bullets ranging in weight from 370 to 420 grains, with diameters of between 0.525" to 0.540" backed by 40 grains of blackpowder.
Though generally serviceable, there were a few complaints about the arm's efficacy in the field—the main claimed defect being excessive gas leakage at the breech. Some were eventually replaced with other makes, but many were retained and saw honorable use by troops from several states.
The Type II, 3rd Model "Union Rifle" we are looking at here is in excellent condition, retaining some 90 percent of its original blued and casehardened finish. The bore is perfect and the stock is in fine shape, stamped with the initials "WHR"—probably for U.S. government inspector William H. Russell.
Some G&Cs will be found marked with "CREEDMOOR," but apparently this was added post-war in an effort to add cachet to surplus arms intended for public sale.
Despite their relatively low production rate, Gwyn & Campbell Carbines are often encountered for sale. One in the condition mentioned above is worth $3,250—a far cry from the one I purchased in the late 1950s for $46.
Gun: Gwyn & Campbell Carbine ("Union Rifle") Type II
Manufacturer: Edward Gwyn, Abner C. Campbell; Hamilton, Ohio
Caliber: .52
Manufactured: 1864
Condition: NRA Excellent (Antique Gun Standards)
Value: $3,250