by
posted on April 17, 2023
Support NRA American Rifleman
DONATE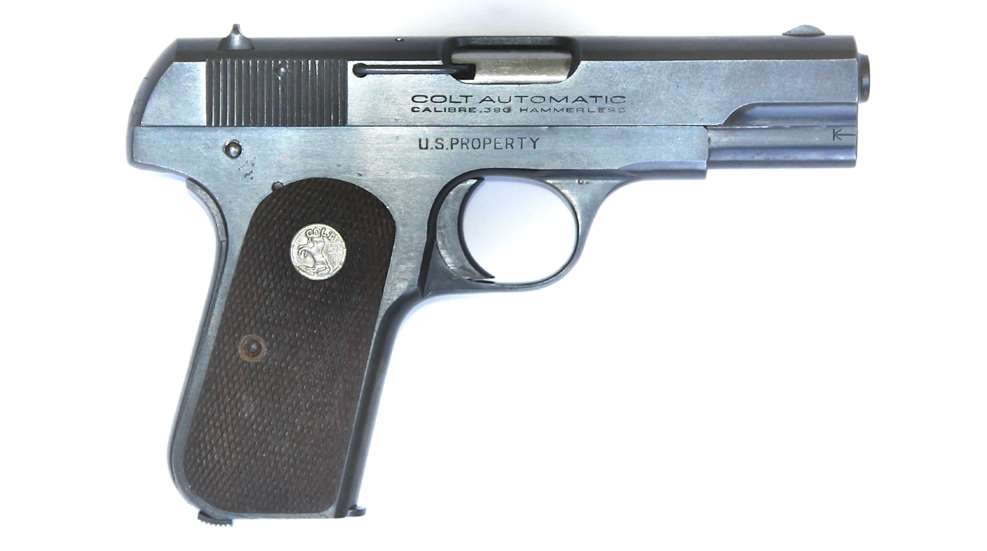 Think of a semi-automatic pistol issued to U.S. military personnel during World War II, and the Model 1911A1 immediately comes to mind. But there was another Browning-created semi-automatic that also saw battlefield action and, like the M1911A1, was drafted from peacetime to wartime service. It was the Colt 1903 Pocket Hammerless in .32 ACP, along with the .380 ACP Colt 1908 Pocket Hammerless—two identical guns except for their chamberings.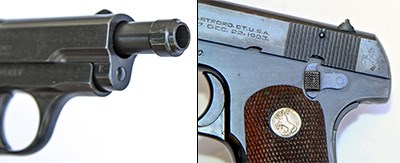 The pistols were descendants of Browning's first successful semi-automatic handgun, Colt's Model 1900. Then came his Model 1902, which included a Military Model that set the stage for what would become the Government Model of 1911. But the Model 1902 also inspired Browning to develop a more compact semi-automatic, and his resultant Model 1903 Pocket Hammer immediately gave way to the more celebrated Colt 1903 Pocket Hammerless, or Model M, as it was designated by the factory, which had a 3¾" barrel, was chambered for the Browning-designed .32 ACP and held eight rounds. Then, five years later, Colt brought out a more reliable man-stopper—the seven-round Model 1908 Pocket Hammerless chambered in Browning's .380 ACP.
Neither gun was actually hammerless, as the breech end of the slide concealed the hammer, creating a compact pistol that could be quickly drawn for snag-free presentation. Immensely popular, both pistols featured the first Colt grip safety and a "Slide Lock," better known today as the thumb safety, that permitted what is known now as "cocked and locked" carry.
When World War II broke out, the Army adopted both Pocket Hammerless pistols as alternate sidearms for groups such as officers, medics and the Office of Strategic Services (OSS), who did not require the heft nor visibility of larger .45 ACP-chambered handguns. All were stamped "U.S. Property" on the right side of the frame. Approximately 17,000 Model 1903s and between 3,113 and 3,700 Model 1908s (estimates vary) were purchased by the government from 1942 through 1945, with serial-number ranges from 554,447-572,214 and 134,500-138,000, respectively. The guns were initially blued; later issues were Parkerized. After the war, Model Ms continued to be issued to general officers until 1972, when they were replaced by Rock Island Arsenal's M15 General Officer's Pistol. 
This 95 percent blued Type IV "U.S. Property" 1908 Pocket Hammerless was shipped to the transportation officer at Springfield Armory on Oct. 16, 1944, one of 40 guns in the shipment. As such, it is easily worth $3,500 to $4,500. If it could be attributed to a specific officer, especially if accompanied by an issued leather holster and accessories, it would carry a premium of 25 percent or more.
Gun: Colt Military 1908 Pocket Hammerless (Type IV "U.S. Property" stamped)
Chambering: .380 ACP
Serial No.: 1360XX
Manufactured: Oct. 16, 1944
Condition: NRA Excellent (Modern Gun Standards)
Value: $3,500 to $4,500