Support NRA American Rifleman
DONATE
Gun: Colt 1851 Navy–3rd Generation (Signature Series)
Caliber: .36 percussion cap and ball
Serial No: XX735
Manufactured: 1998
Condition: 99 percent-NRA Perfect (Modern Gun Standards)
Value: $650 to $800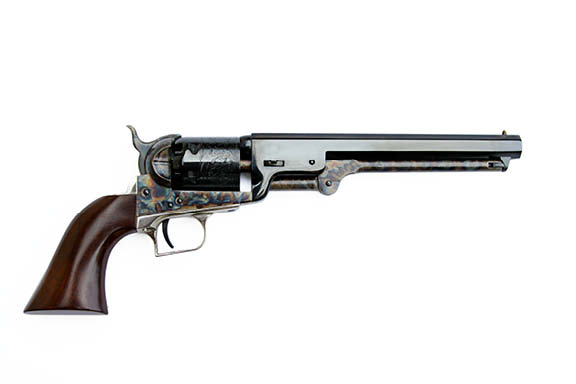 The "Colt Revolving Belt Pistol of Naval Caliber," as the 1851 Navy was originally called, was Colt's first practical revolver, coming after its 4-lb., 8-oz., .44-cal. Dragoon and the less-powerful .31-cal. Pocket Models. The well-balanced .36-cal. '51 Navy packed an impressive punch and was a favorite of such diverse pistoleros as "Wild Bill" Hickok and Frank James.
With its plow-handle grip, 7½" octagon barrel, case-hardened hammer, rammer and frame, and six-shot cylinder roll-marked with William Ormsby's engraving of the Texas Navy's victorious May 16, 1843, Battle of Campeche, the '51 Navy was the second most popular revolver of the Civil War (only slightly behind the 1860 Army). It also played a major role in the post-war western expansion and saw use well into the cartridge era.
Not surprisingly, the late Val Forgett, Jr., chose this gun to replicate when he started Navy Arms Company in 1956. Working with Aldo Uberti in Italy, he selected the Third Model Navy, with its round trigger guard. Soon other companies were copying the '51 Navy-but not Colt. Finally, in 1971 Colt began buying Uberti parts from Forgett to produce the first run of 2nd Generation Colt Navys in the Hartford plant. These slightly undersized guns, featuring early square-backed trigger guards and authentic Colt stampings, were made until 1973.
From 1974 to 1976 Colt obtained parts from one of its distributors, Lou Imperato. These re-issues (as Colts they aren't really replicas) are known as C Series guns. From 1979 to 1982, Imperato made the entire gun in his New Jersey factory as "The Authentic Colt Blackpowder Series." Using Italian parts, finished and assembled in the United States with Colt performing final inspection, these guns are known as the F Series.
From 1994 to 2002, 3rd Generation Colt-licensed '51 Navys were made by Imperato's renamed Colt Blackpowder Arms Co. Imperato's son, Anthony, was involved with producing the finest Navys yet, the Signature Series, featuring Sam Colt's signature on the nickel-plated backstrap. Using Italian parts, all finishing and fitting was done in the United States by CBAC.
The 3rd Generation Signature Series gun shown here has never been fired. Unfortunately, the original cardboard box with foam insert is missing. Nonetheless, it is worth $650-$800, its value being in its cachet as an authentic Colt. Thus, it is substantially more valuable than a non-Colt replica of the same gun in similar condition.