posted on December 29, 2014
Support NRA American Rifleman
DONATE
Gun: Colt Frontier Scout, "Q" Series (second year of manufacture; note: the "Q" was discontinued because it looked like a zero in the serial number)
Caliber: .22 Long Rifle
Serial No: 15XXXQ
Manufactured: 1958 (second year of manufacture)
Condition: 85 percent-NRA Very Good (Modern Gun Standards)
Value: $450 to $550 (Add $75 to $125 for original box and papers)Colt was late getting out of the starting gate in 1957 when it introduced its Frontier Scout .22, a scaled-down version of its Single Action Army. Ruger was already in the lead with its Single-Six, which had been launched in 1953. But, with the television Western craze sweeping the country, Colt quickly caught up at a full gallop.
Advertisements for the Frontier Scout appeared months before the gun was out, spurring demand. "Here's Big News!" the headline proclaimed, "a .22 caliber version of the world-famous Single Action Army … [with] the same classic lines … fundamentally the same foolproof action, and though lighter … the same superb balance and feel." The ad also touted the Scout's "full formed" loading gate, a subtle dig at Ruger's early flat gate Single-Six. Moreover, the Frontier Scout was a genuine Colt, which made it the hands-down choice for Western devotees and fast-draw aficionados on a budget; compared to the $57.50 price of the Single-Six, the Frontier Scout was only $49.50.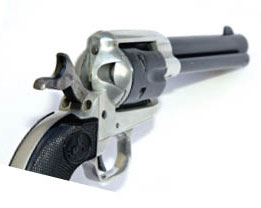 Initially the Frontier Scout was offered with an aluminum alloy, die-cast frame and one-piece backstrap and trigger guard; the rest of the gun was blued steel, a combination Colt called "duo-tone finish." Grips were black-checkered composition. Walnut became an option in 1958. Although the Frontier Scout's 45⁄8" barrel gave it the appearance of a 5½"-barreled Model P, internally the gun was completely different. The simplified action used only two screws, and the firing pin was inset into the frame. With barrels made on Colt Python machinery, accuracy was superb.
Through the years numerous variations were produced, which collectors categorize by serial number letter suffixes. The "Q" series encompassed the first two years, which then changed to a "P." An "F" series lasted until 1971, when the two-tone was discontinued. The "K" series had a Zamak (zinc-aluminum) frame; the "P" series from 1962-1971 featured a chemical "blue" finish. A final "G" series "Peacemaker" sported a case-colored frame. Commemoratives, dual-cylinder .22 Magnums, and a 9½"-barreled Buntline were made before the gun was discontinued in 1986.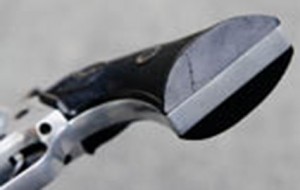 This 85-percent-condition 1958 Frontier Scout has a small crack on the stock but minimal holster wear. The forward position of the trigger hints at some mechanical tweaking needed, but the bore is pristine and timing is perfect. It recently sold at a Lock, Stock & Barrel on-line auction (lsbauctions.com) for $450, but the range for a gun in this condition is $450 to $550.