by
posted on March 12, 2023
Support NRA American Rifleman
DONATE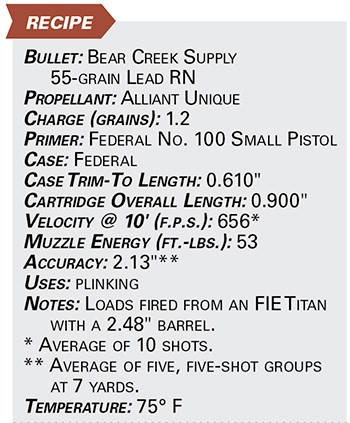 Pistols chambered for the miniscule .25 ACP were often carried as backup firearms, as was the case with one belonging to Edward Obarowski, Sr., during his time with the New York Police Dept. After his son and my longtime friend, Ed, inherited it, we scoured shelves for whatever ammunition we could find and came up with just one solemn box. Thus, those wishing to shoot more than occasionally with .25 ACP-chambered guns will find it beneficial to handload.
As minimal equipment is required to make this load, I recommend cost-effective Lee Precision dies. These sets include the required shell holder and can be set up to either taper or roll crimp. Bear Creek Shooting Supply specializes in obsolete projectiles and makes 55-grain lead-round-nose bullets for the little cartridge. Using Federal brass and Federal No. 100 Small Pistol primers, a light, 1.2-grain charge of Alliant Unique is all that it takes to achieve reliable cycling with a load that is an absolute joy to shoot. I seat my bullets about as far as they can go before the bearing surface falls below the case mouth, leaving me with an overall length of 0.900". These rounds do not need much crimp to function properly, as I use just enough to remove the belling that is required to start the bullet without shaving any of the lead off. Using Ed's classic FIE Titan as our test pistol, this load gave us an average velocity of 656 f.p.s., with just 56 f.p.s. of extreme spread and a standard deviation of 25. Accuracy isn't too shabby either, as many groups are inside of 2" at 7 yards, which is outstanding for such a small pistol with nearly nonexistent sights.
Loading for a family heirloom is always a rewarding experience, especially since this was the first centerfire pistol that Ed learned to shoot some 30 years ago in the basement range of a Brooklyn police precinct. Special thanks to him for loaning it to us and, of course, to Ed Sr. for his 21 years of service.