Support NRA American Rifleman
DONATE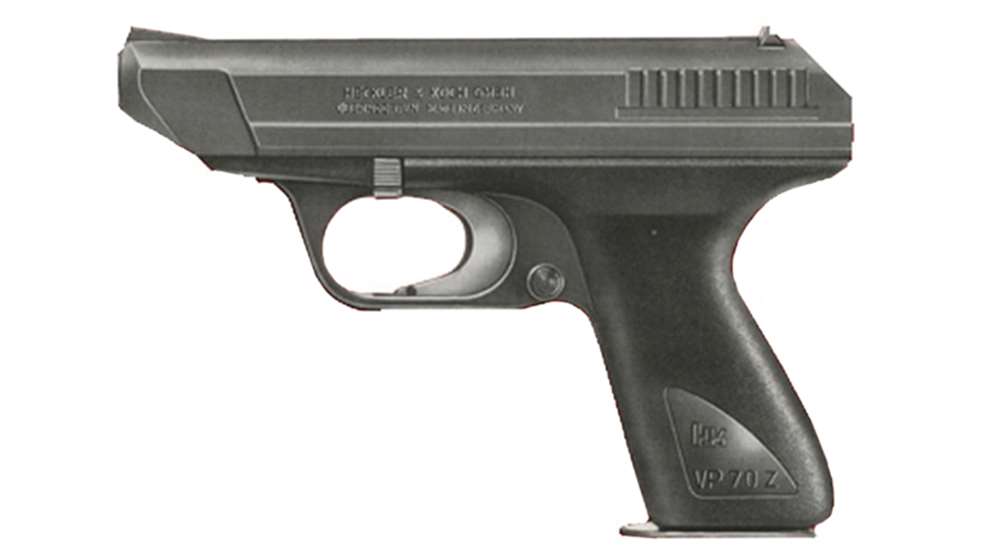 Sometimes, vital information is left on the cutting room floor. In the interest of time, our recent video on the new Heckler & Koch VP9 left out me waxing eloquently on the virtues of the H&K VP 70 and P7 pistols-which were earlier striker-fired guns from the Oberndorf gunmaker. The just released VP9 is the first striker-fired gun from H&K in recent years. The USP, P2000 and P30 family, of course, are hammer guns.
While Glock gets the credit for popularizing polymer-framed handguns, H&K was actually first. The Glock was introduced in 1983 by Glock GmbH, some 13 years after Germany's Heckler & Koch brought out the revolutionary VP 70 Vollautomatischepistole (volume or full-automatic pistol). The blowback-operated 9 mm Luger VP 70 employed a fixed 4½" barrel, and it was ahead of its time in a number of ways. It was a double-action-only striker-fired design that initially had no manual safety (although the option was added later) that employed a polymer lower frame and a heavy Parkerized steel slide. It was fed by an 18-round-capacity detachable steel box magazine released by catch on the base of the frame. It was a selective-fire design that could fire semi-automatic or three-round bursts at a cyclic rate of 2,200 rounds per minute once its polymer shoulder stock/holster was attached.
The selective-fire design was re-designated the VP 70M (for Militar), and a semi-automatic-only version dubbed the VP 70Z (for Zivil) was introduced for commercial sale. When American Rifleman tested the VP 70Z (March 1980, p. 62), we found the 40 1/2 oz. (fully loaded) pistol pointed well, but its 14 ½-lb. trigger pull made it extremely difficult to shoot accurately, with the staffer commenting, "As with all double-action pistols, practice is required to obtain proficiency."
As innovative as it was, the VP 70M found little success with only a few nations adopting the design, and sales of the VP 70Z to consumers and police agencies was limited. Sources give contradictory dates for the end of production ranging from 1984 to 1989.
I've fired both the full-automatic VP 70M and the semi-automatic VP 70Z, and was well familiar with the design as well as its date of introduction. And, as a proud owner of a surplus West German police P7 M8, I knew full well that both the designs are striker-fired. Doh.