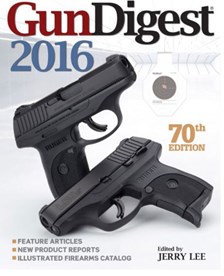 My editor of several years past is
Jerry Lee
, a guy who is equally adept with a gun as he is with the editorial blue pencil. He's now at the helm of the classic gun annual,
Gun Digest
. Just this summer, he got the 2016 edition into your local book store and I have to reflect that this series
got its start in 1944
. A couple of years got skipped in the 1940s, but there have been 70 editions printed. Not surprisingly, they grow brighter, thicker and more valuable every year. The original concept for the book called for a selection of well-written articles on a variety of topics, a roundup of what's new in shotguns, handguns, etc. and a compact catalog of the major makers. Since the book has become an annual milestone for most of us, it's a pleasure to report that they are still doing it pretty much the same way.
Naturally, I turned to the handgun stuff first and found plenty to read.
Rick Hacker
has one of those sweet nostalgia pieces on finding the perfect single-action revolver. We also have rifle work from the likes of Wayne Van Zwoll on elk cartridges and my favorite rifle guy, Jon Sundra, on 7 mms. There's a neat article from Holt Bodinson on those lovingly crafted American Longrifles ... in use. It seems like an exceedingly well chosen array of top-notch writing and many nights of quiet reading enjoyment in front of my newly installed fireplace.
However, there are two pieces that run neck-and-neck in my taste for the annual John Amber prize. Both are handgun pieces and both are written by men I know and respect. Charley Petty shares my enthusiasm for handguns worked over by the skilled pistolsmiths at
King Gunsight company
back in Bullseye's Golden Age. He gets pretty deeply into the subject and delivers a very detailed commentary, including pictures of a Colt .25 auto with King sights.
Garry James
used to have the office next to mine at
Guns & Ammo
in Hollywood. One day, I noticed he had a new painting on the wall of his office and it seemed oddly familiar. Turns out that it was an oil of Henry Fonda as U.S. Cavalry Colonel Owen Thursday. It was behind John Wayne's desk in the final scene of
"Fort Apache."
Garry is well-connected in Hollywood and that portrait is the original. His story is about a rare Webley revolver used in a pre-war film about the RCMP. He tracked that gun through much of its working life at Stembridge and can document every film in which it appeared.
All stuff that makes the grand old book as grand as ever.