Support NRA American Rifleman
DONATE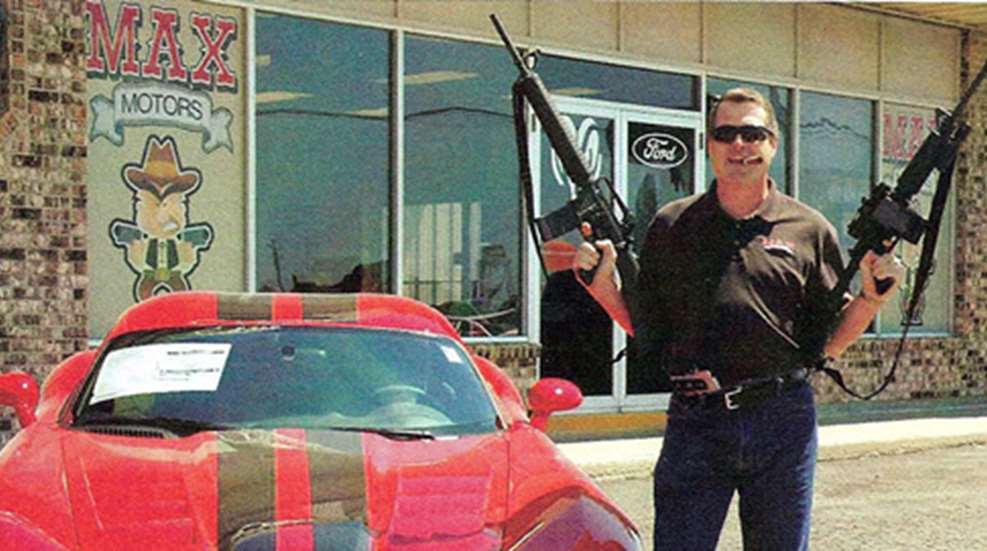 Mark Muller likes to live large, celebrating God, guns and his country every chance he gets. This married father of three has always touted his loud mouth and ardent patriotism as two of his best qualities, and of late, he has been showing them off in a rather unconventional fashion.
By now you've probably heard of it--buy a truck and get an AK-47.
That's right, if you purchase a new truck from Max Motors in Butler, Mo., during August, you'll also get a voucher for the purchase of a new gun.
For Muller, who has been in the auto industry for 32 years and is now president of the company, this promotion is more than just a marketing ploy; it's a way to stand up for what he believes in.
"The problem is that some people are just ignorant," he said. "I don't mean ignorant in a mean way or a bad way, they're ignorant to the ways of guns. Especially the ways of people who are gun lovers like myself who live in the Midwest."
Press him more about his beliefs and he'll come back with the mantra "God, Guns and Guts," which is emblazoned on the front of the motor company's brochure. There is no doubt that with this deal he'll be championing all three.
Sure, this marketing strategy coupled with Muller's never-back-down personality has led to more than a few gripes from the anti-gun crowd, but all the better for Max Motors.
"I'm shamelessly trying to promote Max Motors," he said. "But at the same time you use a word like 'AK-47' and the knee-jerk liberals go nuts over it. People in the media don't have a clue.
"The certificate must be presented to a federal firearms dealer when choosing a gun. All federal and state requirements must be met before issuance of a gun. Now what the hell's wrong with that?"
In fact, despite the grandstanding of the anti-gunners, the voucher doesn't have to be used to purchase a firearm. The gift certificates Muller will be handing out state the following:
$450.00 toward the purchase of an AK-47 or other product of comparable value such as gas, tires, TV: you choose. Certificate must be presented to a Federal Firearms Dealer when choosing a gun. All federal/state requirements must be met before issuance of gun.
But the attention and outrage continues to flood in, and Muller continues to sell cars.
The Max Motors Web site had nearly a million views following Muller's national television appearance last week and his phones haven't stop ringing. The company is expecting to sell at least a hundred units beyond normal sales volume for the month.
Not too bad for a small-town auto dealer who is a Life member of the National Rifle Association and would rather go hunting than make an appearance on CNN. Travel to the small town of Butler or the Muller family's 1,250-acre cattle ranch and you'll find many more like him.
"I know all the police here in town, and they happen to agree with me," he said. "I've never had one tell me they disagree. They're driving by, giving me thumbs-up. I've got hundreds of e-mails from people in the military and law enforcement telling me 'Good job, we agree with you 100 percent.' And I don't understand how anyone could possibly question our Second Amendment right to defend ourselves. It's so insane and absurd."
In the end, by selling cars and standing up for the Second Amendment, Muller has caught the world's attention.
"The Russians are going be here in the morning," he said. "God's honest truth, talked to Moscow yesterday. The BBC is going to be here at the same time. News cameras are all over the place, I'm doing a couple interviews an hour. It's crazy."