One of the tools most commonly found in every-day carry sets around the world is the not-so-humble folding knife. Whether you are looking for a gentleman's folder, a heavy duty utility knife or a tactical blade to back up your concealed-carry pistol, there's a quality folding knife out there that can get the job done.
This year I waded into an ocean of options and found a variety of practical and tactical folders with which to work. The prices are much more reasonable than one might expect considering the features these knives provide. Remember that some of the models shown here may be restricted by state, county or city regulations in the places where you live and work. Be sure to verify which folding blade lengths, blade styles and mechanisms are legal to own and carry in your area before making any purchases.
Bear & Son Cutlery Bear OPS Bold Action V


Bear & Son Cutlery is one of those rare knife companies that conduct all of the production work in-house instead of assembling components outsourced from third-party vendors. This work includes building the blanking dies, heat treating, grinding, assembly, and hand finishing their products to ensure a high level of quality.
The Bear OPS Bold Action V is a push-button automatic knife with a safety slide to secure the blade in the closed or open position. The 3.125" tanto style blade is constructed of Sanvick 14C28N steel with a matte-black finish and a stainless steel pivot pin. The handle features lightly textured black and green G10 scales, steel liners, a reversible pocket clip and a lanyard hole. Bear OPS Bold Action V (AC-500-B4-B): 3.125" Blade, 7.50" Overall, 4.0 oz., MSRP $154.99
Browning Black Label Wihongi Folders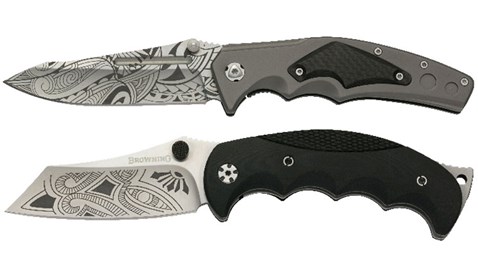 New for 2017, Browning has teamed up with edged-weapon expert Jared Wihongi to release a series of signature tactical knives, including the two folding models shown here. Both knives have hollow-ground 7Cr17MoV stainless steel blades hardened to 56-58 Rockwell with artistically applied Maori motif etching. Other shared features include stainless steel screws and supports, bi-lateral assisted opening thumb studs, jimping at the base of the blade for improved control and removable Browning logo pocket clips.
The general-purpose Attachment Folder frame lock (Top) has a 3.75" clip point blade with blood grooves. The aircraft-grade aluminum frame has a titanium finish, a handguard and a choice of three interchangeable G10 and carbon fiber logo inserts that fit into the left side of the grip. The combat Signature Folder (bottom) offers a 3.60" deep-draft reverse tanto blade profile. The handle consists of full-length G10 scales with stainless steel liners and a decorative pivot pin. The back of the handle is comfortably curved with deep finger grooves along the front. The extended lanyard eyelet can be used as a striking surface or submission tool.
Attachment Folder (0198-BL): 3.75" Blade, 8.75" Overall, 6.8 oz., MSRP $39.99
Signature Folder (0196-BL): 3.60" Blade, 8.75" Overall, 7 oz., MSRP $39.99
Colonial Knife Company Outdoor Automatics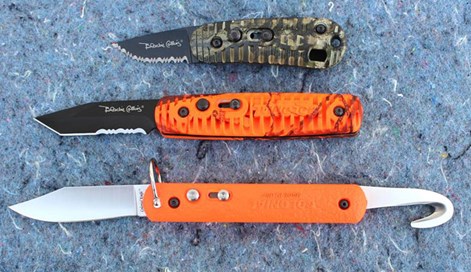 Although some folks may consider automatic knives as strictly urban and tactical tools, Colonial Knife Company (CKC) offers a series of convenient, purpose-built automatics designed to tackle the challenges that crop up when working or playing in the great outdoors. All three of the American-made knives shown here feature a coil spring opening mechanism, right handed push-button activation with sliding safeties, light-weight textured polymer frames and a lifetime warranty.
The Keychain Guides' Knife (top) is the result of collaboration between CKC, Cutlery Hall-of-Famer Walter "Blackie" Collins, Adam Smith of the Rhode Island School of Design and the science lab at Brown University. The goal was to produce a light, compact automatic for climbers and outdoorsmen that could weather the abuse and neglect little knives tend to suffer in the field. The 1.75" blade is deeply serrated to make quick work of ropes, cords and, in a pinch, climbing harnesses. The rounded, textured synthetic handle is made of the same tough material used to manufacture hard hats, power tool casings and snow board bindings. Along with the removable pocket clip and lanyard hole, an oxygen tank key is molded into the handle.
The Model 114 every-day carry (E.D.C.) switchblade (Center) features a contemporary 3.00" ATS-34 stainless steel tanto-style blade designed by Blackie Colins. Weighing in at 2.2 oz., this knife's orange camouflage polymer handle features a removable pocket clip, lanyard hole and a non-slip ribbed texture. Non reflective black (shown) or satin finish blades are available.
The knife that launched the CKC Auto Series was originally designated the M-724 auto rescue (bottom). It's currently issued for use in all military aircraft ejection seat survival kits. While the primary purpose of this knife is to help the downed pilots get out of dangerous situations, sportsmen will appreciate its feathery 2.7 oz. weight, 3.00" clip point stainless steel blade, cord cutter and lanyard loop. This model is available in five colors including Rescue Orange (shown) and Mossy Oak Green.
Keychain Guides' Knife (Model 102): 1.75" Blade, 5.125" Overall, 1.8 oz., MSRP $90
Blackie Collins E.D.C. Switchblade (Model 114 ): 3.00" Blade, 7.00" Overall, 2.2 oz., MSRP $99.99
M-724 Series Paratrooper (5110-00-526-8740): 3.00" Blade, 7.50" Overall, 2.7 oz., MSRP $90
First Tactical Folders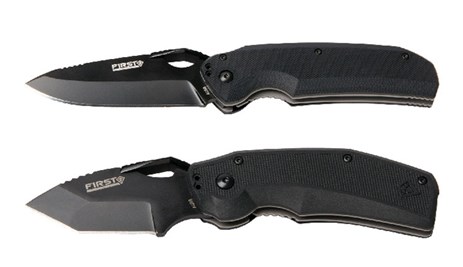 For those men and women who wear a law enforcement or military uniform to work, First Tactical offers a variety of clothing, bags, foot wear and accessories including a series of six liner-lock folders with price tags starting at less than $30.
All of the First Tactical knives in this series are fitted with AUS8 stainless steel blades treated with a matte black finish and fitted with a polymer thumb bridge for easy one-hand deployment. The turned stainless steel pocket clips are mounted in between the grip scale and stainless steel liner instead of directly to the scale for added strength and reliability. The scales provide an enhanced pull-textured surface for improved purchase. At the base of the handle is a removable, dagger-shaped 2.00" polymer utility pick for those grubby little jobs that would dull the edge of the blade like scraping mud out of the treads of a pair of boots.
The Diamondback Spear Point (Top) is made with a wider 3.43" blade and handle for added control of the all-around working blade. An extra thick liner lock secures the blade. This knife's scales are made from rugged but lightweight G10. The compact Viper Tanto (Bottom) is fitted with a wide 2.56" blade with FRN polymer scales.
Diamondback Spear Point (140006) 3.43" Blade, 8.00"Overall, 5.5 oz., $64.99
Viper Tanto (140002) 2.56" Blade, 6.48"Overall, 4.1 oz., MSRP $29.99
Hoffner Knives' Creed


Defensive knife trainer Brian Hoffner is now offering a beefed-up version of his proprietary liner-lock defensive folder called the Creed for military, law enforcement and concealed-carry applications. The 3.50" long, 3/16" thick D2 stainless steel multi-grind blade has a convex-grind tip for added strength and a sharp hollow-ground edge. The knife opens easily thanks to a flipper paired with a ball-bearing movement. The stainless steel liners support the customer's choice of Flatline G10, Chiseled G10 (shown) or carbon fiber scales. When the blade is closed, the heavily textured knife handle is shaped for use as a blunt force instrument and compliance tool. The pocket clip can be mounted on the left or right side for ambidextrous use.           
Creed: 3.50" Blade, 8.5"Overall, 7.6 oz., MSRP $179 - $219
 CRKT's Ruger Folders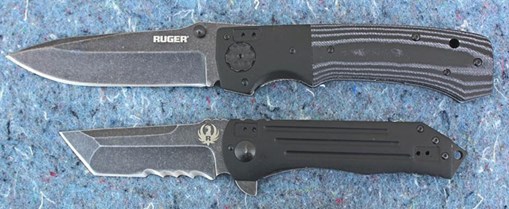 First introduced in 2015, Columbia River Knife & Tool (CRKT) has teamed up with Sturm, Ruger & Co. to offer a unique series of officially licensed fixed blade and folding gun themed knives. Here are two of the largest folders in the catalog.
Designed by Bill Harsey in Creswell, Ore., the new-for-2017 liner lock All Cylinders +P (top) sports an impressive 5.00" 8Cr14MoV stainless-steel drop-point blade with a black stonewashed finish, bilateral thumb studs and 1.5" of jimping at the base of the blade's spine. The black stonewashed stainless steel liners support front bolsters made of matte black 6061 T6 aluminum with black and grey Micarta scales completing the gripping surface. The reversible pocket clip rests next to the 6-shot revolver shaped pivot pin with a lanyard hole at the base of the handle.
The 2-Stage frame lock is a tough, tactical tool constructed wholly of stainless steel and hard anodized aluminum. Designed by Robert Carter of Hillister, Texas, this knife is available with either a partially serrated (shown) or plain edge 4.00" stonewashed 8Cr13MoV stainless steel tanto blade. The left side of the frame is grooved black aluminum with the right side panel made of stainless steel. The lock on this knife is the thickest (0.15") I've ever seen on a folding knife. Other features include an assisted opening flipper, adjustable hex-head pivot pin, lanyard loop and a 4-position belt clip.
These knives, and others in this series, ship with a lifetime warranty and are available for purchase at shopruger.com or crkt.com.
All-Cylinders +P (18645 - R2003K) 5.00" Blade, 11.25"Overall, 11.7oz., MSRP $99.99     
2-Stage (18636 - R2101K) 4.00" Blade, 9.25"Overall, 7.9oz., MSRP $79.99
SOG Knife & Tool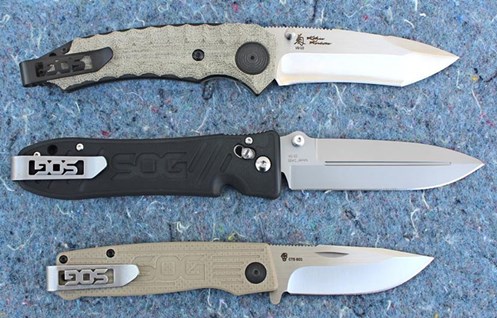 Founded 25 years ago by Spencer Frazer, today's SOG Knife & Tool offers a wide variety of knives, multi-tools and flashlights for everyone from the urban go-getter to nature fans. Here is just a small sample of the folders the company has to offer. The models shown here are new for 2017.
SOG worked in partnership with Kiku Matsuda, one of the foremost tactical knife designers and blade grinders in Japan, to produce the elegant and functional KiKu Assisted folder (top). The 3.50" VG-10 stainless-steel blade showcases Matsuda's distinctive trademark blade grinds. The mechanism is a quick to open SAT spring-assisted design that employs bi-lateral thumb studs. The blade is closed using a lockable push-button release located on the left side of the handle. The handle is constructed using full-length stainless steel liners with linen Micarta slabs that are rugged and easy to clean. This well balanced workhorse also features a reversible pocket clip and lanyard hole.        
The slim profile, lightweight Pent Arc folder (center) is purpose-built for defensive carry, military and law enforcement applications. The 4.0" spear point VG-10 blade has a low glare bead blasted finish, bilateral thumb studs and employs SOG's Arc-Lock mechanism. The Arc-Lock not only provides smooth operation for one-handed opening and closing, it is also one of the strongest locks available. The black GRN handle is lightly textured with full-length stainless steel liners, a reversible pocket clip and lanyard hole .
The Terminus (bottom) is an all-purpose gentleman's folder with a slip joint and nail nick for opening the 3.00" BD1 stainless steel clip point blade which makes it legal to carry in more places around the United States. The small guard on the blade prevents accidental closure of the blade on fingers and 1.00" of jimping along the base of the spine provides added control. The slim profile of the steel-lined G10 scales makes this knife comfortable to carry with or without the reversible pocket clip.
KiKu Assisted (KU-3001): 3.50" Blade, 8.10"Overall, 5.6 oz., MSRP $174
Pent Arc (PE15-BX): 4.00" Blade, 8.75"Overall, 4.2 oz., MSRP $160
Terminus (TM1001-BX): 3.00" Blade, 7.00"Overall, 2.9 oz., MSRP $67   
Steel Will Cutjack


Steel Will, a division of the American SMG Inc. company founded in 2008, offers high-quality fixed and folding knives for a variety of tasks. New for 2017, the Cutjack is a slim profile, multi-purpose folder for outdoor tasks and daily carry that weighs 3.8 oz. The 3.50" clip point blade is made of D2 stainless steel and features jimping near the joint of the handle and an assisted opening flipper that acts as a handguard. The textured FRN frame is just 0.45" thick and ensures a positive grip in all weather conditions. The liner lock, pivot pin, screws and reversible pocket clip are all constructed from polished stainless steel. This model is available with an OD green (shown) or black handle.
Cutjack (C22-1): 3.50" Blade, 8.00"Overall, 3.8 oz., MSRP $49.99