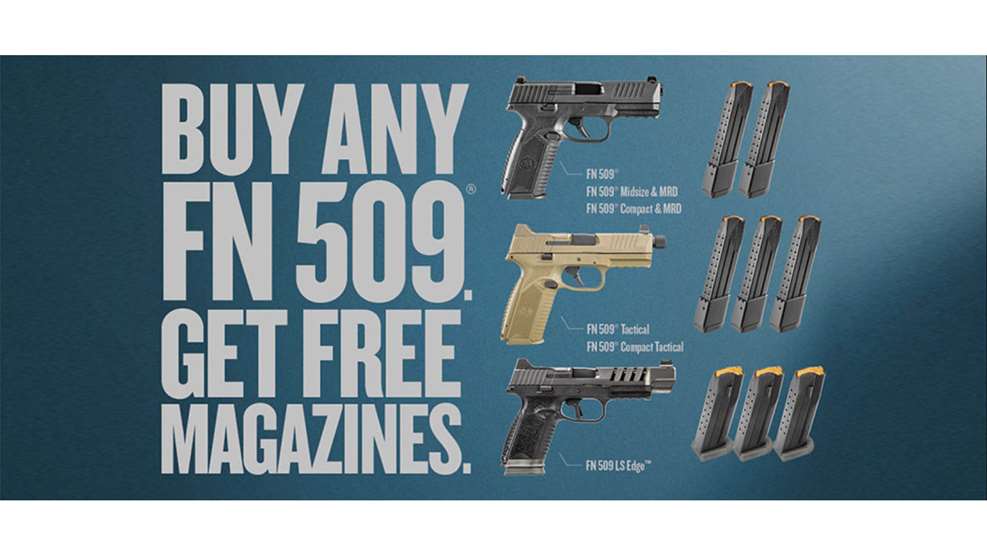 FN America has announced a FN 509 Free Magazines Promotion for all FN 509 models, valid on purchases made between March 1-April 30, 2022. Consumers who purchase a new FN 509 are eligible to receive either two or three magazines through this offer, depending on the model selected.
Qualifying purchases of any new FN 509 Standard or MRD model are eligible to redeem two, 24- or 10-round magazines. Purchases of new FN 509 Tactical models are eligible to redeem three, 24- or 10-round magazines and enthusiasts who take home any new FN 509 LS Edge qualify to receive three, 17- or 10-round FN 509 LS Edge magazines.
Full details on the promotion, and convenient links to for receive the magazines, are available on a company web page. The promotion includes some of the firm's most popular handguns.
The FN 509 LS Edge, for example, was introduced by FN America in 2021 and features a full-size frame, lengthened slide and 5" barrel with target crown. Its slide is also milled for the company's Low Profile Optics Mounting System and four plates are included with the handgun to make red-dot optic mounting headache-free.
Inspired by the U.S. Army's XM17 pistol trials, the FN 509 Tactical has a threaded, 4.5" barrel. The handgun wears all the features to meet military requirements and thrive through combat abuse—all the way to protecting the sights. "The 509 Tactical incorporates a relatively low-profile mounting surface for a mini red-dot sight," American Rifleman wrote in the gun's review. "When the iron sights are in use, a cover plate with unique built-in 'wings' protects the rear sight and provides a robust area for one-handed, emergency manipulation of the slide."
FN America, headquartered in Mclean, Va., is a subsidiary of Belgium-based FN Herstal, and provides U.S. military, law enforcement and civilians with a complete line of small-caliber firearms and ammunition. Its manufacturing operations are located in Columbia, SC.