by
posted on January 28, 2020
Support NRA American Rifleman
DONATE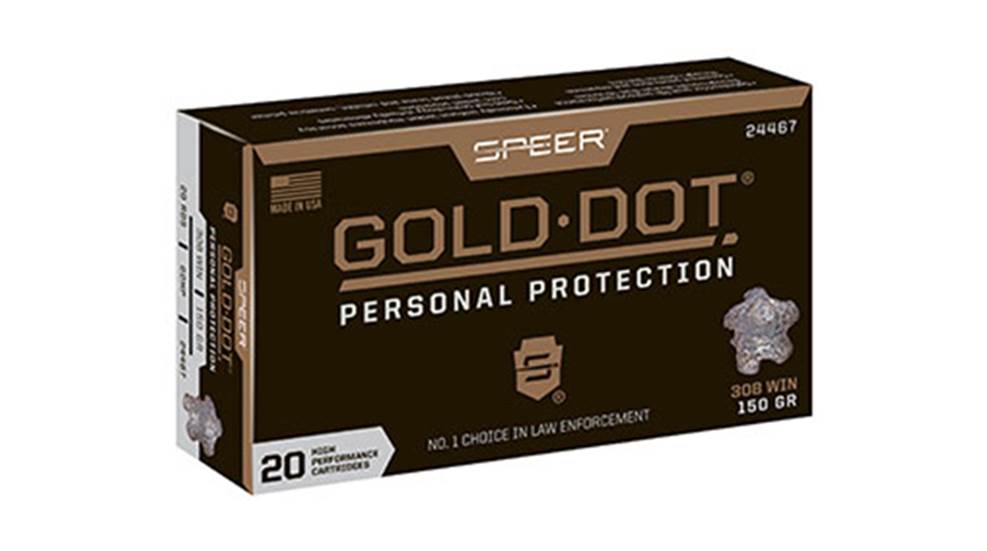 For 2020, Speer announced an expansion of its Gold Dot-loaded ammunition line to include Gold Dot Rifle Personal Protection ammunition. Featuring Speer's Uni-Cor bonded bullets, a proprietary manufacturing method designed to mitigate jacket separation, the new rounds allow for great accuracy and consistent performance, even when shooting through common barriers, like those used for the FBI ammunition tests. To start, three load options will be available in the following chamberings: .223 Rem., .308 Win. and 300 BLK.


This latest addition to the Speer Ammo lineup joins other offerings in the company's line of rifle rounds, but most of the ammunition initially offered by Speer came through its Law-Enforcement options. True, too, is the fact that many of the company's other rifle rounds weren't optimized for use in the short-barreled guns commonly seen on the market today. This is particularly important, as ammunition offered for use in short-barreled guns are loaded with low-flash propellant that prevents the vision impairment that comes with blinding muzzle flash in low-light environments.
Of course, the other critical element of ammunition used in short-barreled rifles is how projectiles perform at reduced muzzle velocities. Even when fired in barrels shorter than 16", Speer's Gold Dot Rifle ammunition is designed to meet FBI-protocol performance standards in terms of penetration. The rounds feature slick, nickel-plated cases that reduce friction and aid in feeding, and the bright nickel is more easily seen in low light when doing quick chamber checks to ensure the rifle's loaded. The rounds are also loaded with CCI primers and features uniform jackets that aid in accuracy.
Three different offerings are available for .223 Rem. rifles in the Speer Gold Dot Rifle lineup, offering 55-, 62-, and 75-gn. options. With the exception of the 75-gn. round, which retails for $26.99, the ammo retails for $25.99 per box of 20 rounds. Twenty-round boxes of 150-gn. 300 BLK retails for $30.99, and the 150-gn. .308 Win. load retails for $30.99 as well. To learn more, visit
speer-ammo.com
.