Support NRA American Rifleman
DONATE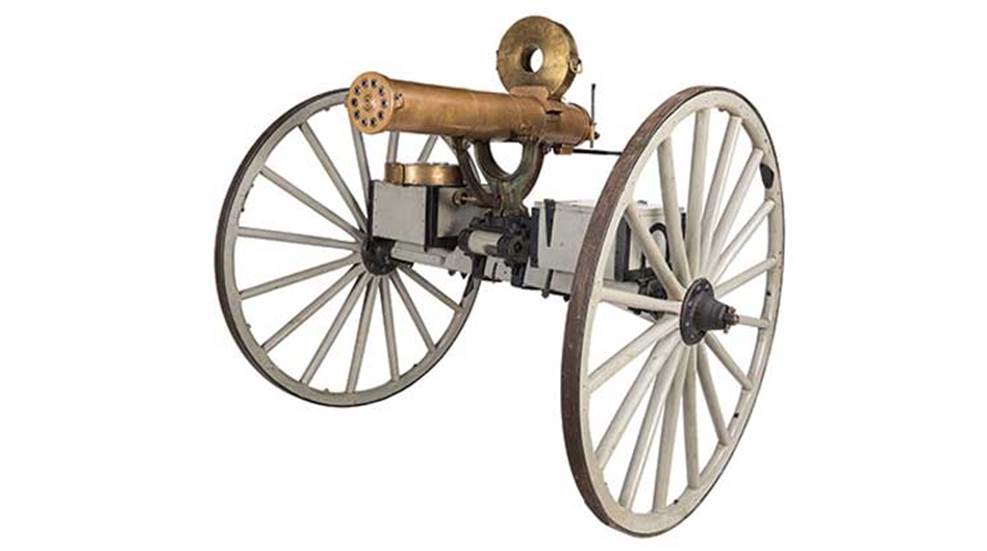 A Colt Model 1883 Gatling Gun, complete with original field carriage and two drum magazines, is one of the items up for bid when Rock Island Auction Company holds its Sept. 9-11 event. Just in case you don't know much about this amazing gun, here's a look from American Rifleman TV. It's the ultimate home-defense backup for someone's Single Action Army. 
Out of all the guns and memorabilia offered, though, Herman Goering's personalized Walther PPK is attracting the most attention. It's gold plated, engraved from front sight to hammer and has his monogram on one side of the grips with the family crest on the other. A matching ring and cuff links round out his BBQ-gun ensemble. Estimated value/price is from $1/4 million to $400,000. Rock Island Auction has been beating nearly all valuations this year, though, so I wouldn't be surprised to see it go much higher.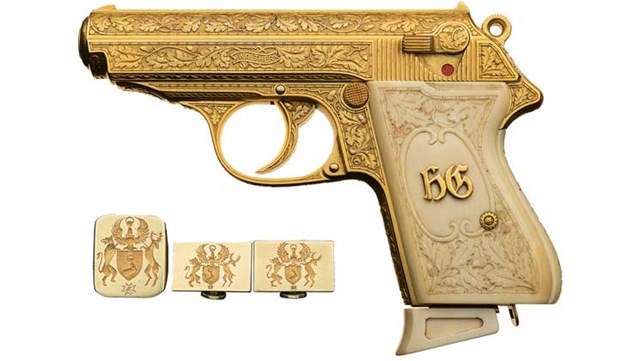 Not all of the bidding is expected to be in the stratosphere, which makes browsing the auction's catalog fun for monetary mortals like me. It includes 2,940 items, so liberal use of that search function is highly recommended if you're looking for a particular firearm.
For example, I don't own an M1, but would love to have a vintage World War II version in the safe. It's what my father carried in the Battle of the Bulge and he had nothing but glowing praise for the gun. I did a search, found one with a valuation of between $1,100 and $1,600, and it was made by International Harvester—the very same company that made the 1974 Scout II I should have never sold.
The catalog lists it as "mechanically excellent." I'd wouldn't expect anything less from a company that built everything to climb hills, slog through mud, savor the heat, run in the cold, plow fields and, in this case, pound precious-metal-stealing Nazis until they surrender.
It's not quite the age I wanted, but the price should be reasonable, assuming word doesn't leak out to the International Harvester Collectors Club.