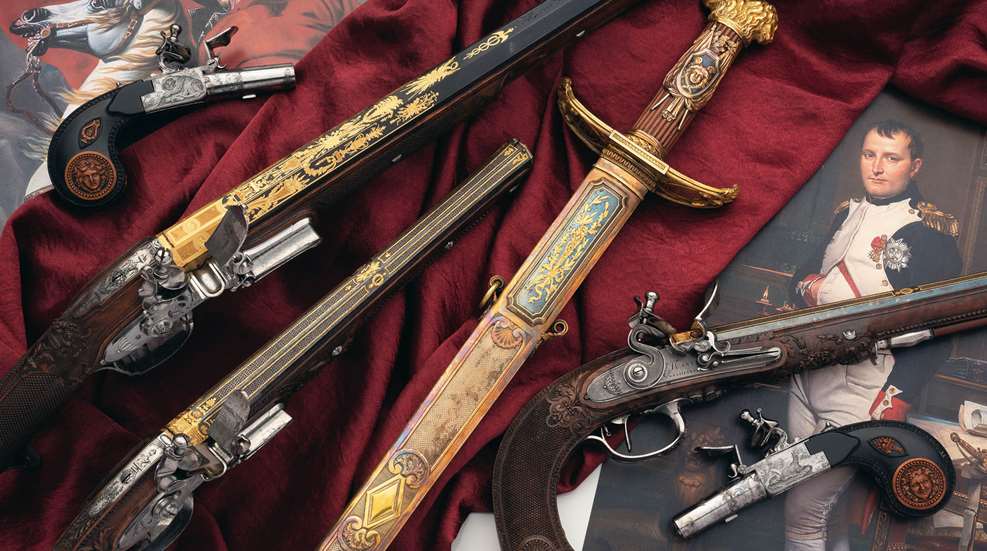 Rock Island Auction Company (RIAC) had annual sales of more than $121 million for the first time in company history in 2021. It also held the four largest firearm auctions ever—December 2020 ($22 million), May 2021 ($30 million), September 2021 ($24 million) and December 2021 ($25.2 million). Last year the company auctioned more than 30,000 firearms and drew bidders from 26 different countries, including all 50 states, as well as bidders from the Virgin Islands, Puerto Rico and Washington, D.C.  Additionally, two items sold for more than $1 million and Napoleon Garniture in December's Premier Auction led the way, coming in at $2,875,000.
"Every year we continue to see more people express interest in collecting historic firearms," said RIAC President Kevin Hogan. "People are seeing the value behind investing in a piece of history and are realizing that art doesn't just hang on the wall."
Items included in the Napoleon Garniture package included five firearms—a rifled carbine, pair of rifled carriage pistols, two pocket pistols—and sword with scabbard. They were first displayed in London in 1816, shortly after Napoleon's defeat at Waterloo. Gold encrusted, engraved and relief carved, the six-piece set is museum quality with a well-documented history.
Alexander Hamilton's pistols and epaulets fetched $1.15 million the gavel fell on bidding on May 14, 2021. As one of the founding fathers of the United States of America, he was presented with this pair of flintlock pistols by Gen. Philip Schuyler. They are .58-cal., with round 9" barrels, bright-blue finish and wear walnut stocks. Few of the firearms used by the nation's Founding Fathers during the Revolutionary War still exist, and this is the only pair in private hands RIAC has knowledge of. The epaulets are the set he wore while serving in the Continental Army commanded by Gen. George Washington.