Most of the media recognizes the perils our men and women who serve in our Armed Forces face in the global war on terror, but "other duties as assigned" often include relatively unreported humanitarian missions that can be nearly as dangerous—like earthquake-ravaged Nepal.
A United State Marine Corps helicopter—with six leathernecks aboard and two members of the Nepal military—is missing in a remote and rugged foothill region of the Himalayas. The crew was delivering tarps for shelter and rice to a pair of villages inaccessible by roads when it disappeared.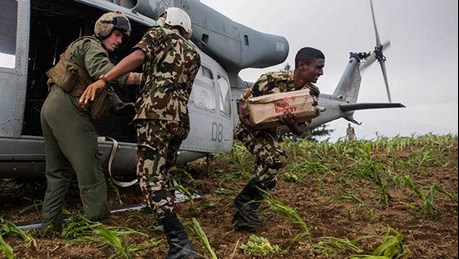 The news is two days old, but MSN.com and Reuters are reporting that searchers have yet to turn up a clue. Until now, the fact that U.S. Marine humanitarian aid to a nation that lost more than 8,000 people to last month's earthquake and ongoing aftershocks went largely unreported.
The stereotypical dusty and unshaven G.I. with an M4 working a checkpoint in the Sand Box sells papers, I guess, but life-threatening "other duties as assigned" apparently don't drive readership, until things go awry. Our men and women in uniform do this kind of work all the time, whether it's an earthquake on the ceiling of the world, or flooding in Mississippi. Thank you, one and all.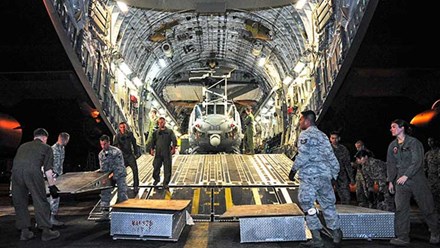 I spent a lot of hours with an older UH1 hovering above during my search and rescue stint, and in my experience it's a tough, although underpowered, old bird with a history of delivering a crew back to terra firma relatively unscathed when conditions are right. The area's rugged terrain and thick canopy could make auto-rotation dicey, at best, but we're dealing with Marine aviators and leathernecks.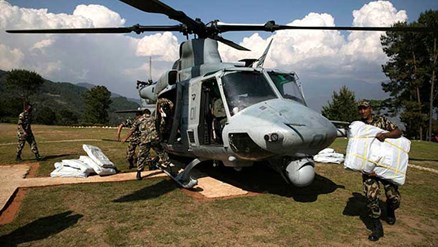 And, members of Air Force Pararescue (PJs) are now on the scene. These guys are, literally, the toughest mama jamas on the planet when it comes to delivering medical aid and plucking someone out of harm's way, regardless of the terrain, even if means fighting their way to a distant LZ. M/Sgt. William F. Sine, a former member of this elite group, wrote a good book about it called "Guardian Angel," and it includes many stories from the Sand Box. Their motto is, "That others may live."
I once saw a PJ dangling upside down from the bottom of a UH1 as it swept up a canyon in Arizona to pluck two girls stranded on a rock in rising floodwaters. Eight lives were already lost that day, and we weren't going to let the body count escalate to 10. The ropes we'd shot to the victims would have to be ditched when he made the "grab," but on the first pass he hit a tree, face first. The second pass his goggles were somewhere around his neck, sleeves torn and there was blood. His crazy captain—a Vietnam vet—was all smiles as he approached and threaded the canyon in the noisy bird. Two passes later, the teens were on dry land and all he said was, "Did you get a picture?" I was a little busy on the belay. The news crews were somewhere safe, I'm sure, and I have no doubt that unorthodox turtled flyby never made it into the official account. Once again, men and women in uniform doing good deed most will never notice.
Thoughts and prayers for the friends and family of those Leathernecks missing halfway across the globe on a humanitarian mission. They are Marines, though. If there's a way to survive, they will, especially when their air's thick with PJs who stop at nothing to chalk up another save.
(Department of Defense images)