by
posted on October 20, 2017
Support NRA American Rifleman
DONATE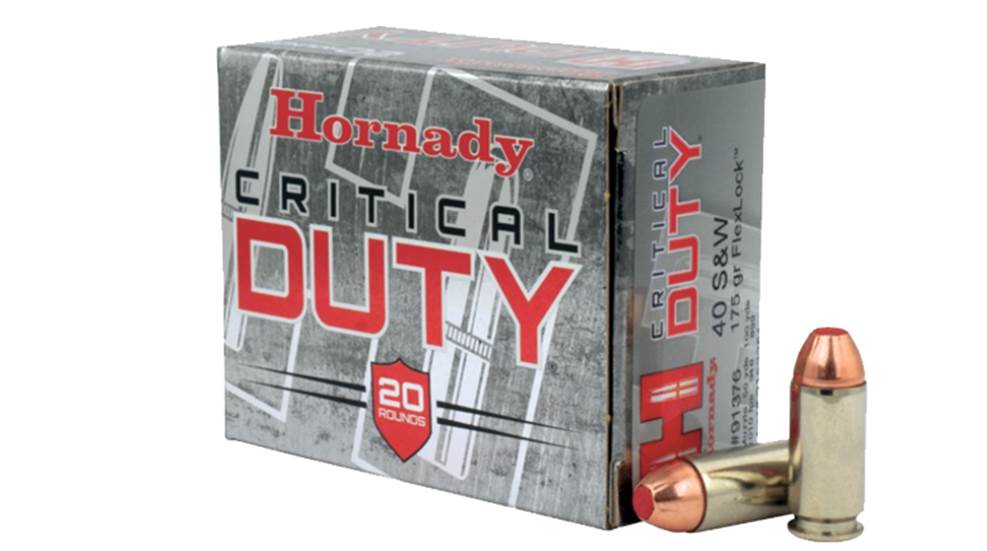 The FBI has chosen Hornady's Critical Duty 40 S&W 175 gr. Flexlock as its official ammunition. Introduced in 2011, the ammo was designed specifically for on-duty law enforcement and other tactical roles.
"Critical Duty ammunition is the culmination of many years of hard work, research and development and dedication," said Jason Hornady, vice president of Hornady Mfg. "We are thrilled to obtain this contract from our nation's highest law enforcement agency as it gives credence to the performance and reliability of this product."
One of the features that make this load desirable for law enforcement is a patented Flex Tip, which eliminates clogging and aids bullet expansion. Additionally, a large mechanical jacket-to-core InterLock band keeps the bullet and core from separating for maximum weight retention. In all FBI test barriers, the bullet offered excellent expansion, consistent penetration and terminal performance.
Other features that favored this cartridge over others include the bright nickel-plated cases, which simplify chamber checks in reduced light. The ammo uses low-flash, clean-burning propellants, which preserves night vision in low-light firing.
"At Hornady, we're honored to provide ammunition to the American heroes who put their lives on the line to protect us and our neighbors every day," said Steve Hornady, president of Hornady Mfg. Co. "This contract is an important part of our corporate history, and it's a distinct pleasure to fulfill this need for the FBI."
The agreement is for what is called an IDIQ—Fixed Price Indefinite Delivery/Indefinite Quantity. For more, visit Hornady.com.
Additional Reading:
Understanding Hornady's Critical Defense and Critical Duty Ammo