by
posted on March 23, 2023
Support NRA American Rifleman
DONATE
The name Elbert Hamilton Searle may not ring a bell with some firearm aficionados, but mention the word "Savage," and two of its most popular vintage guns immediately come to mind: the iconic Savage Model 99 lever-action rifle with its unique rotary magazine and the Savage Model 1907 semi-automatic pistol and its spin-offs, the Model 1915 (which was only made for two years) and the subsequent Model 1917, which remained in production until 1928.
Of the three Savage pistols, the Model 1907 is best known, due to its popularity on the civilian market as a .32 ACP and, to a lesser extent from 1913 until 1930, also chambered for .380 ACP. Its other claim to fame is the fact that the Savage Automatic Pistol, Model 1907, actually started out as a .45 ACP test gun that ended up as the finalist that lost out to the Colt M1911 during the U.S. Army trials of 1906-1911.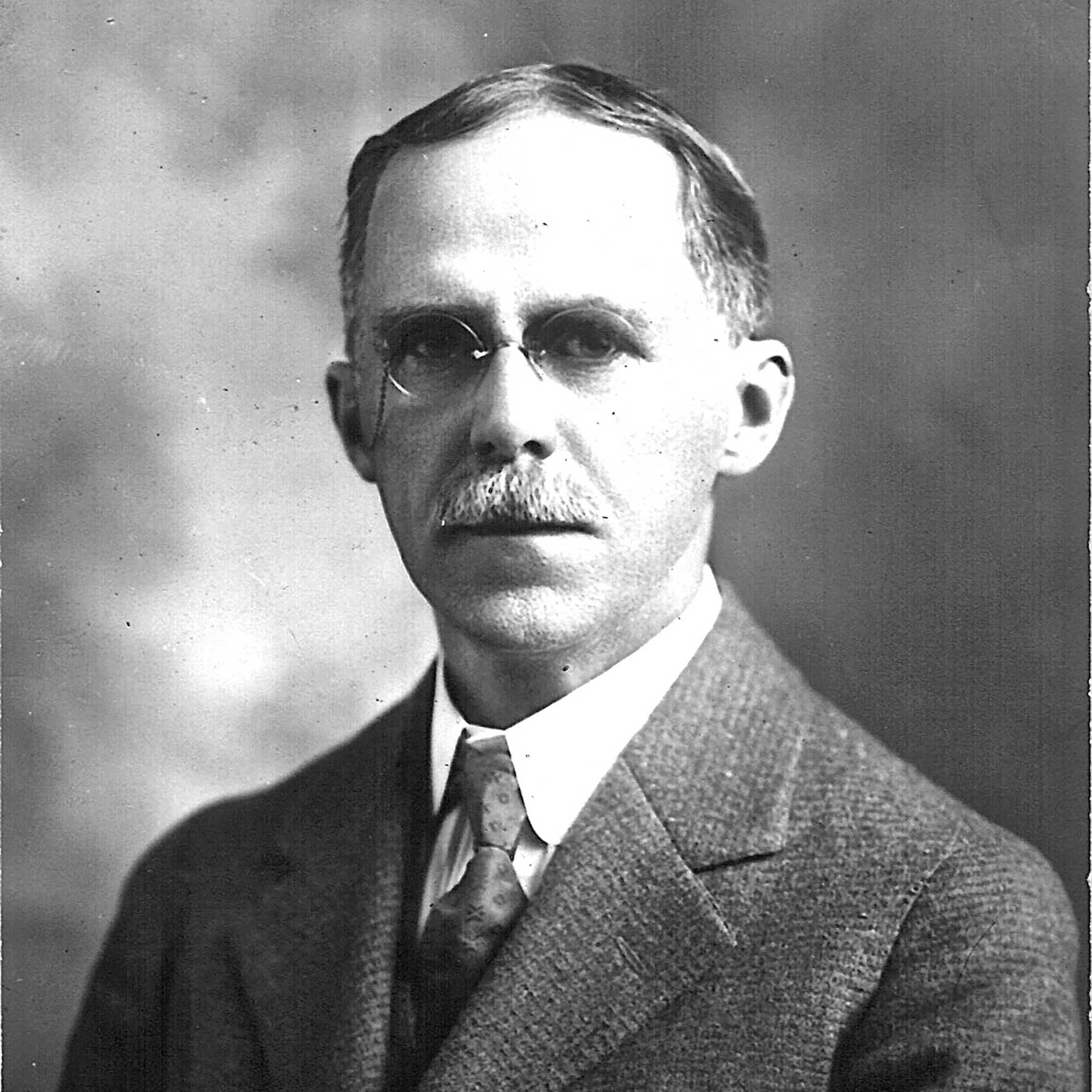 Elbert H. Searle, inventor of the Savage Models 1907, 1915 and 1917 semi-automatic pistols, as well as the never-produced Savage squeeze-cocker. Photo courtesy of the Searle family.
But unlike the Savage 99 rifle, which was conceived by the inventive mind of Arthur William Savage, the subsequent Savage semi-automatic pistols were the direct result of Elbert Hamilton Searle, a multi-faceted inventor who had his innovative concepts for a semi-automatic pistol turned into reality, thanks to the financial and managerial assistance of his employer and business partner, William Condit. It was Condit who brought Searle's pistol patents and designs to Savage, just as the Army was preparing for its trials. And the rest, as they say, is history. But not quite.
One of the many blueprints for the Savage-style squeeze-cocker pistol, discovered by Elbert Searle's grandson in his grandfather's old office. Photo courtesy of the Searle family.
According the Searle's two grandsons, "… evidence points to continuing independent design work for both the Savage Arms Company and the U.S. War Department ... beginning in 1916 and 1917 in Los Angeles, California, Searle designed a revolutionary semi-automatic pistol in .32 and .380 caliber. It was small, had a strikingly modern profile and allowed one-handed locking and unlocking of the magazine. More importantly, it featured one-handed cocking. These three functions were controlled by an action bolt accessible to the shooter's finger. The prototype for this pistol was possibly made in Los Angeles, but more likely back east between 1917 and 1918."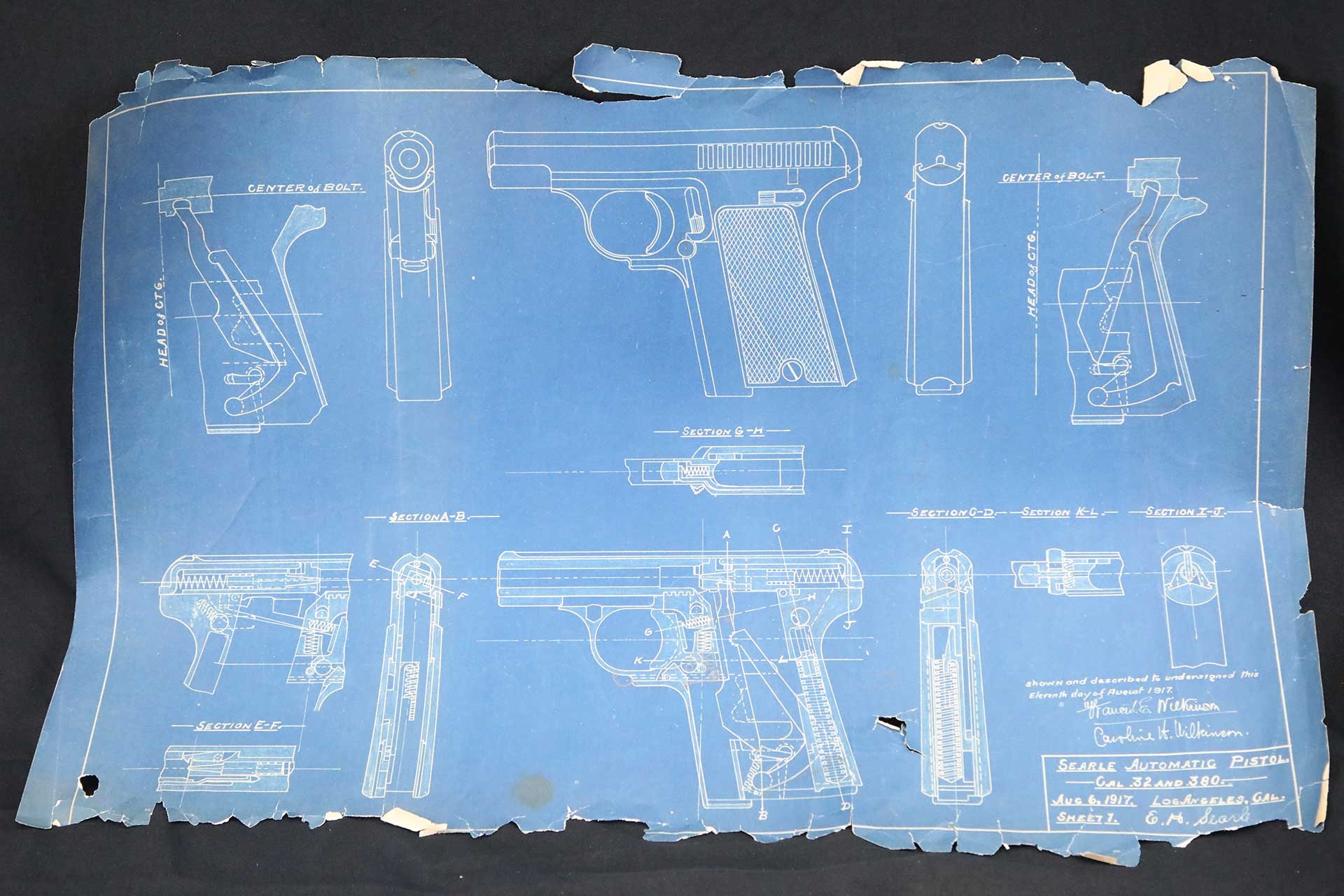 During this period, Searle was working for the War Department in Bridgeport, Conn., as well as in New York and Hartford, Conn., but also, according to his family, "working on something else." That "something else" was most likely a unique prototype squeeze-cocker semi-automatic .32 ACP pistol, as reflected in Searle's 1917 blueprints and his patents of July 1918 and 1919.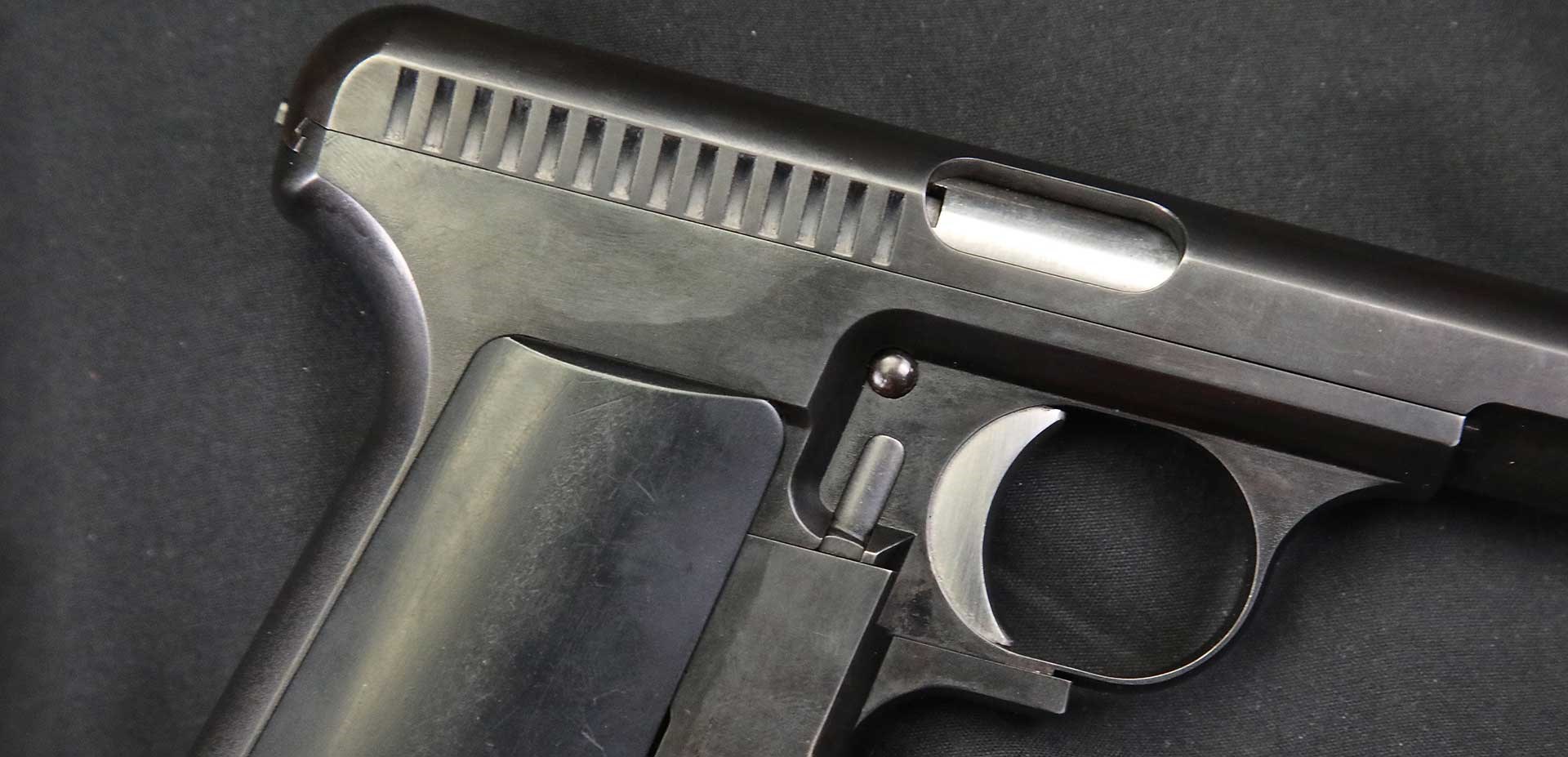 Close-up of the right-side latch, which controls both the magazine release and unlocks the squeeze mechanism to permit cocking of the gun. Photo courtesy of Lock, Stock & Barrel.
Interestingly, in his book, Savage Pistols, Baily Brower, Jr. notes that, in 1917, Searle was working with Arthur John Savage—Arthur W. Savage's son—on a .25-cal. squeeze-cocker pistol, but the newly formed secondary gun company that Savage and his father had started failed, and that gun was never produced. However, Searle was obviously contemplating a .32-cal. pistol based upon the same mechanism, one that could, no doubt, be scaled up to also handle the .380 ACP. Although that pistol also was never produced, Searle managed to build a single well-crafted and fully functional .32-cal. prototype.
The retracted slide, exposing the unique fluted barrel of the prototype. Photo courtesy of Lock, Stock & Barrel.
Basically lost to firearm history until now, this Savage-like pistol, complete with its original set of blueprints, was recently discovered by one of Searle's grandsons, who found it hidden under his grandfather's desk beneath a pile of papers while repainting his old office. The striker-fired semi-automatic pistol, complete with its eight-round magazine, is remarkably well-preserved. Fully blued and with no serial number, its design is faintly reminiscent of the Savage 1907, albeit slightly chunkier and grip-heavy, with a large steel cocking lever emanating from the front of the grip, somewhat akin to the Heckler & Koch P7 (but of course, pre-dating the H&K P7 by decades).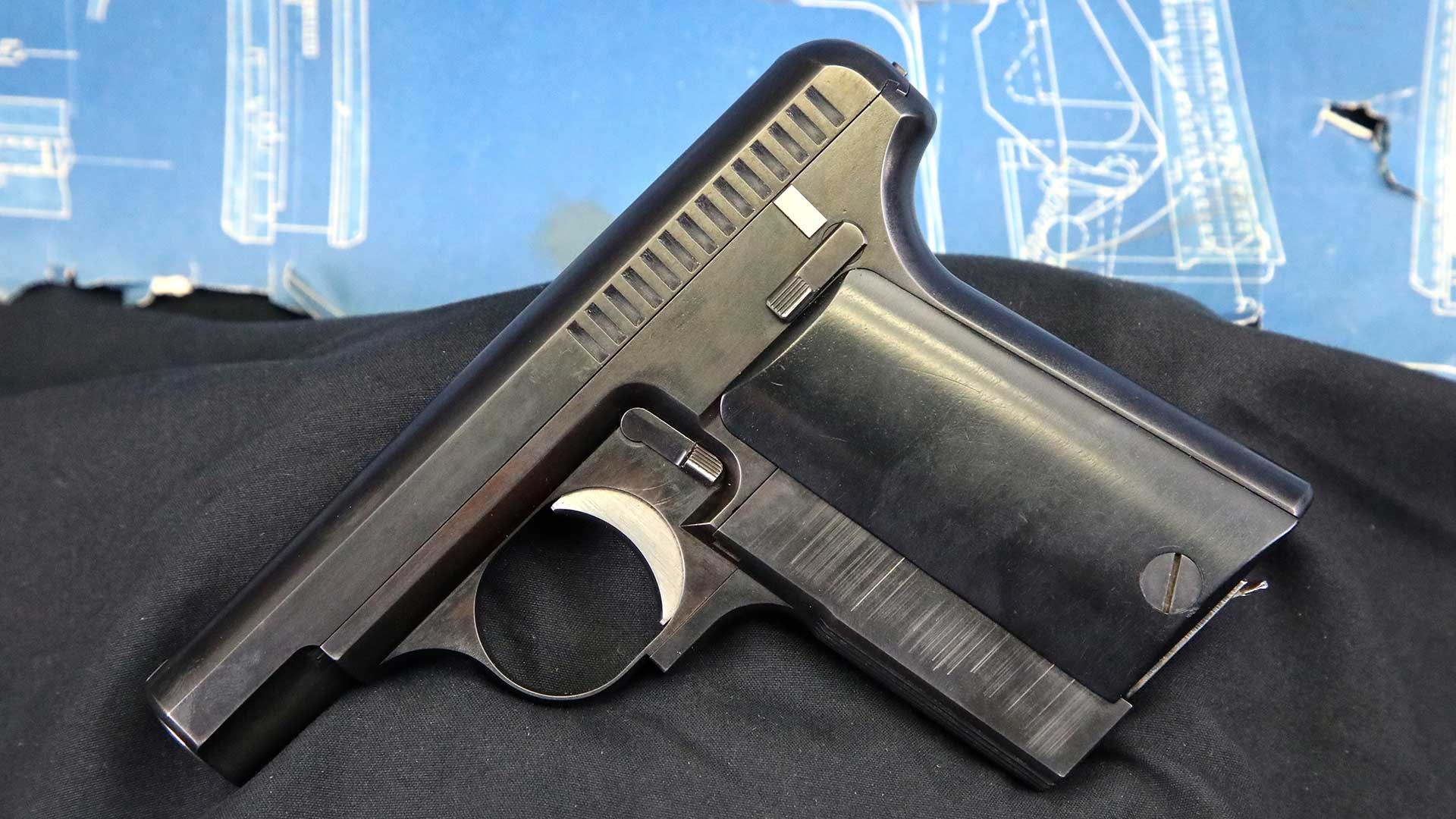 Similarly, the gun is cocked by squeezing the cocking lever. However, it takes about 6 lbs. of exerted pressure to force the slide back until it catches, cocks the gun and slams forward, thereby chambering a round. After that, subsequent shots are the same as with any single-action, semi-automatic pistol, with a crisp 3.5-lb. trigger pull. There is a safety lever on the left side of the frame and a second push-bar that acts as a rather ingenious takedown device. A two-way latch on the right side of the receiver can be depressed to function as both a magazine release and unlocks the squeeze-cocking devise.
This is only the third Searle prototype pistol, to my knowledge, that has ever been discovered. The first prototype, a .32 ACP semi-automatic, was sold by Cowan's Auctions in October 2012, while the second, an equally rare .380 ACP semi-automatic with an entirely different mechanism, was discovered in a locked Savage Arms safe that the company accidentally sold in 1946 when it moved from Utica N.Y., to Chicopee Falls, Mass.; that gun was auctioned by Rock Island Auctions on Sept. 15, 2013. Both Searle prototypes fetched a hammer price of $18,400.
Now, as what may be the ultimate acquisition for serious Savage arms collectors, with a provenance coming directly from the Bergren family (Searle's family descendants), this third historic prototype and its blueprints will be auctioned off on-line by Lock Stock & Barrel Investments ([email protected]) on April 30, 2023, beginning at 7:58 p.m. EST. The Elbert Searle Savage prototype squeeze-cocker semi-automatic pistol and blueprints may be viewed at (https://www.gunbroker.com/Item/973457872). It is a unique opportunity to see—and possibly own—a historically significant 20th-century pistol that was never put into production.