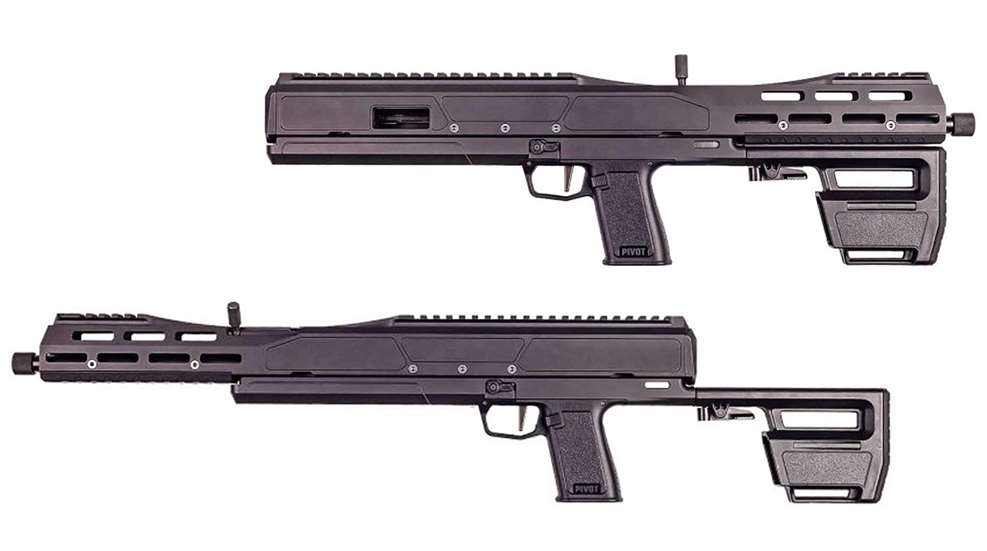 Trailblazer Firearms takes the pistol-caliber carbine (PCC) in a fresh direction with the Pivot model chambered in 9 mm Luger. Some carbines incorporate folding stocks or take-down barrels for more convenient transport or storage.
The semi-automatic Pivot employs a unique divided upper and lower receiver configuration that allows the upper assembly to unlock and rotate 180 degrees so that the muzzle is facing the same direction as the shoulder stock. In this folded configuration, the Pivot has a compact overall length of 21", a width of 1.15" and a height of 6" (without a magazine). The use of steel, aluminum and polymer components allows for an unloaded weight of 5 lbs.
When ready to fire, the Pivot's overall length measures between 26.7" to 29.7" depending on the position of the adjustable stock. The direct-blowback action is fed from Glock-compatible double-stack magazines. The suggested retail price for the Pivot is $1,795.
To learn more, please visit trailblazerfirearms.com.