Support NRA American Rifleman
DONATE
For an M1911 enthusiast, happiness often comes 230 grains at a time, buzzing down the lane at 830 fps. and hell bent on perforating a freshly hung target. At times, there is nothing more satisfying than evaporating the small A-zone of an IPSC target with a trusty .45, and feeling the mechanical "chunk-chunk-chunk" of the slide as it feeds shot after shot without fail, just as its John Browning-designed kin have been doing for more than 100 years.
Sadly, until recently, I had not felt this connection, the harmony between man and machine, with a pistol that I prize above the other "working guns" in my safe—my Nighthawk Custom Falcon Commander in .45 ACP. Sadder still, I'm sure there are a lot of shooters who own custom 1911s, but have yet to shoot them to their full potential.
Let me tell you my story, and see if it sounds familiar. I have admired finely made 1911s for as long as I can remember. I am just enamored with modern, handcrafted renditions of the platform that will be forever tied to the courage and grit of the American fighting man. I am amazed by how far the platform has evolved since it proved its reliability in two World Wars and the jungles and tunnels of Vietnam, and yet, how little it's changed in today's guns, which range from artistic collector's pieces to feature-filled sidearms still used by elite military and law enforcement units.
A couple of years ago, I had the opportunity to film an episode of "American Rifleman Television" at Nighthawk Custom's shop in Berryville, Ark. There, seeing Nighthawk's skilled gunsmiths turn over-sized blanks into hyper-accurate pistols, I finally decided I had to have one.
I poured over the options available on Nighthawk's website and custom order form, and while I could have run up a tab on personalized features, I had seen firsthand that even "base model" pistols from high-end makers are truly custom grade. Therefore, I requested only one change to Nighthawk's Falcon Commander model—an aluminum frame to shave a few ounces off the carry-friendly design. And just like that, plus a few months for delivery, I had acquired the most valuable and beloved gun in my collection. There was only one problem … I hardly ever shot it.
Currently, I've owned the pistol for more than two years. And before today, I'd only taken it to the range a handful of times, and would only shoot a few boxes of ammo through it. The gun was never meant to be a "safe queen," but I certainly wasn't using it as I'd envisioned. My cautious handling was compounded by the fact that, when I did take it out, I was not overly enthused while shooting it. Don't misunderstand, the accuracy was always exceptional, but the gun seemed to be so tightly fit that it never achieved the silky smooth, rhythmic function that I had long dreamed of.
Then, all of that changed. On a whim, I brought the Falcon Commander to work and put in a little time at the range (a perk of working at NRA is being co-located with an excellent 50-yard indoor range facility). As I racked the slide on the first round, and felt the friction of tight tolerances in the hand-fit gun, I prepared myself to be unsatisfied, if not disappointed, with the pistol's performance.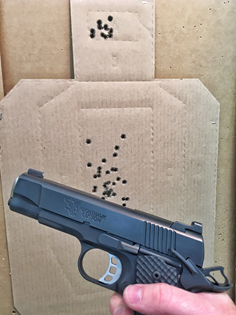 By the time I had sent the first eight rounds downrange, however, I could feel that something had changed. The tempo and impulse of the gun's cycle had altered just a touch, and suddenly I felt totally in tune with the gun. I fired drill after drill enthusiastically, realizing that, at long last, the gun's incredible accuracy was complemented by fluid function. With each beep of the shot timer I saw improvement in speed and accuracy, not due to great leaps in ability, but rather enormous strides in confidence with the gun. The Falcon Commander was finally becoming the trusted companion I had always hoped it would be.
After cleaning up the range after an extended session, I realized that, for the first time, I had really witnessed a gun being "broken in." I test so many modern firearms, mostly polymer-framed pistols that really don't require break-in, I didn't think I'd ever experience the phenomenon. And while those other guns are usually well-made and provide excellent performance, I don't think they can hold a candle to a well-run custom 1911.
My second realization was that I could have been gleefully running the Nighthawk for years, had I just gone out and shot the dang thing from the jump. Perhaps I was being overly protective, given the gun's worth, but I now regret not shooting a few hundred rounds right from the start, and letting the tightly fit metal wear itself to a perfect polish, and flawless function.
So my advice to anyone who owns or is thinking about purchasing a custom 1911: Do it! They are incredible pieces of machinery, and it is an amazing sensation to shoot a pistol that you had a hand in designing and that was built just for you. There is a caveat though—you need to get out and shoot them! 
Product Highlight: SIG Sauer Elite Performance Ammunition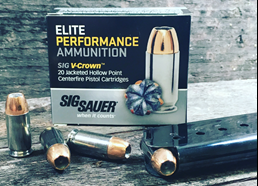 I'd be remiss if I did not mention the ammunition I was using during the range session that inspired this post. In testing myriad firearms for American Rifleman, I also get to use and evaluate a wide range of ammunition. In the past couple of years, I have shot thousands of rounds from SIG Sauer's Elite Performance Ammunition line, and I've always been impressed. SIG ammo is constantly a top performer in accuracy tests, and I've found the 9 mm Luger, .45 ACP and .223 Rem. loads—with which I am most familiar—to provide consistent velocity and performance, shot-to-shot. During the aforementioned range session, I was using SIG's 230-gr. V-Crown JHP .45 ACP load. It features a good utility-style bullet, well-suited for range work or personal defense, and unlike some hollow-point .45s, the ogive is long enough to ensure flawless feeding in notoriously picky M1911s.