For everyday firearm carry, the right gunleather can be as important as the right gun. That is because users demand that their holsters and belts not only perform the yeoman work of holding the gun in place—no mean feat considering the various carry styles/locations and myriad firearms—they have to do so with style and discretion. The new Crossover Belt from
Crossbreed Holsters
ticks all the boxes, and offers a new level of customization from the renowned purveyor of Kydex and cowhide.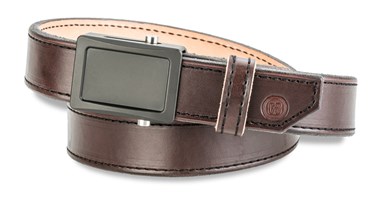 My best leather gun belts are thicker, wider and made of stiffer stuff than your average trouser tightener, and the Crossover is no exception. To ensure adequate strength and support, the belt starts with a 1.5"-wide strip of specially tanned hide and combines it with a matching leather liner. The two are bonded with industrial adhesive and then contoured, polished and stitched. The result is a belt that is about 1/4" thick and plenty strong to hold even a heavy handgun without sagging. Of course the lynchpin of every belt is its buckle, and in this department Crossbreed partnered with
Ares Gear
in order to utilize the Aegis stainless steel buckle. The Aegis uses a tension-bar arrangement to lock the leather in place, and because it requires no holes, the belt fits perfectly every time.
Beyond its utility, the Crossover has several customizable features that allow users to create a belt that not only fits their waists, but also their fashion. As you might expect, the Crossover is available in black or brown leather. As well, the Aegis buckle can be had with a stainless, black or bronze finish. What's more, four colors of thread are available—black, gunmetal grey, brown and bronze—to physically and aesthetically tie the product together. Sizing ranges from 28" to 48" and, because it is a semi-custom product, Crossbreed's typical two-week trial period is not offered for the Crossover Belt. Price: $95. Contact CrossBreed Holsters, LLC, (888) 732-5011;
crossbreedholsters.com
.