Support NRA American Rifleman
DONATE
Colt 1860 Army Richards "Cartridge Conversion" Revolver
Gun: Colt 1860 Army Richards "Cartridge Conversion"
Condition: NRA Antique Very Good
Value: $2,500-$5,000
The years immediately following the American Civil War presented an interesting dilemma for the Colt Patent Firearms Co. Its reliable percussion revolvers had been the most popular military sidearms during the conflict. Colt produced around 380,000 cap-and-ball revolvers during the war years.
The introduction of metallic-cartridge revolvers by Colt and others was slowed by the fact that Smith & Wesson owned the Rollin White patent on a cylinder bored through end-to-end, which was a basic feature of most effective cartridge revolvers. Accordingly, S&W had more or less of a monopoly on the cartridge-revolver field through the 1850s and 1860s. When the patent expired, the field was open for Colt and others to enter the cartridge-revolver market.
Colt had the tooling in place for production of its percussion revolvers, along with a stock of unused parts. There was also considerable interest in adapting percussion revolvers to fire the new metallic-cartridge ammunition. Colt developed a series of designs that could be used to convert an existing percussion gun to a cartridge revolver.
The various conversion systems used by Colt are known as the Thuer, followed by the Richards and finally the Richards-Mason. The most obvious changes involved various methods of replacing the percussion cylinder and hammer with parts designed for cartridges.
All Colt revolvers produced with these systems have come to be called "Cartridge Conversions" by collectors, although this is not entirely correct. Indeed, some existing percussion revolvers were converted to fire cartridges, but many of these guns were newly manufactured. It's interesting to note that they were made and sold by Colt at the same time the firm was making new revolvers specifically designed for cartridges, such as the famous Single Action Army.
A number of factors combine to make the Colt "conversions" popular with collectors. They were all produced during the colorful 1870s and have a good association with the Old West, relatively few were made compared to many other models, and the variety of conversion techniques applied to a number of different models and configurations resulted in a field rich with variations to be collected and studied.
While externally similar to a standard Colt 1860 Army cap-and-ball revolver (inset, l.), the gun being discussed is a breech-loading, .44-cal., center-fire, 1860 Army Model Richards-pattern, metallic-cartridge revolver (inset, r.). It was not a conversion, having been originally manufactured to fire cartridges as shown by its low serial number.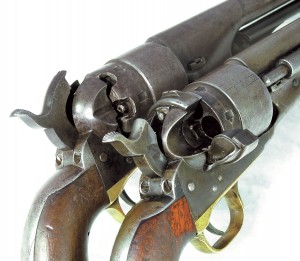 This Colt 1860 Richards is in NRA Antique Very Good condition with generally crisp metal, good remainders of original bright bluing in protected areas and faint case colors still visible on the frame. It has strong markings, including the rolled cylinder scene showing a naval engagement that is often lost on heavily worn examples.
The one-piece wood grips show significant wear with some original finish remaining. Its value to a collector is probably in the $2,500 to $5,000 range. Even heavily worn, cut-barrel or poorly refinished examples seldom can be found for less than $1,000, while the very few that are found in exceptional condition can bring more than $20,000.
-Jim Supica
Originally published February 2007.