by
posted on September 15, 2022
Support NRA American Rifleman
DONATE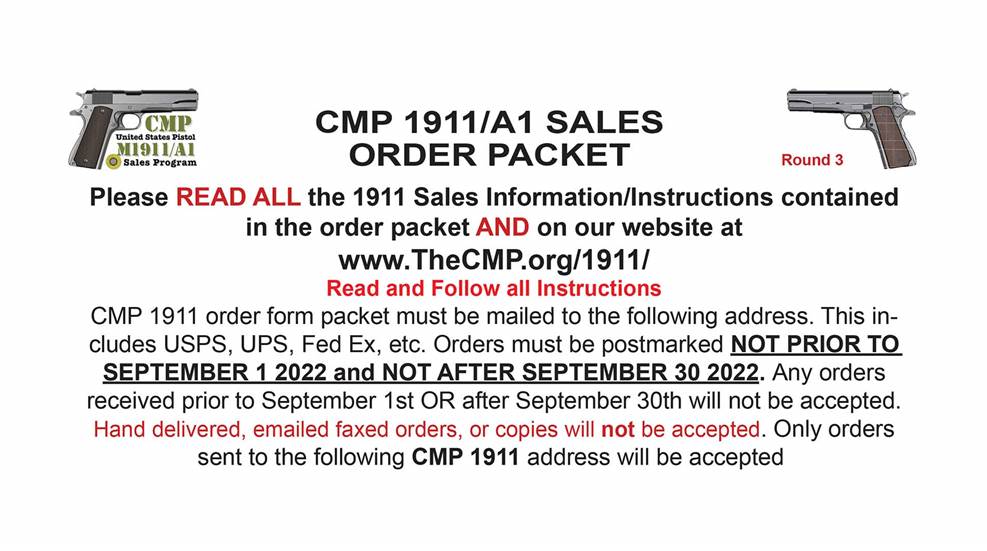 The Civilian Marksmanship Program (CMP) is accepting applications from those interested in taking ownership of one of the retired U.S. military M1911 pistols it is currently offering for sale. Requests must be postmarked on or before Sept. 30. Enthusiasts who have already purchased one from the organization in any of the previous two lots are not eligible to participate in this round of sales. Faxed or electronically transmitted paperwork will not be considered. Guns shipped go a licensed firearm dealer, ensuring all federal and regional laws are honored.  
Guidelines for application are available online [PDF], along with the order packet [PDF]and a highly recommended version of the latter with personal information fields capable of being populated by a web browser or other software legibly. Requirements include a copy of the applicant's driver's license, personal information, completion of an affidavit that you are legally eligible to receive one of the historic guns (CMP is required to perform a NICS check even before shipping to an FFL) as well as a few other simple requirements detailed on the organization's special web page.
There is no payment required to apply. If selected the company that receives the gun must have a 01, 02 or 07 FFL and a storefront that maintains regular business hours. The M1911s cannot be shipped to Massachusetts or U.S. Territories. CMP is also reminding anyone applying that mail service in its area of Alabama is less than ideal. Shipping completed paperwork via FedEx or UPS is highly recommended.
No special requests for particular guns, serial numbers, etc., can be made. However, enthusiasts lucky enough to receive a phone notification they have been selected should be prepared to state which of the four grades of pistol they prefer. They are service, field, rack and range grades, with the prices for each at $1,250, $1,150, 1,050 and $1,100, respectively. Description of their conditions is detailed online. A random process is used to select enthusiasts who can claim one of the pistols that served so many years as the official sidearm for the U.S. military.
The CMP, or more accurately, its Office of the Director of Civilian Marksmanship it evolved from, was established in 1903 by Pres. Theodore Roosevelt.