by
posted on February 14, 2017
Support NRA American Rifleman
DONATE
Old-fashioned Bullseye shooting—NRA Outdoor Pistol—is my choice for the first type of handgun competition that a new shooter should take up. That's because bullseye is pure marksmanship, a game that develops great self-discipline. It is a grand old sport, with all kinds of time-honored rituals. One of them was the procedure by which the competitor blackened or smoked his sights.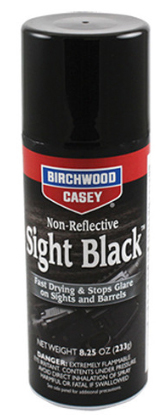 Most commonly in the 1960s, this was done with a carbide lamp, the same device a miner clipped to the front of his helmet for light. Everybody had one of these little pots, into which he placed a few stones of carbide and spit. A sparking device ignited the gas produced from the carbide and a fine black soot was the result. We painted our sights with the soot and this gave them a totally non-reflective surface. This really worked, producing a sharply defined sight alignment. I guess the carbide lamp went the way of the dodo when optical sights were introduced.
But blackened sights did not. I was in Mark Fore and Strike, a Reno, Nev., gun emporium a few weeks ago and saw sight black in an aerosol can on the shelves. I'll be using it again for gun review shooting. It conjures up old days of pouring through the Gil Hebard catalog to see if he had re-stocked the little bottles of sight black that you painted on like fingernail polish.