by
posted on March 29, 2016
Support NRA American Rifleman
DONATE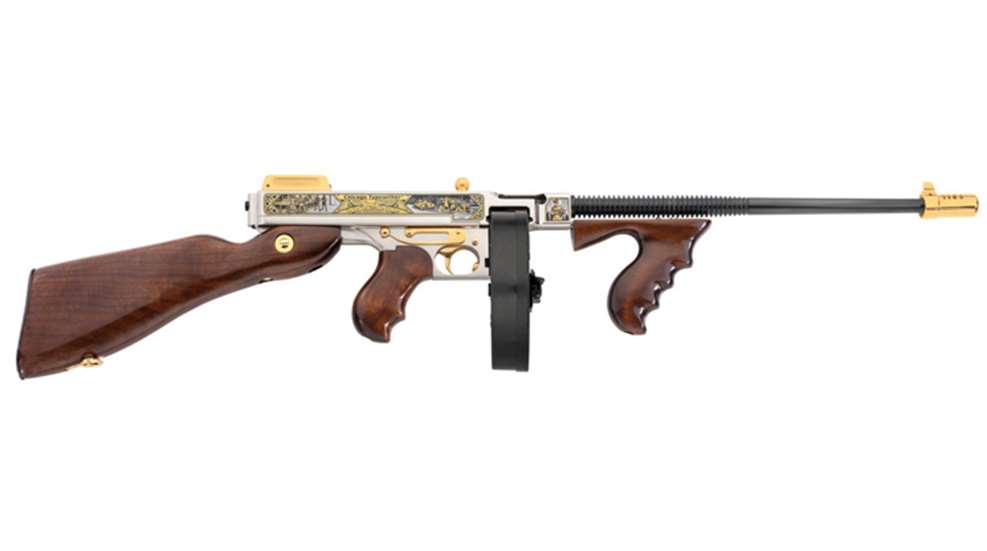 The Thompson has been referred to as the gun that made the 1920s roar, and was known as the "Chicago Typewriter" because the sound of one being fired was similar to the sound of typing on a typewriter in the distance throughout southside Chicago.


Thompsons were necessities to the gangsters of that era, and soon were necessities for the lawmen who pursued them. As one researcher says of the Thompson: "A man carrying a Thompson was not to be trifled with. He was either a bad man to be avoided, or he was the law chasing a bad man."
The Chicago Typewriter Thompson Tribute gun is issued exclusively by America Remembers and chronicles the fascinating era of the gangsters and lawmen of the 1920s and 30s. The working Thompson semi-automatic in caliber .45 ACP with a round drum magazine is decorated in 24-karat gold and nickel with a blackened patinaed background to highlight the details of the artwork that captures the spirit of the time, when the Thompson reigned as the most desired firearm around.



The right side of the receiver features "Chicago Typewriter," with the official Thompson logotype in gold and "The Gun That Made The 20's Roar"displayed underneath. To the left of the center image is a standoff between two gangsters and two lawmen in a speakeasy—all four holding fast to their Thompsons. To the right of the center image is a police car chasing a getaway, with a bandit riding alongside holding his Thompson in the air on a starry Chicago night. Underneath, you'll find "18th Amendment, 1920." To the far right is a lawman pointing a Thompson with the city skyline of Chicago behind him. 


The left side of the receiver features "National Prohibition 1920-1933" in a banner. To the left are two lawmen keeping guard outside of a warehouse with their Thompsons at the ready. Further left are lawmen destroying barrels of alcohol from a warehouse. To the far left is "WANTED" sign for a criminal, with a $1,000 reward. All artwork is featured in 24-karat gold and mirror-polished nickel on the receiver.

For more, please visit AmericaRemembers.com.